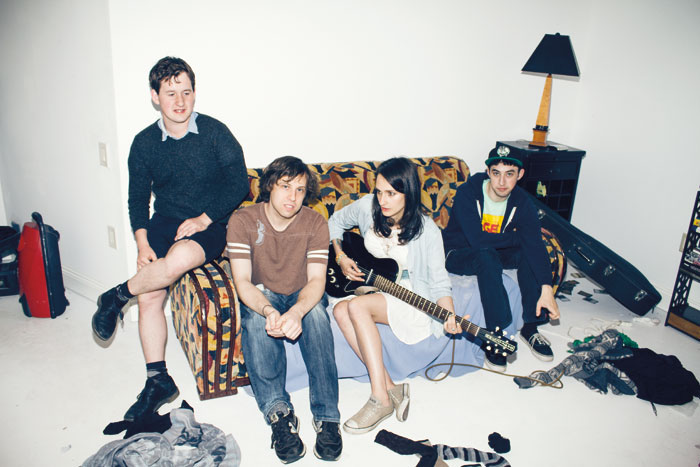 (l-r) Matt Robidoux, Mike Falcone, Sadie Dupuis, Darl Ferm
"New England is not small," says Speedy Ortiz frontwoman Sadie Dupuis, "but people drive stupid amounts and don't seem to think much of it. Three hours is not a huge deal." After enrolling in the poetry grad program at the University of Massachusetts, Amherst, she became enmeshed in the larger New England indie scene: bands like Boston's Pile and Connecticut's Ovlov, exploring the gnarled guitar sounds of the 1990s. (Dupuis' e-mail address plays on a Pavement lyric.) "People always think we're from Boston," she says, explaining that "it's not hard to play there twice a week." A week later, a
New York Times
story will refer to them as "the Boston band Speedy Ortiz."
When her previous band imploded in late 2011, Dupuis recruited Ovlov's Mike Falcone to drum on material she'd accrued teaching songwriting at an arts camp ("Students would bring in songs that they liked and we'd talk about how the songs showed use of dynamics or explored themes of heartache"), plus a cover by Western Mass legends Sebadoh. With guitarist Matt Robidoux and bassist Darl Ferm on board, Speedy Ortiz (the name comes from indie comic
Love and Rockets
) released a single, "Taylor Swift," about a string of hipster beaus, and an EP,
Sports
.
They recorded their debut LP
Major Arcana
last fall in the Easthampton studio of Justin Pizzoferrato, the same guy who records Amherst's original indie rock stars Dinosaur Jr. and -- until the rupture of their Northampton household -- New York transplants Sonic Youth. (He has since worked with both Kim Gordon's Body/Head and Thurston Moore's Chelsea Light Moving.) Out in July,
Major Arcana
achieves the blend of dissonance and melody Thelonious Monk once termed "ugly beauty." The hooks are bent and pointy, as hooks should be, while the lyrics display an interest in human frailty.
"When I was writing some of the stuff I was diagnosed with a blood clotting disorder," Dupuis reveals. "Which is not, like, nuts, but it did raise some concerns." Both of Dupuis' chromosomes are infected with the disorder, called Factor V Leiden; so is one of Ferm's. "It's really rare for someone to have one copy," remarks Dupuis, "let alone three copies in one band. So we gotta stretch our legs, we can't be in the car for more than two hours at a time. On tour we have to stop constantly." They'll be touring again after the school year: Dupuis teaches writing at UMass, while Robidoux teaches music at an alternative school. Speedy Ortiz recently backed up his students at a chorus recital: "I got to play drums on 'Wonderwall,'" boasts Falcone. "With the eighth graders."
Mass Rock
Before Speedy Ortiz, these bands rocked the Bay State.
Dinosaur Jr.
After guitar-shredding Amherst lifer J Mascis kicked bassist Lou Barlow out of their proto-grunge trio, Barlow spent the '90s leading Sebadoh. Dinosaur Jr. reunited in 2005 and tours Europe this summer.
Pixies
The Boston-based alt-rockers paid homage to their alma mater on "U-Mass," off of 1991's Trompe le Monde. Bassist Kim Deal is touring with the Breeders this summer in the U.K. and on the West Coast.
The Modern Lovers
Fans of these '70s nerd-rock pioneers are currently campaigning to make their highway anthem "Roadrunner" ("I'm in love with Massachusetts") the official state song. Frontman Jonathan Richman tours the East Coast in June and plays L.A.'s FYF Festival in August.
Aerosmith
The authors of the other state song contender, "Dream On," headline LivingSocial's Backyard Festival July 13th on New York's Randall's Island.
Blake Babies
The Boston indie band, active from 1986 to 1991, launched the careers of Juliana Hatfield, who's currently crowd-funding a new album, and Evan Dando, who this summer tours both New England (with his band the Lemonheads) and the old one (solo).