In 1961 Sonia Rykiel couldn't find any good, modern maternity clothes so she decided to make her own, and thus began one of the greatest stories of fashion history. That story, at least of the designer herself, came to an end last night with the announcement of her death at her home in Paris after a battle with Parkinsons' Disease. She was 86.

During the course of her nearly half-century career, she revolutionized the way women imagined, shopped for, and wore fashion. After her foray into maternity wear she continued with a range of knits which would eventually become her trademark, and when a teenaged Francoise Hardy appeared on the cover of French Elle in 1963 in a licorice striped Sonia Rykiel turtleneck sweater, the pieces flew off the shelves and there was no turning back. At the same moment in Paris designers like Yves Saint Laurent and Gaby Aghion of Chloe were storming the barricades of the haute couture system and making prêt-à-porter fashion the fresh new way to dress the recently liberated women of the decade. Sonia Rykiel could not have been more at the center of this moment, quite literally in fact, after she opened a store in the Saint-Germain-des-Prés in 1968, that she had to briefly close in 1968 due to the student riots—talk about a revolution!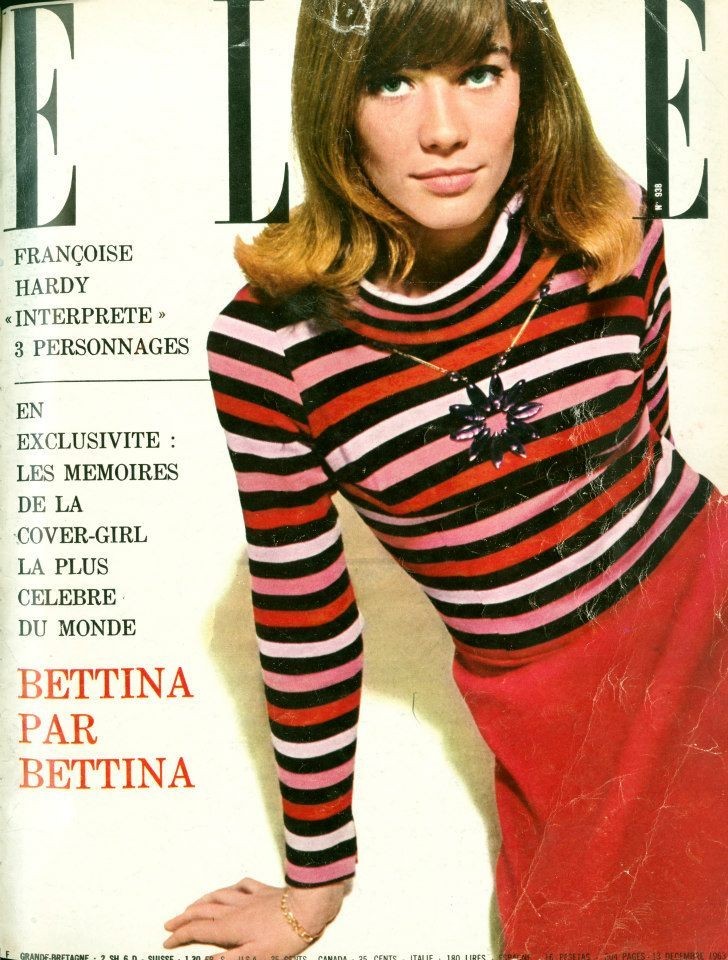 Francoise Hardy on the cover of French Elle in 1963
Her "poor-boy sweaters" as the press called them were the cornerstone of her fledgling brand but along with that, and perhaps more importantly, the message that women of all shapes and ages could be part of her story—the pieces were famously forgiving to any body type and not marketed to any age, transcending even further the youthquake movement of the moment. Long before the words "white space" and "disruptor" became fashion parlance, she made things she couldn't find and changed the whole game in the process. She was a women completely of her time: an entrepreneur, mother, and style icon who embraced the possibilities of the body and empowered women to think and shop for themselves. With her shock of red hair and birdlike countenance, she herself was as alluring as her philosophy. Unlike Saint Laurent, the generally accepted fashion "id" in the '60s and '70s, she lived the clothes she was designing and brought a joy and vivacity otherwise absent in Paris. Her fashion shows were true happenings with models laughing and smiling down the runway: "It's useless to send models out on the runway to cry," she once said.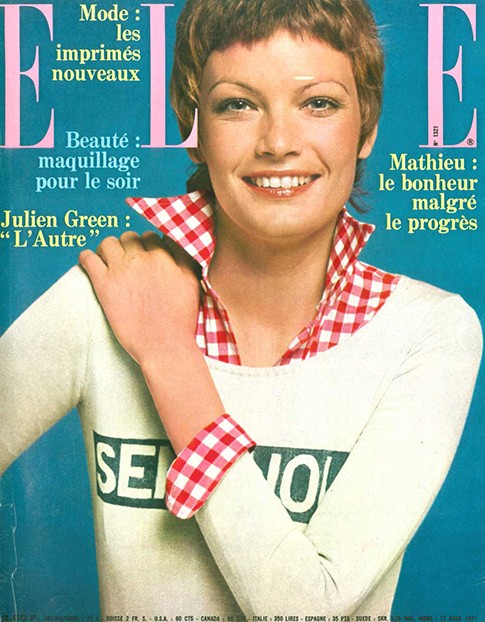 Rykiel's "Sensuous" sweater on the cover of French Elle, 1971.
In the seventies her knitwear sat insouciantly atop the skin tight denim that women were clamoring for, whether in the lines outside studio 54 or at the school drop-off. She also was the first to cheekily print words across her pieces, a now somewhat hackneyed trick that designer's pickup every season or so, seen most famously on another French Elle cover with a model in her "Sensuous" sweater. Rykiel channeled l'air du temps and built a global business from her desire to make clothes for women like herself who led full and complicated lives and were neither one-dimensional sex kittens nor the austere fashion nuns of haute couture. It would be hard to imagine the self-determining fashion ethos of DVF and Donna Karan of the 70s and 80s without a Rykiel before. And by extension the joy and intuitive modernity so much a part of Stella McCartney and Phoebe Philo, among others, as heirs to the Rykiel woman today. And of course Julie de Libran, late of Louis Vuitton, carries the mantle as creative director of Sonia Rykiel and has successfully and lovingly brought the Rykiel woman into the 21st century without losing an ounce of her rive gauche ease and charm.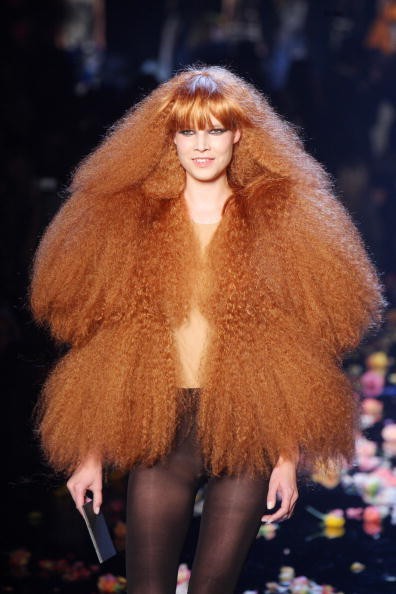 Rykiel X Margiela
To see the influence and well spring of regard for Rykiel, one should look no further than the Sonia Rykiel episode of the Loic Proigent "The Day Before" series where no less that Karl Lagerfeld, Martin Margiela, and Jean Paul Gaultier, to name a few, designed looks for a 2008 tribute show. The love is practically dripping off the runway and rightfully so. And so it was that today's news was met with glowing and bittersweet tributes across the industry and social media for a woman who changed the history of fashion and seduced us all, one sweater at a time.

Splash photo via @SoniaRykiel