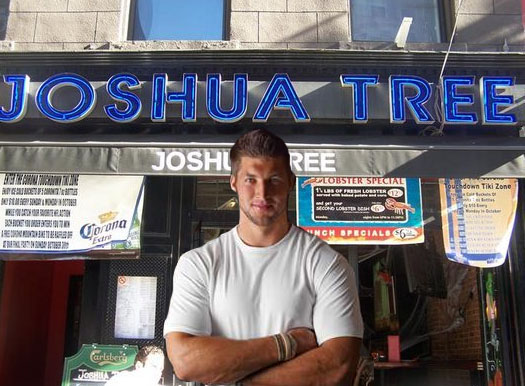 News came out this afternoon that quarterback
Tim Tebow
has (
probably
) been
traded
to the
New York Jets
. But what will big city life bring for a man who was born to missionary parents in the Phillipines, prays when he scores a touchdown and is outspokenly conservative?  It's a bit nutty to imagine T-squared living in one of the biggest, most secular and most liberal cities in the country so PAPERMAG has decided to offer some safe and comfy bets for where he might feel most welcome.
Where he should live:
Murray Hill


Where he should take Katy Perry or Taylor Swift out on a date:
Lavo
or
Del Frisco's


Where he should go out to eat:
Jackson Hole Burgers


Where he should shop:
Blue & Cream
or
Scoop


Where he should go out for a drink Coca-Cola:
Tonic East
or
Joshua Tree
Where he should go for some wholesome entertainment:
Bowling at
Bowlmor Lanes
Where he should go for a weekend getaway:
Westhampton


Where he should stay away from:
Christopher St.