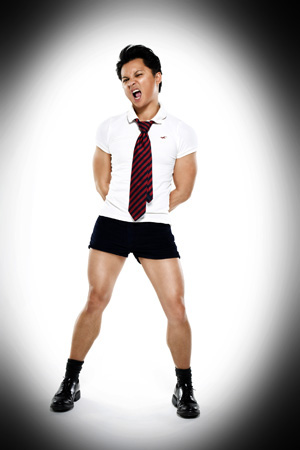 "If ever there was an actor that willed his self to success, it's Alec Mapa," says Marc Cherry, creator and executive producer of Desperate Housewives. "There's just not a hell of a lot of roles out there for gay Asian actors under five feet." He should know. He's hired Mapa twice, first as the nosy, fire-escape-entering upstairs neighbor in the short-lived, 2001 Kiss me Guido-inspired sitcom Some of My Best Friends, and most recently as Eva Longoria's stylist sidekick friend on Desperate Housewives. He is perhaps most widely know for his Suzuki St. Pierre character on Ugly Betty.
Fresh off working a gay cruise ship with Debbie Reynolds and Charro -- it doesn't get much gayer folks -- and hosting the LOGO transgender game show TransAmerica, Mapa has lots of sordid stories to tell, as he gets ready to head to New York to perform his one-man show at Joe's Pub, just in time for the Pride Parade festivities.… so I gave my old classmate (we first met 20 years ago when we showed up to an acting class which had, unbeknownst to us, been cancelled) a call as he was packing for New York to see if I could pry loose a little gay gossip.
Your one man shows allow you to unleash an unbridled Alec Mapa. How does working in television affect your performance?
I'm on two Disney shows now, so I have to keep all the dirty stuff down. The minute they yell 'cut!' it's like I have Tourrettes. I want to scream every obscenity possible. And often do.
I understand you knew Adam Sandler when you both were at NYU, what was it like to finally work together in Don't Mess With the Zohan?
Great fun. Adam's pretty much the same person he was 20 years ago. Shy, but approachable. It was also the highest concentration of straight men I'd ever been around. I felt like a unicorn.
As a contributor to Out Traveler could you make a recommendation of a favorite gay destination?
You can't beat Santorini with a stick. It's too beautiful to be believed. And it's Greece! The birthplace of theater and gay sex!
Any insider tid-bits from the set of Ugly Betty you'd care to share?
Rebecca Romijn is a giantess. I'm a little to begin with, but around her I look like an Oompa Loompa.
Tell us about your upcoming film with former PAPER cover boy Owen Wilson?
I have a lovely scene in Marley and Me which was helmed by David Frankel who directed The Devil Wears Prada. I play an irate dog owner who tears Wilson a new one for bringing and untrained puppy to the beach. David kept on telling me to be meaner. I was.
You established a successful career against almost insurmountable odds. In honor of Gay Pride weekend, would you share with us you proudest gay moment?
I think when I was on Ellen last Christmas. Daytime talk is about the most conservative audience ever and I went out and acted like a total fruitcake. Everyone was fine with it. That's progress.
Alec Mapa performs this Saturday and Sunday at Joe's Pub, 425 Lafayette St. at 9:30 p.m. Tickets at (212) 967-7555 or http://joespub.com.