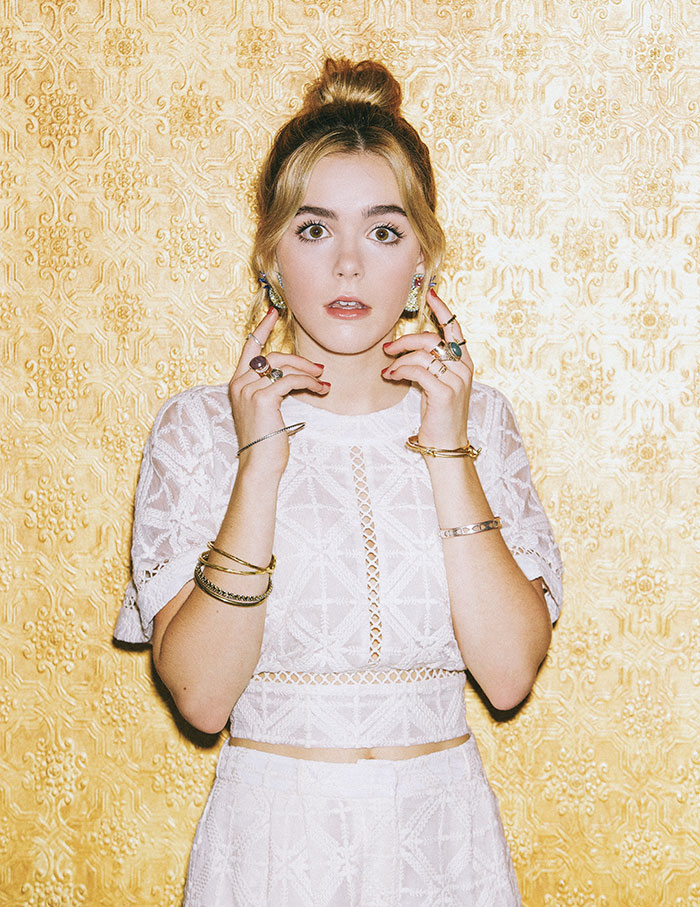 Kiernan wears a top and shorts by Zimmermann, bracelets by Milk the Goat, Madewell and Maya Magal, 
a stacked ring by Jennifer Meyer, a ring by Alberto 
Parada and earrings by Doloris Petunia. 
Where you've seen her: 
As Sally Draper on AMC's hit Mad Men and the Lifetime movie Flowers in the Attic.
Why she made the list: 
The seventh, and final, season of Mad Men premieres this month and promises to be a big one for Sally, Don Draper's adventurous daughter who Shipka, 14, plays with unflinching poise and nuance uncharacteristic of a young woman fresh out of junior high school. 
On growing up on Mad Men... 
"I've been on the show since I was six, and I've learned so much from watching everyone involved in the show, from the people behind the camera to who I act with on camera. It's been like school for me." 
On life after Mad Men... 
"I want to act. I love bringing a character to life. When I think about myself in the future, it feels weird to think about myself not acting. It's what I love and what I imagine doing forever... hopefully."
Hair by Ashley Streicher at The Magnet Agency using Oribe / Makeup by Ashleigh Louer at The Magnet Agency using NARS / Photographer's Assistant: Daniel Kincaid / Stylist's Assistant: Lauren Silvestri / interior shots taken At Pour Vous.