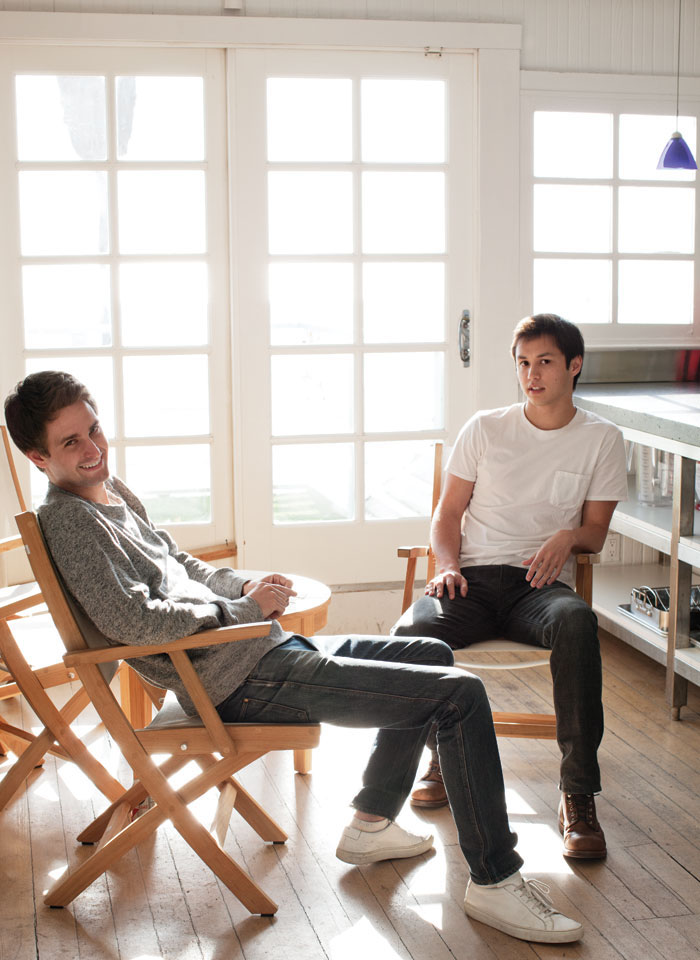 (l-r) Evan Spiegel, Bobby Murphy

Let's start with some numbers. Snapchat, a photo-sharing app launched in 2011, is currently valued at upward of $60 million. About 60 million "snaps" are exchanged daily. And co-founder Evan Spiegel is 22. Can you blame the guy for being a little press-shy? "Obviously, a lot more people want to talk to us," he says, "so it's just ever more important to stay super focused and work on the product."
Still, Spiegel is a gracious interviewee, alternating between crisp corporate-speak and California good vibes. (He says "fun" a lot.) He recalls creating the app at Stanford University with his partner and former fraternity brother, Bobby Murphy: They'd sensed a growing frustration with the way social networks left users vulnerable to embarrassment. "And we were like, 'Well, we can definitely make an application where the content disappears.'" The resulting app -- equipped with a timer that deletes images after a few seconds -- was a tough sell at first. But all it takes is a couple of self-destructing "selfies" to feel the addictive power of Snapchat.
Of course, no tech success story is without its haters -- or hackers. A sexting stigma has dogged Snapchat from the beginning, and while it's always been possible to preserve "snaps" with screenshots, hackers have found ways around the feature that notifies users when their "snaps" have been captured.
All of which misses the point, Spiegel says. "Snapchat is about a community of people who all believe in sharing and living in the moment." So how does team Snapchat live in the moment? They keep working. "That's where we get most of our joy."
MEET THE REST OF OUR 2013 BEAUTIFUL PEOPLE