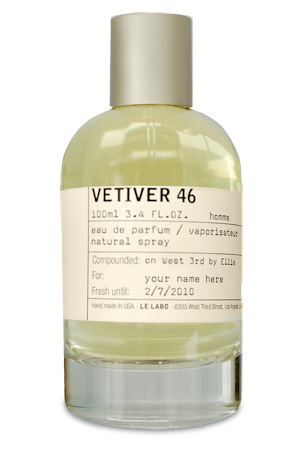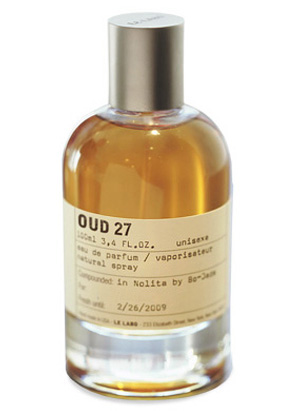 Le Labo has made its name in perfumery as a purveyor of new takes on time-honored traditions. Each of their scents revolves around a common note from the annals of perfume history -- iris, rose, patchouli, jasmine –- and plays with it in such a way to create something completely modern. And the results are often surprising.
Vetiver 46, named after the primary "essence" of vetiver and the 46 ingredients which go into the perfume, doesn't smell like your typical vetiver. Instead, it finds itself fitting between the old (like Guerlain's Vetiver) and the new (Comme des Garcons 2 MAN). And it was actually made by the same nose that created CdG 2 -- my first fragrance ever, a bewildering mix of a medicine cabinet and sun-baked moon dust. Vetiver 46 and 2 Man share some common DNA, but while 2 Man is distinctly avant garde and synthetic, Vetiver 46 is classic and natural. There's an opening of pepper, clove, and vetiver, warmed by an appealing dried citrus up top. The dry down keeps up the spice, warmed with smoky woods and a touch of vanilla and amber. It's a dry, gentle feel, something you'd expect to find on a young, dashing man who wears three-piece suits with loafers and reads leather-bound Proust in his velvet reading chair. Fanciful, but entirely elegant and graceful. Yum.
Like most of Le Labo's perfumes, Oud 27 seems to evoke the essence of its namesake while veiling it within a sumptuous combination of other notes. And oud is a bizarre note that's enjoying something of a moment right now -- made from resin produced by moldy Aquilaria trees in southeast Asia, it's been popular as an essential oil in the Middle East for centuries and is absurdly expensive. But in Oud 27, there's only a persistent, teasing whisper of the oud (unlike the knock-out ouds of Montale and Tom Ford). The punch comes from the opulent and entirely warm oriental blend of incense, cedar, patchouli, and amber. The amber here is unique -- it's not the soft vanillic amber of Vetiver 46, but slabs of unadulterated, liquid ambergris. This animalic, musky, and smoky base is made sweet by saffron, a bit of tobacco and hints of rose and fruit. I get a hit of apple brandy in the deep and dirty mix. The muskiness eventually dissipates and we're left with gorgeous honeyed amber. It's strange yet totally beguiling. Le Labo calls it "One Thousand and One Nights" in a bottle -- I don't know if I'd go that far, it's too elegant for that, but it spins a tale just as compelling.
Le Labo is available at Barneys, Le Labo boutiques, and Le Labo online. Each fragrance is mixed to order and comes with your name on it.