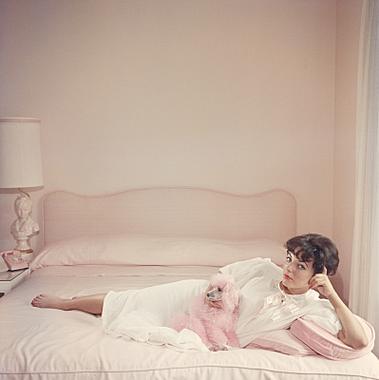 Our pal David A. Keeps featured this fab Slim Aarons photo of Joan Collins in a recent edition of "The Scout," Keeps' design-oriented column for the L.A. Times. I've always loved this photo. It seems to say everything about the Hollywood Dream Factory (at least the sugary icing slathered onto the arsenic-laced cake of what is actually Hollywood Reality!) Miss Collins and her poodle seem to be inviting us to Think Pink! (I'm sure Warren Beatty was when he saw this photo -- which was probably taken around the time Beatty and Collins were 'an item'). I love Aaron's photography -- so dreamy, so creamy, so CHIC!
I read that after Aaron's stint in the ugly horror that was WWII he decided he only wanted to photograph beautiful things. So he ran with the moneyed set and snapped their beautiful lives so the rest of us can salivate over the fantasy! Aarons' new coffee table book Poolside with Slim Aarons sounds like the perfect silk-stocking stuffer come Christmas time! That and a filmy negligee... and a pink poodle!
From the L.A. Times:
The late Slim Aarons, whose photographs captured the lives of Hollywood stars at home, is the subject of an exhibition that opens tomorrow and runs through Aug. 15 at Williams-Sonoma Home.
More than 100 prints including images from the forthcoming outdoor coffee table book "Poolside With Slim Aarons" will be priced from $2,275 to $5,000. Subjects include Lauren Bacall, Humphrey Bogart, Mick Jagger and Jacqueline Onassis along with the landscapes of Italy, Mexico and the Caribbean. Photos of Joan Collins, left, and Esther Williams will be auctioned off tonight at the store during a private benefit for P.S. Arts, a nonprofit organization dedicated to restoring arts education in public schools. 8772 Beverly Blvd., West Hollywood; (310) 289-2420.