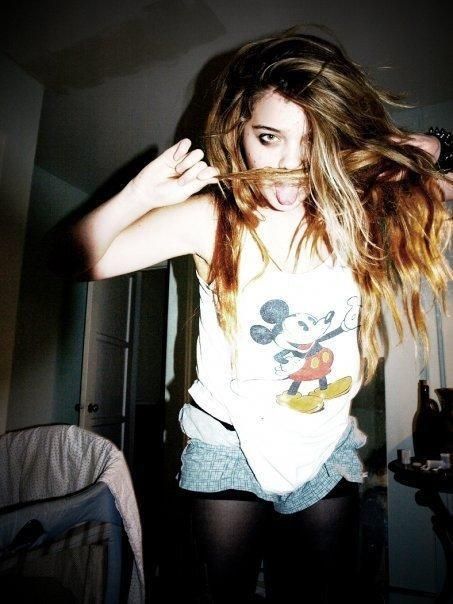 If blog buzz is to be believed,
Sky Ferreira
is the electro-pop Lolita, the anti-Miley Cyrus, and a wild child (kudos to friend/label-mate
Katy Perry
for tweeting of a "racy" picture of Sky and a bottle of vodka). But don't let the bad-girl hype fool you -- the girl can sing. There's the soulful, stunning rendition of Miike Snow's "Animal" with hundreds of YouTube mind-losing raves, and the haunting vocals on "One" produced by Bloodshy & Avant. And let's not forget the naughty "17"
music video
shot by PAPERMAG favorite Cass Bird, which very much channels Fiona Apple's "Criminal" days. We were lucky enough to catch up with Sky before her guest DJ gig at the
Tribeca Grand's
Salon Fridays
party.
Tell us about working with Bloodshy & Avant. What's your relationship with them like?
They are my role models.
They've worked with my girl Britney, who also started her career at a young age. Do you see any similarities between her career and yours?
Geez, I don't know. I mean I guess we were a bit 'precocious' and we both worked with Bloodshy & Avant and Nicole Morrier?
Speaking of Brit Brit, you tweeted that you wanted to cover her relatively unknown song, "Cinderella"  -- true? Do you feel like Cinderella?
I wanted to, but I haven't! I know every Britney song. My favorite concert was the "Dream Within a Dream" tour.
Today's pop music vs. 90s pop music.
Today's is good, but 90s pop music
rules
. So many classic pop songs. Have you not heard "No Scrubs"?!!
Were you a Britney, Christina, Jessica, or, uh, Mandy Moore fan?
All of the above. My favorite songs from that period: Britney, "Born To Make You Happy"; Christina, "What A Girl Wants"; Jessica, "I Wanna Love You Forever"; and Mandy, "Candy".
What's your take on the current Gaga-fied pop world with all the glitz and glamour? You kept it simple with the video for the Rankin-directed "One".
I love the whole dramatic over the top thing. I like songs to be like chapters. Some simple, some extreme. I want each video and song to be something completely unexpected. Not meaning unexpected for "shock factor" -- more just to experiment. I don't want to do something to just shock people. I'll only do something because I think it's awesome and I want to do it. Not like "Oh, OK. I need to do this and that so I can get their attention." That's why I love Lady Gaga because I think it's the same with her. She's made everyone have to step up their game.
Name one lyric that would describe the life of Sky Ferreira.
"I'm Miss American dream since I was 17." -- B.Spearz "Piece of Me". TOTALLY JOKING!
Who's your favorite famous Twitter-er?
Shaq
What's the best and worst part about moving to New York?
Best: Not having to drive. Worst: Rats!
You just turned 18. How did you celebrate?
I saw Gaga last minute and had a dinner. My friend tried to throw a rooftop party but let's just say it didn't work too well. It's the thought that counts though!
Best birthday present ever?
My life.
What are your favorite songs to DJ?
"Piece of Me" or "Overprotected" by Britney Spears, "Let's Hear It For The Boy" by Deniece Williams, "No Scrubs" by TLC, "Material Girl" by Madonna (because I know plenty of M.G.'s will be there). And the day Katy Perry's song "Peacock" comes out, it'll be that for sure. I will be playing that like... everyday of my life.
Biggest guilty pleasures.
RPattz (I'm convinced if I keep saying that in interviews, I might have a chance).
Dream collab, dead or alive...
David Bowie or Marc Bolan.
What's your favorite PAPER magazine cover?
The
Katy cover
... and anything shot by Cass Bird. I'm not playing favorites... I swear!
Sky Ferreira DJs Salon Fridays at the Tribeca Grand tonight at 10 p.m.