Being a fashion designer in Russia isn't easy. With debilitating import/export laws, high production costs and an unorganized, scattered scene (at one point there were like four different fashion weeks), most success stories have set up their brands outside of the country in established markets like London (Natalia Alaverdian) or Paris (Vika Gazinskaya). But Mercedes-Benz Fashion Week Russia is taking it upon themselves to grow support for their country's designers. This season they invited a bunch of foreign press including Dazed & Confused, Vogue Italia, Teen Vogue and us in hopes of creating buzz. Set at the Moscow Manege -- an old indoor riding academy with views of the Kremlin towers -- MBFWR feels a lot like NYFW's Lincoln Center, a sponsor-fueled fashion fest flushed with fan boy and girls decked out in the latest trends.

Beyond the established brands that show with MBFWR like Alena Akhmadullina, Viva Vox and Pirosmani by Jenya Malygina, we were particularly impressed by six young labels that are part of the next generation of designers looking for success in Russia and beyond. It's easy to see their passion, thoughtfulness and technical knowledge -- there is a hunger there that can only come from lack of opportunity -- but they could also use some serious guidance and support to take their designs to the next level. MBFWR recently announced the formation of the Russian Fashion Council, which aims to connect designers with manufacturers and offer supporting programs and awards. Hopefully this will allow more Russian designers to take to the international stage but for now, make a mental note of these six names.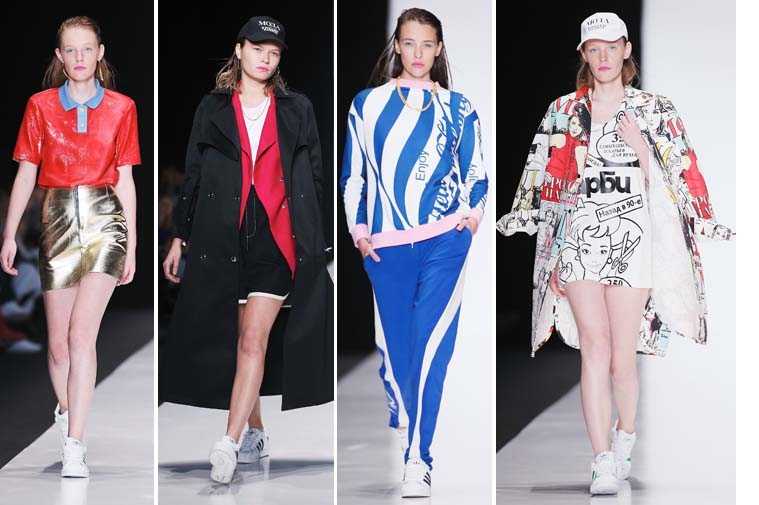 GALETSKY
When Anton Galesky's first look -- a black trench layered over a double-breasted red blazer, white crewneck tee and high-waisted athletic shorts paired with a baseball hat, Adidas Superstars and a gold chain necklace with big hoops to match -- hit the runway, it instantly felt familiar. It felt very modern American street (think: Normcore-meets-Athleisure) but with a simultaneously grittier and more glam edge. The next few looks revealed an over-sized clutch shaped like a McDonald's fries container, a pop art print, and sequined sweatshirts emblazoned with the designer's name in Coca-Cola logo typography. It was easy to instantly call out the Western designer influences (Jeremy Scott, Ashish) but this co-optation was the whole point of his collection. "It's a mix of what was good and bad in Russia during the '90s," the designer explained backstage referring to the turbulent time when Western culture was first being introduced into the post-Soviet country. "It was such a transitional time in Russian economics, politics and culture. Big logos, bright colors and mega brands were the only possibilities for Russian people to be fashionable." Coca-Cola opened their first plant in 1988, McDonald's was introduced in 1990 and that pop art print was custom made from the first cover of Vogue Russia, which arrived in Moscow in 1999. Inspired by the era's major archetypes like the local 'mobster' and the glamorous trophy wife, the looks were a cheesy combination of lowbrow extremes fully realized with highbrow fabrics and techniques resulting in a super modern vision.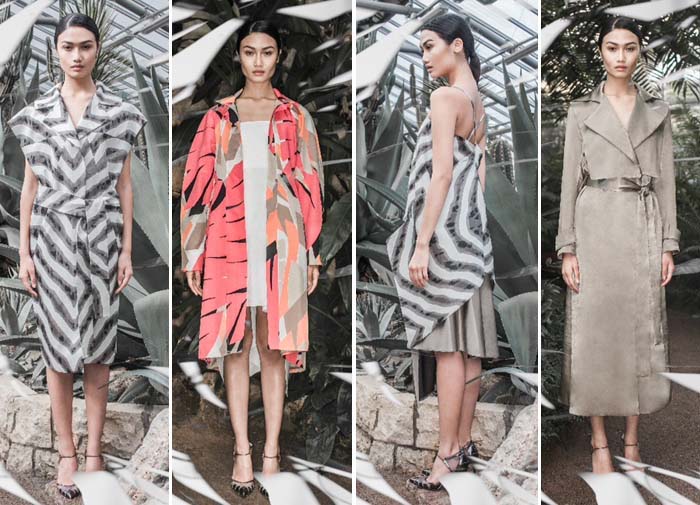 OSOME2SOME
This Saint Petersburg-based design duo is obsessed with the little things. After jetting off to India to "be artists" and produce their first official collection in 2009, designers Anna Andrienko and Natalya Buzakova, who have been creating clothes together since childhood, moved to London. "London is the place to go if you are young and no one knows you," Andrienko said at their presentation booth. There, in the depths of Camden Market, they serendipitously met Fumie Kimura, a pattern maker for Alexander McQueen at the time. Kimura gave the duo, who have become known for their sophisticated outerwear for all seasons (the outerwear market is major in Russia, naturally), a master class in technique, but most importantly, taught them the beauty in fine detailing. This subtle luxury can be found in sophisticated stitching techniques, unexpected fabric play and the surprising complexity in the cut of a parka. "Parkas have a lot of details," Andrienko said, grabbing an abstract floral-printed parka off the rack. "You can add dimension here or cut the print a certain way to make it into something you wouldn't expect. We love that."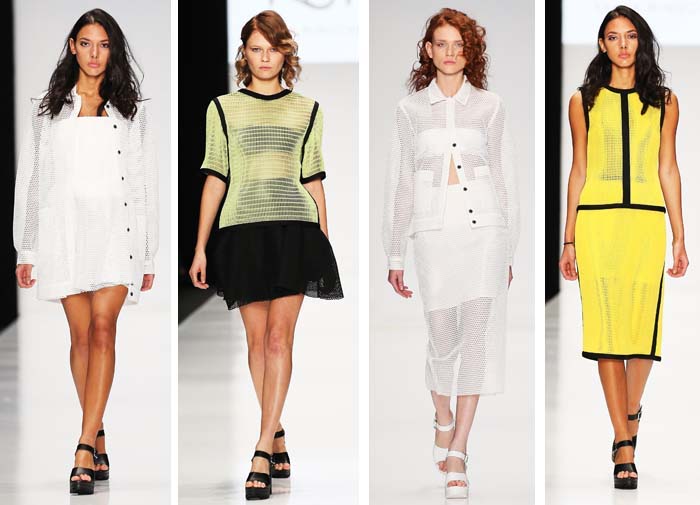 YASYA MINOCHKINA
Although only two years old, Yasya Minochkina's namesake brand has been featured in the pages of Russian InStyle, Ukranian L'Officiel and Vogue Italia and counts stylist Natalie Joos and model Irina Shayk as fans. The Ukrainian-born, Central Saint Martins-taught designer says she isn't designing for "the woman that just loves a silky dress," but for "a very strong, working woman who is going out all over the world." And while not a single silky dress could be found in Minochkina's spring collection, almost everything else could. 1960s Lolita-meets-sweet Sally Draper vibes from high-waisted, striped flares, floral-printed crop tops, and ditsy-dotted short suits gave way to cyber club-kid cocktail numbers in a laser cut leather resembling a wide-ribbed mesh and tailored navy and gold metallic separates suitable for a boardroom in the Meatpacking. We were mot intrigued by the cyber club-kid looks, which appeared in a range of hues from bright white to acid yellow to royal blue; the laser cut leather added texture and dimension to simple feminine silhouettes -- definitely the look to wear at any party around the world.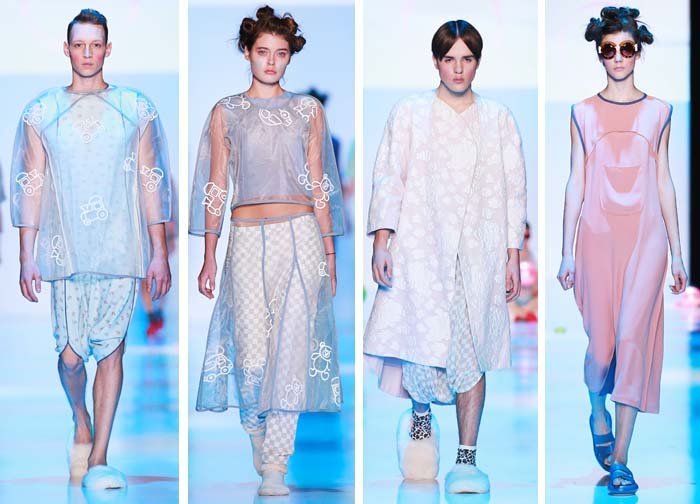 RIA KEBURIA
"This season I am playful," the Parisian-born, Georgian-identifying designer Ria Keburia said of her eponymous brand's fourth collection. "I was inspired by baby-ness. Particularly that time in life when gender isn't really distinguishable until you start dressing differently. Before then it's all that same shape." Keburia, who's known for addressing gender equality in her collections (she was also the only designer with a remotely Pussy Riot point of view), translated her vision on the runway with a pale palette of blue and pink hues; childish prints like bears or trains on stiff, sheer overlays; baggy one-size-fits-all silhouettes with dropped crotches and chunky flatforms inspired by those generic, plastic geometric-shaped building blocks. Keburia also incorporated a bit of performance to her show, having the models stop and play with toys scattered in piles on the edges of the runway. "When you are a baby there is a freedom of choice and a freedom of action because there is nothing tied to anything, there are no borders," she explained. "You are light and at peace."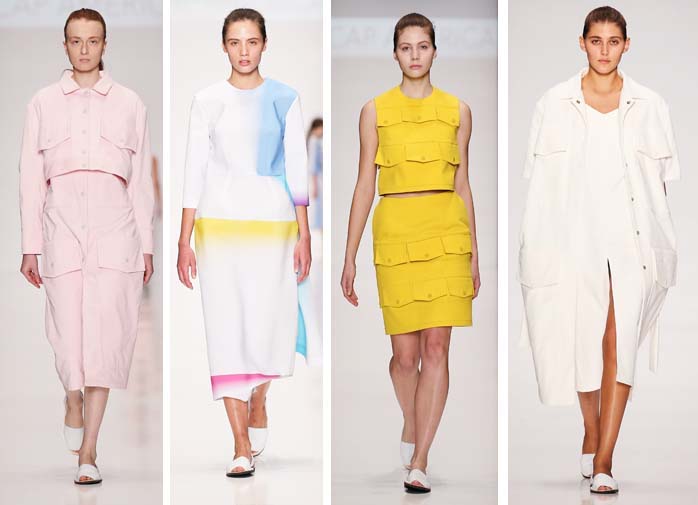 CAP AMERICA
"Everyone is asking this now that the politics are bad," said Olia Shurygina referring to the name of her year-old brand. "But it comes from the functionality of American fashion. I like to mix abstract ideas like from [Russian painter/theoretician] Kazimir Malevich with functional style." Inspired by her chemistry-obsessed father, Shurygina's spring collection, her third since graduating from the Industrial Art Institute in Moscow, came in two parts. The first was a series of very functional, lab coat-looking dresses and coats covered in pockets and buttons for mixing and matching pieces. The pink corduroy dress and coat (a fabric that her father always wears) were particularly lovely. The second half was a series of bulbous white dresses made from a stiff fabric that Shurygina said is mostly used in interior design. "The girl I was designing the first part for made the other half of the collection," explained Shurygina. "They are the scientists who created those dresses from their chemicals. You won't see it on the runway but in the lookbook these dresses will light up and can be used in interior design." Shurygina's imagination and creativity obviously runs deep. From the invitation -- a test tube filled with a mysterious blue liquid -- to the lookbook presentation, she knows how to develop a theme. Going forward, Shurygina's talent for digital printing and off beat textures would shine with a bit more focus and restraint in reality.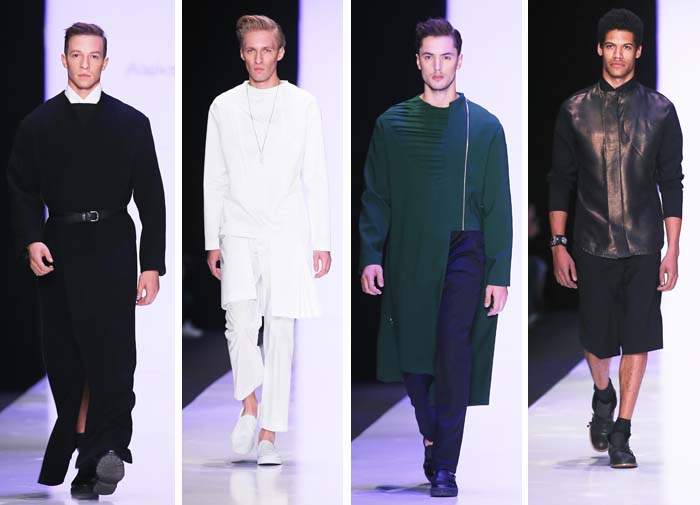 ALEXSANDER KHRISANFOV
Alexsander Khrisanfov interned with Escada in Munich and Chapurin in Moscow before starting his own brand this year. The young designer's Catholicism-infused MBFWR debut featured both womenswear and menswear, but it was the sharply tailored religious robe-inspired tunics and jackets over trim trousers for the guys that caught our eye. Boys take note.