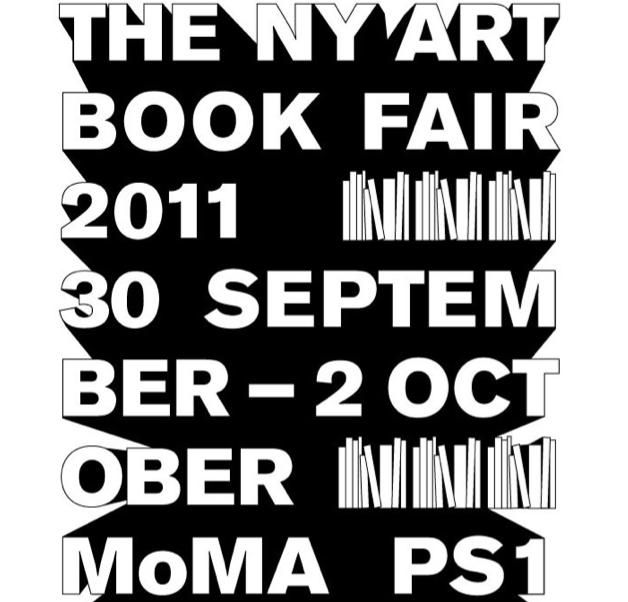 It's late September, which can only mean one thing for art book nerds -- it's the
NY Art Book Fair! The fair, presented by Printed Matter Inc., runs through the weekend at MoMA PS1 in Long Island City. Here are a few of our favorite publishers and publications for you to look out for.

1. Swill Children

Started in 2008 by Jesse Hlebo, the NYC-based publisher puts out everything from audio objects and cassettes from their Party Lab to minimal zines and _Quarterly. Highly weird and somewhat melancholy (its name is an industrial revolution slang term from chidlren who traded kitchen refuse for use as fertilizer and pig feed), Swill focuses on minimalist colors and a DIY aesthetic. Make sure to check out the "Multimedia Event" they're throwing on Saturday at 1:30pm at the top of the stairs featuring sounds by Hisham Akira Bharoocha (formerly of Black Dice and Lightning Bolt), Joe Ahearn and Tavish Miller among others.

2. Point D'ironie

The brainchild of agnès b., Christian Boltanksi and Hans Obrist, the artist-curated publication Point D'ironie is named after the punctuation mark used to denote irony (as proposed by French poet Alcanter de Brahm). The periodical is printed six to eight times a year is distributed free worldwide. Stop by Point D'ironie's booth and check out all of its issues since its inception in 1997, as well as a selection of books from b.'s galerie d Jour and the last co-editions of her endowment fund.  

3. Gottlund Verlag 

A small publishing house was founded by photographer Nicholas Gottlund in late 2007 and is dedicated to making exquisitely produced, limited-edition art books from emerging and mid-career artists. Housed within a 19th century German bank barn in a small wooded valley, they print every book in house and bind each one by hand.

4. Nieves

A favorite of culture-vulture types (they were documented in Vol. 1/No. 5 of the esteemed ANP Quarterly by Aaron Rose who also curated an edition for them in 2007), the Zurich-based Nieves is a treasure trove of zines and artists' books. A quick browse of their store shows why this independent publisher is well-worth a booth-visit. Check them out to pick up paper gems by such luminaries as Mike Mills, Ari Marcopoulos, Chris Johanson, P.A.M., Stefan Marx and Geoff McFetridge.


5. 'Sup Magazine

"Intimately" documenting music culture since its inception in 1998, 'Sup Magazine (not to be confused with Stand Up Paddling Surfing Magazine) relies on its relaxed, conversational interviews to get the juicy bits out of their subjects. Whip smart coverage mixed with their unexpected design choices makes this music mag a standout among its peers. Their party at Westway in conjunction with Printed Matter, Inc. on Friday night, from 9 p.m. - 12 a.m. is a not-to-be-missed event featuring live performances by Co La and House of LaDosha with DJ sets by Helen Harris and Adam Cunty Crawford LaDosha.

6. Badlands Unlimited

Badlands Unlimited is the brain child and playground of artist Paul Chan. Working with everything from video to typography, Chan has taken his interest in the medium of the message to a new level with his publishing house. Relatively new (it was founded in 2010), Badlands publishes a great deal of art e-books and artist works in digital forms in addition to their limited-edition paper books and artist prints. Catch Chan reading excerpts from his reinterpretation of Plato's Phaedrus Pron (a project published as a limited paperback and unlimited e-book which was "written" by using Chan's computer fonts that reconstruct the traditional alphabet into erotic idiolects) on Sunday from 3 - 4 pm in the PS1 conference room.