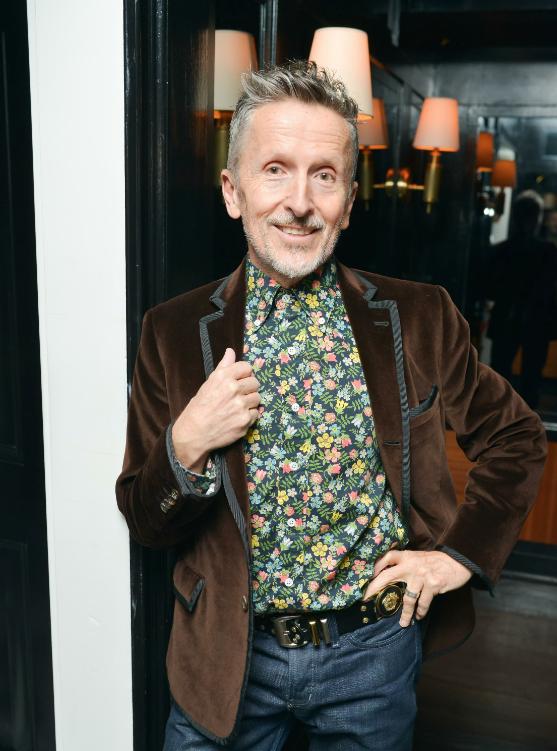 We swung by Chelsea Market this morning to chat with the one and only Simon Doonan, prince of New York window dressing, author, and ace reporter for
Paper's Nicki Minaj beat
, who was there making over the front window of butcher shop Dickinson's Farmstand Meats as part of American Express' Small Business Saturday. Below, we chat with Doonan about the relationship between salami and fashion and the horrors of Halloween.

Why a meat shop?
They let me pick the location. We're also doing this at a surf shop and a pharmacy in Chicago -- I wanted to just do really quirky locations. Dickinson's Farmstand is a local institution. It's very heritage-looking. It's the Ernest Sewn and Worn of meats. Plus, after decades of doing in fashion, it's really fun to be working with sausages and pork chops and salami.
Are there any connections between salami and fashion?

Yes, I think so. Just like a dress, a piece of veal or a pork chop have to have a beautiful drape. And they have to be an exquisite color. It's basically the same as fashion. Salamis need to be very stylish.  Who's going to eat an un-stylish salami?

True.
No wonder Lady Gaga made a dress out of meat.

What are your favorite small businesses in New York?

Grahame Fowler. Screaming Mimi's. La Petite Coquette -- this amazing lingerie store near my house. We're fortunate in New York to have access to so many small, owner-operated companies. It's one of the delights of Manhattan.


What's your weekend look?

Well, I'm very
sportif
. Very often we're out in Shelter Island on the weekends, so we go paddle boarding or this weekend we went hiking in a nature preserve. On the weekends we're very lesbian.

Are you still a fan of wearing Ed Hardy or have you moved on?
I have a bunch of them but I wear them at the gym or in bed. People just have a really hard time accepting them. I ran in to Prabal Gurung while wearing one and he went into a state of shock. He needed to be resuscitated. Come on, the artistry of tattooing is amazing. I don't have any tatts, so I show my appreciation with Ed Hardy.


Did you dress up for Halloween?

Well, Halloween is my birthday so I have a very complicated relationship with it. My birthday is actually the day before, on the 30th, and, you know, people want to throw a birthday party for you, but it's always a costume party too and you have to sit there through dinner wearing some demented foam thing.
And that's not fun.
Yeah, I don't know, I think I may have finally outgrown it. Halloween's incredible, but I gave up drinking in in 1983, and it's kind of something that you need to be smashed for. If you're sober, you're just cold and your feet hurt.
Photo: Madison McGaw/BFAnyc.com