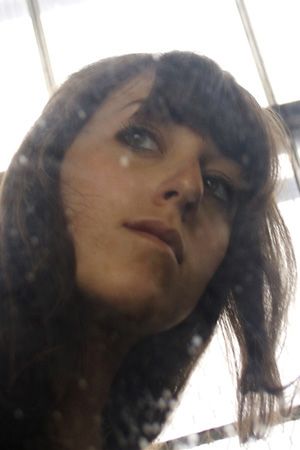 British design duo Marcus Wainwright and David Neville's smartly cut and reliably infallible tailoring was born in Kentucky in 2002 with the help of deftly skilled, olde-worlde craftsmen. In order to maintain such an unparalleled attention to detail and quality standard, the designers of Rag & Bone proceeded to focus all major manufacturing efforts in American factories that solely sustain themselves by sewing garments in the same manner that they have for over 50 years. Their native British Savile Row tailoring has patently been the linchpin of Rag & Bone's allure and template influence ever since the Spring 2004 launch of their men's line and ensuing fall 2005 women's collection. Just before their British rock 'n' roll-tinged Spring 2009 presentation, Marcus and David opened their first flagship on Christopher Street: now a striking 1,600 square foot women's store that echoes the line's innovative and vintage sensibilities with its authentic tin ceiling, mélange of mid-century and antiquarian furnishings and fixtures. Two doors down is an 1,800 square foot men's store boasting rugged wooden beams, bona fide slate floors, and exposed brick. The Rag & Bone flagship showcases the growing lifestyle brand's six annual men's, women's, and children's collections (Spring, Summer, Pre-Fall, Fall, Holiday and Pre-Spring) as well as exclusive collaborations including their renowned hand-tailored suits by Martin Greenfield Clothiers for Rag & Bone, namesake footwear in partnership with Tull Price (founder and president of Royal Elastics from 1997-2004) and handmade leather gloves co-created with Dents.
Name: Rachel Kichler
Age: 24
Location: West Village
Chosen occupation: Sales associate at Rag & Bone since December 2008
Unchosen occupation: Film writer/director... I hope to choose it eventually!
Side-gig: I run an online magazine called glasses glasses and its blog.
Work "uniform": Rag & Bone with a few vintage pieces slipped in here and there.
How would you describe the shop's aesthetic and Marcus and David's design philosophy?
Both the store and the line itself fuse Marcus and David's British upbringing with their present New York surroundings. As for their design philosophy, Marcus and David privilege quality above all else –- with wearability following in a close second. For additional inspiration, the designers look to the cinema, modeling their looks after those in their favorite films. For example, the fall line stems from a combination of Kurosawa's Seven Samuri and Star Wars.
What is the typical customer that comes into the store like? Do you have a mostly uptown or downtown clientele?
The clientele varies depending on the store (men's vs. women's). In general, the majority of our male customers live in the surrounding vicinity. The women, on the other hand, tend to be more a mixed crowd of both uptown and downtown.
Of the Rag & Bone signatures -– angular Savile Row tailoring, perfect tees, tux shirts, "haraki" pants, supple cardigans, sleek denim, etc. –- what is the most sought-after by customers in store?
In general, I think that people tend to come to us for our denim, tailored shirting, and Martin Greenfield's impeccable suiting.
Martin the Tailor from Ed David on Vimeo.
What is currently the most coveted pre-Fall item of the staff ?
I think every girl who works in store now owns a Smith T-Shirt in one of its various iterations.
...and for you personally?
I am in love with my Lacuna dress –- despite the fact that my grandfather was less-than-comfortable with its length during a recent visit.
Of your Fall/Winter 2009 orders, what are you most looking forward to arriving in stock?
I'm really looking forward to the Fall '09 shoes. The samples look amazing; if they're anywhere near as comfortable as our first batch from this spring, we'll have quite a winning product on our hands... or feet, rather.
Rag & Bone's Fall '09 collaboration with Loro Piana has not only generated elegant waterproof wool coats, but a stellar press response from fashion editors and eager fans alike; if you could personally select any established or under-the-radar designer to join forces with next season, who would you choose?
I would love to see an eyewear collaboration with someone like Moscot, as the brand has such an old New York kind of feel.
What is your absolute personal favorite Rag & Bone jean style (fit and denim color)? Why?
I most prefer our new denim leggings because they are the skinniest jeans we offer. I especially like the black ones because they have leather on them.
What do you most enjoy most about working in the West Village?
I live in Bushwick, which is more or less an industrial wasteland. It's nice to see things such as, I don't know, trees.
Rag & Bone men's store: 100 Christopher St., (212) 727-2999
Rag & Bone women's and children's store: 104 Christopher St., (212) 727-2990