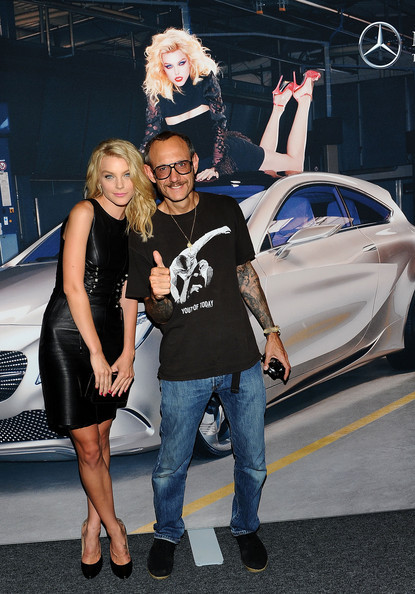 Yesterday afternoon, I took my first trip of the week to
Lincoln Center
's extremely accommodating
Mercedes- Benz Star Lounge
, wherein sat two very well-known folks in fashion: doll-faced Canadian model
Jessica Stam
and legendary photographer
Terry Richardson
. The reason? Both collaborated on a commercial for the Mercedes Benz A-Class, in which Stam plays a James Bond-esque femme fetale on the run from an invisible baddy and in hot pursuit of her dream car (spoiler alert: She finds it! And then rubs up against it for a few seconds). I nervously spoke to both NYFW vets about the Mercedes ad, Fashion's Night Out and their respective projects. 
How was your guys' Fashion's Night Out? 
Jessica Stam: I hosted a party at Roger Vivier, so I spent the night around beautiful shoes. Terry was actually around shoes, also. 
Terry Richardson: I did a bit of hosting at Jimmy Choo last night. Then I walked around, went to the Opening Ceremony event, played some games, and ate a sandwich. I tried to go home after, and it took like an hour -- it was crazy. 
JS: I went home and watched football after! 
Tell us about the Mercedes Benz A-Class commercial -- very James Bond! 
TR: I was approached, she was approached, and we just came up with the idea for it, and went to Germany to shoot it in the factory. It was really cool. It's where they make the cars and the engines and all that stuff. It was a good location and a cool atmosphere. 
Did you get a tour of the facilities? 
TR: Yeah, they took us through all the different rooms and stuff. 
JS: We actually shot the commercial in the engine room, so filming it acted as a sort of tour.  
How do you guys prepare for this week -- you're probably two of the busiest people in the city!
JS: I drink lots of water and pretty much just ride on adrenaline. 
TR: Take naps whenever you can. Naps are always good. 
All sound advice. Terry, how's the Gaga photo book coming along? 
TR: She's great, and I'm happy with the book -- I think it looks awesome. It's supposed to be out in November. 
What's it like to travel with Mother Monster? 
TR: She's such an awesome person, and it was a lot of fun -- I've never been on a tour with an act before, and it was an awesome experience just to travel. I did bits of Europe and all through America, and it was just amazing. I think I did 50 shows. I've seen Gaga more than anyone else! It was amazing every night. The show is so beautiful and emotional, and her connection with the fans was incredible. It's really inspiring, and you kinda cry every night just because it's so emotional. 
You do a pretty great acting job in this commercial, Jessica! Any more of that in the cards? 
JS: That was fun. I do all my own stunts! I don't know if I could do an entire movie where I'm away from home for months at a time and living in a trailer. I don't know if I'm made for that. 
Any more designing? 
JS: I have some more projects that I'm working on. Nothing that I can speak on right now, but I can say that there will be more. I do my own sketches of the clothes, and it's all just really fun.
Photo from Zimbio