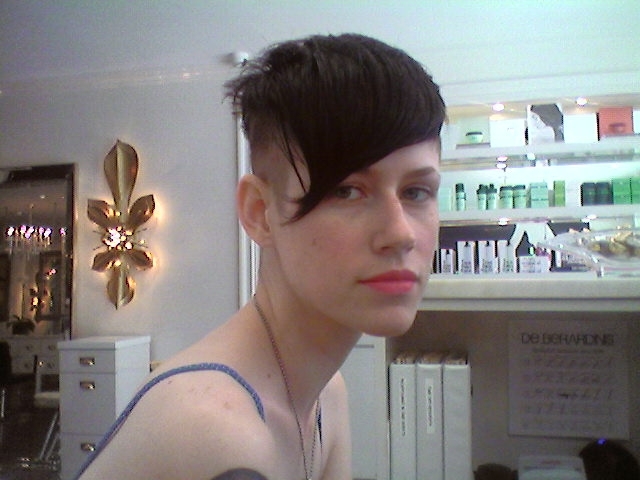 Have you, like us, been wondering where Shandi Sullivan from season two of America's Next Top Model, has been hiding out? Well last week while visiting the new De Berardinis Salon in Chelsea I was surprised to see that our long-blond-haired beauty is now sporting a short black do and pouring Prosecco for the well-coifed customers. Not to worry though, it seems she's still modeling -- she can also be seen photographed at the entrance. The salon itself is bright white with a hint of '70s glam -- think gold wall decor and crystal chandeliers -– designed by the salon's owner and master stylist Adrian De Berardinis.
I was there to try out a new highlighting technique that they specialize in called Baci di Sole, which involved my lovely stylist Ashley (one of the girls who will be teaching the technique to other stylists in the salon, so she's a pro!) teasing my hair out for a "I stuck my finger in a socket" look. She then massaged the color through the pieces and finished by wrapping my head in plastic, which resulted in a more natural "rooty" look. I was very pleased with the outcome and it isn't quite as time consuming as getting foils. Though the procedure is a bit pricey at about $250-$300, I think it might have been worth it -- there are no highlighting lines in my hair and it's a beautiful bright summer blond! Also I told Ashley that I have issues (i.e. lack of funds) keeping up with the maintenance of highlighting my hair, but she said that with this method it grows out much more naturally so I don't have to get it done as often -- so we'll see! If it does I'm hooked!
Go say hi to Shandi and check out Baci di Sole at De Berardinis, 155 W. 21st St., (212) 967-0927.