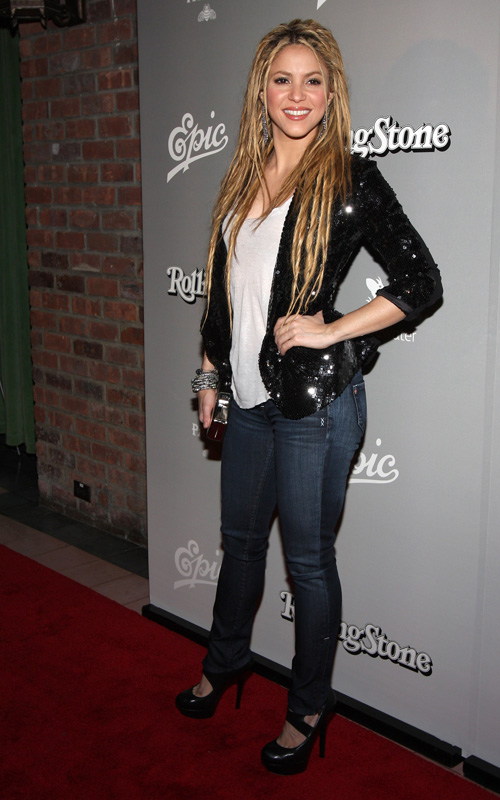 Last night, I crossed off one of my dreams on my gay bucket list when I interviewed
Shakira
at the
Bowery Hotel
, celebrating both her
She Wolf
album release and
Rolling Stone
magazine cover. All hell broke loose when the cute as a button pint-sized songstress who rocked Bo Derek-like dreads and a sparkly black blazer arrived on the red carpet. (I blame her tiny figure and the flashing lights for me asking out loud "is that Miley Cyrus?") I've thought Shakira was the coolest of them all since her brilliant "coffee machine in an office" lyric and being a Crystal Castles fan, but now she's straight up bad ass... She told me her fave
Rolling Stone
magazine cover of all time was none other than
Kurt Cobain
, before pointing to her own. Shakira also said she's YouTubing
Taylor Swift
's dead-on impersonation of her on
SNL
ASAP (she finds Ms. Swift "so sweet and talented") and keeps those hips in pop star form by watching what she eats and exercising. "But I LOVE food. I haven't exercised in four days because I've had no time." 
Alexandra Richards
pumped the jams (and told me her nickname is Wolfy), bite-sized treats were served (my dinner) and a PATRON (!) open bar made it quite an evening -- I saw several hips that weren't lying, but were definitely a bit wobbly... but that's Patron for you. According to the She Wolf of the hour, her hips NEVER lie. She told a reporter from
New York
next to us, "They're the frankest, most honest hips you'll ever find." Aah-woo!
Photos via celebrity-gossip.net