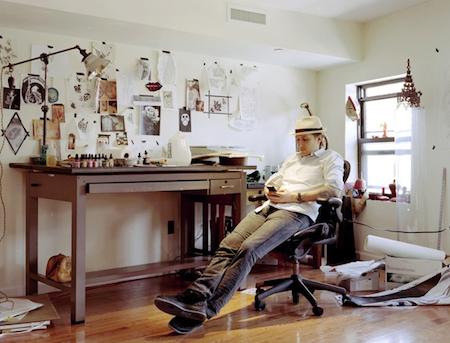 You've probably heard of Brooklyn-based artist
Scott Campbell
by now, whether it's because he's Marc Jacobs' go-to tattoo guy, or because he had a hand in designing the
Louis Vuitton
Spring 2011 men's accessories collection. His first love might always be tattooing, but since he's branched out to so many different mediums, it seems that everything he touches turns to gold. The opening of his first fine-art exhibition in New York at
OHWOW
in April was so packed that it nearly shut down Crosby Street, and he's even been summoned by Nike in the past to consult on the design of the Olympic uniforms. Commercial ventures and celebrity clients aside, Campbell is just a down-to-earth dude from rural Louisiana with a sincere passion -- and an otherworldly talent -- for his craft. I was lucky enough to chat with him about the fashion industry, Sponge Bob Square Pants, and his very special plans for Paris Fashion Week.
You've tattooed so many people in the fashion industry. Marc Jacobs is probably the most famous, but then there's Olivier Zahm, Lily Cole, Vera Wang, Helena Christensen... Who am I forgetting? 
There are some models -- Gemma Ward, Erin Wasson. I haven't tattooed him yet, but Jack [McCollough] from Proenza Schouler has a trainwreck of a tattoo on his forearm and I'm trying to figure out how to make it better. 
How did you hook up with all of them? 
It kind of evolved naturally. Being in New York is a huge part of it. When I first moved to New York, I worked at tattoo shops around town and I got frustrated with traditional tattoo aesthetic and "scene." Once I opened my own space and created this environment that was a little more forward-thinking and creative, a lot of these people who always wanted to get tattooed but didn't want to deal with the sweaty biker shops responded to it. If there's one tattoo shop in town that stands out for being different or a little more innovative, people gravitate toward that, especially people in a creative industry. So I pretty quickly built a clientèle that was a lot of artists and designers, really interesting, inspiring folks. 
How did you meet Marc Jacobs? 
He set up an appointment to get tattooed. I expected this big, fashion-y entourage to come blazing through the tattoo shop, but he showed up just with his boyfriend. He was the sweetest, most humble guy, which totally caught me off guard. I never expected to be as inspired by him as I have been. Maybe that's my fault for being so quick to judge and assuming he would just be some fashion diva, but he's one of my favorite people in the world. I get excited every time he calls wanting to get a new tattoo, because no matter what you're expecting him to get, you can guarantee it's not that. 
For lack of a better word, tattooing has become pretty "trendy" lately. Chanel did it, Louis Vuitton did it, and now Betsey Johnson is doing it. What's your feeling about this? Does it bother you at all? 
No, it doesn't bother me, but there are different ways to look at it. All of a sudden, fashion is appropriating something that's been near and dear to me for so many years. A lot of tattoo artists get defensive about it because tattooing is one of those things that you really have to commit to and devote yourself to completely. You kind of sell your soul to tattooing, because it's a craft that in order to be good at it, you have to invest so much time and energy into learning about it. To have it appropriated by fashion and the mainstream media, there is a part of me that wants to say, "wait a minute, this is MY world," but at the end of the day, it's not mine. With more exposure only comes greater understanding and appreciation, and I don't think that could ever be a bad thing. 
Since you started your career, have you noticed a change in the type of person that comes in asking to get tattooed? 
One of the cool things about tattooing is that over the years I have dealt with literally the entire spectrum of humanity. In the beginning, just working at some ghetto street shop, I was tattooing a bunch of criminals and bikers and gang members, so I've done everything between that and Marc Jacobs. I'm really grateful for all of that perspective. Getting to work on a pretty intimate level with all of those different people is really inspiring, and you'd be surprised how similar they all are. 
Do you have any humorous anecdotes that you'd be willing to share about any of your fashion industry clients? 
I don't know if this is really an "anecdote," but one of the things I love about Marc is that every time he gets tattooed, even for the first time, he has this lightheartedness about it. He didn't take it too seriously; it was really about whatever made him smile. He doesn't come in asking me to interpret his dreams, he says, "you know what? I looked at Sponge Bob this morning and it made me smile." That's it! Just that little bit of warmth the cartoon conveys for whatever reason, that's enough. That's what he's after, and that's an amazing way to look at it. 
You're coming off the heels of a highly publicized collaboration with Louis Vuitton. Can you briefly explain how that came to be? 
Marc and Paul Helbers from Louis Vuitton were talking about potential collaborations and approached me. Paul had a bit of an idea, and we sat down, kind of like a tattoo consultation would work. He wanted a travel theme, with some pieces that were Asian inspired and a little futuristic, and some that were more jungle inspired and ornamental. They sent me a bunch of bags to draw on and paint on, and we went back and forth until we finally figured out a way to make it work. We worked on a graphics and bunch of textures for scarves and shirts, and what I thought was just going to be a series of bags ended up spilling over into the whole season, which was really fun. 
Do you have any more collaborations planned for the near future? 
Not really. I've had more success in the fine-art world than I expected in the last few years, so I've really been devoting myself to that as much as possible. After I had a big show in New York and it went really well, I thought that while I had that momentum I had to pursue that and not take on any more commercial work; just concentrate on fine art one hundred percent. Literally, the moment those words came out of my mouth, the phone rang. "Hey, do you want to do something with Louis Vuitton?" And that was kind of the exception -- the universe reprimanding me for saying "never." 
Are there any design houses that you wish would approach you to do a design for them? 
There's an amazing line called
Deth Killers
that was around a few years ago and they just started up again. Their stuff is so good and so smart. You couldn't be more opposite from Louis Vuitton. It's just a couple of dirty biker kids out of a garage in Bushwick and it's so DIY and punk rock. But there's an energy to it that's so nice and so completely separate from anything that's going on in the fashion world. 
Do you have any plans for the upcoming Fashion Weeks in New York or Paris? 
Actually, yeah -- I just finished a book that's coming out, and I'm doing a book launch event at Colette in Paris during Fashion Week. The book mostly focuses on fine art -- the dollar-bill pieces and some watercolor paintings I've been doing. It has a little bit of tattoos, some drawings and sketches, but nothing I do is completely separate from everything else. Terry [Richardson] shot a bunch of clients of mine for a section. It's just a "who the hell is Scott Campbell" book. I'm so excited about it! 
Before I go, let's clear up this pesky little rumor: do you really have a five-year waiting list to get tattooed? 
NO! I am so terrified of commitment. It's a weird thing in the tattoo biz where people measure your success by your waiting list. I won't make an appointment more than a month in advance, because I don't want to commit to being somewhere months from now! If the phone rings, and Marc calls and wants to do something, I want to be able to say yes to that. I would have a nervous breakdown if I had two years of appointments scheduled, because I might have some harebrained scheme pop into my head. But no, it's not true. If you e-mail me with an awesome idea, I'll tattoo you tomorrow.