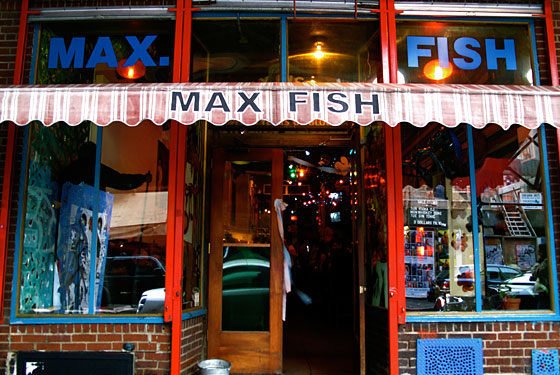 In its latest assault on New York nightlife, the NYPD has padlocked Max Fish, which recently renegotiated its lease to stay at its current location till next January. One of New York's most celebrated bar/galleries whose 20-plus year history of nurturing downtown's creative community has recently been chronicled in the New York Times and the New Yorker, deserves better than to be nitpicked to death by a police captain that's hell-bent on ridding the neighborhood of any vestiges of its original community that doesn't spell g-e-n-t-r-i-f-i-c-a-t-i-o-n.
The powers that be have never been friendly toward nightlife. From the days of former Mayor Rudolph Giuliani to Michael Bloomberg, the city has viewed one of its major attractions and generators of significant tax revenue as a necessary evil that needs to be policed with an iron fist. For years, Fish proprietor
Uli Rimkus
has been a part of the community where she lives and works. From the time when drug dealers ruled the hood and the Lower East Side was predominately Hispanic, she helped blaze the trail that made it possible for the explosive development of high rise condos, hotels, bar and boutiques to flourish. Now for reasons we can only speculate about, it appears that the police have got it in for the Fish, showering it with summonses and violations, the most recent one for serving after hours and to minors. In compliance with recent police visits, Rimkus has beefed up security and installed scanning devices to assure the police that she is doing everything in her capacity to check IDs. And the after-hours drinking turns out to be nothing more than staff kicking back after work with the door locked. Knowing the police have been eyeing her bar, Rimkus would never be so foolish as to risk her license by flaunting the law in this way. Who's side are you on? If you believe -- like me -- that Max Fish should stay open sign the
online petition
that reads: "Max Fish opened on Ludlow Street in 1989. We have nurtured and supported the Lower East Side arts community for over 20 years-a community that is increasingly threatened by a variety of outside sources including landlords, real-estate developers and the NYPD. Your signature shows support for the continued existence of a vibrant and positive establishment-one that embodies the creative spirit of the LES and elevates the quality of life for the community."