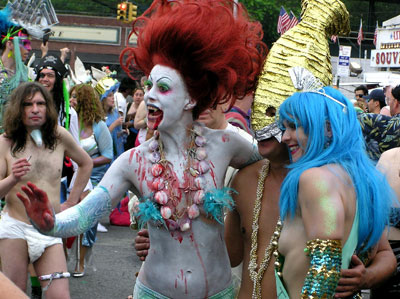 The Coney Island saga continues. Even as the City's Planning Commission approves the city's plan for the mallification of Coney Island, the Mermaid Parade is readying for a day of festivities this Saturday, June. 20, that will celebrate the past and rally the troops in an effort to save Coney's future. With Harvey Keitel serving as the king of the parade, look for lots of excitement. And if you want to pitch in to Save Coney Island, here's how:
Be a Save Coney Island Volunteer at the Mermaid Parade!

WHAT: Pass out placards to mermaids and other parade revelers and gather petition signatures

WHEN: Saturday, June 20, ALL DAY, starting at 10:30 a.m. (volunteer for an hour or two or more, anytime)

WHERE: Surf Ave. in front of the Cyclone by the Coney Island History Project. A coordinator will be there to meet you and provide you with materials.

WHY: The Mermaid Parade is a great opportunity to get out our message that the City needs to fix its flawed rezoning plan for Coney Island, which would shrink Coney Island's historic amusement district and put high-rise towers right in the middle of it.

Join us at the Mermaid Parade and help us Save Coney Island!

To volunteer, contact us at volunteers@saveconeyisland.net. That way, we can exchange contact information to make sure we find each other at the event. We hope you'll join us!
Photo from brooklynvegan.com