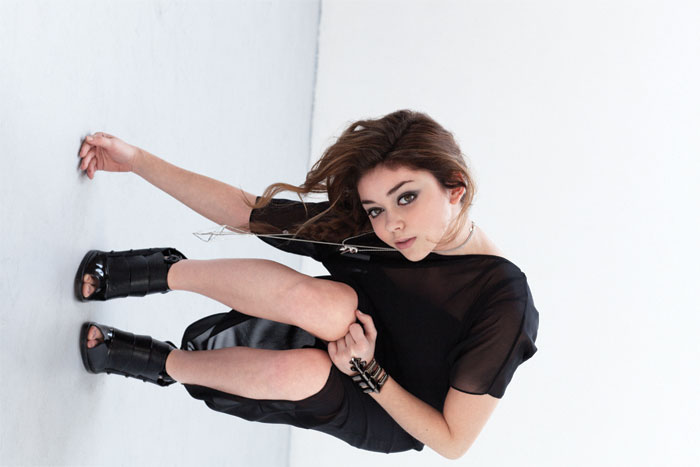 Sarah wears a jacket and dress by J Brand, shoes by Fendi, pendant necklace by Alexis Bittar and bracelet and spike necklace by nOir. Photographed at David Kramer Studios.

When Sarah Hyland was just four years old, she saw a Shake 'n' Bake commercial starring another little girl, and her mind was made up: She was going to be an actress. "I was like, 'This looks so easy! I can do this,'" Hyland recalls. "Of course, no parents want their four-year-old daughter to deal with rejection. But I honestly didn't mind the risk." (It helped that Hyland used to watch her actor dad do Shakespeare monologues from backstage.)
Growing up in New York City's East Village provided Hyland with the perfect outlet for her creativity. She attended the Professional Performing Arts School, a place where "there were no losers or geeks; the more individualistic you were, the better." And Hyland definitely stood out: When she wasn't earning straight-A's in school, she was landing gigs as Brooke Shields' daughter on
Lipstick Jungle
, playing a young Jackie O in a 2006 Broadway production of
Grey Gardens
and appearing on the Disney Channel's
Geek Charming
. (Talk about geeks finishing first: Hyland's boyfriend is her Charming co-star, Matt Prokop.) Now 22, Hyland is best known for her role on TV's white-hot ensemble comedy
Modern Family
as scene-stealing rebellious coed Haley Dunphy, a character with whom she says she has little in common. "For one, unlike my embarrassing real estate agent dad on TV, my mom and dad are actors," Hyland says, "which I think makes them cool."
So what's the coolest thing about Hyland? Her refreshingly non-superficial MO: "Beauty is such a loaded word," Hyland says, "but sometimes, when people focus on outer things that ultimately don't matter, I think of this saying that goes: 'Maybe if she ate her makeup, she'd be more beautiful.'"
MEET THE REST OF OUR 2013 BEAUTIFUL PEOPLE