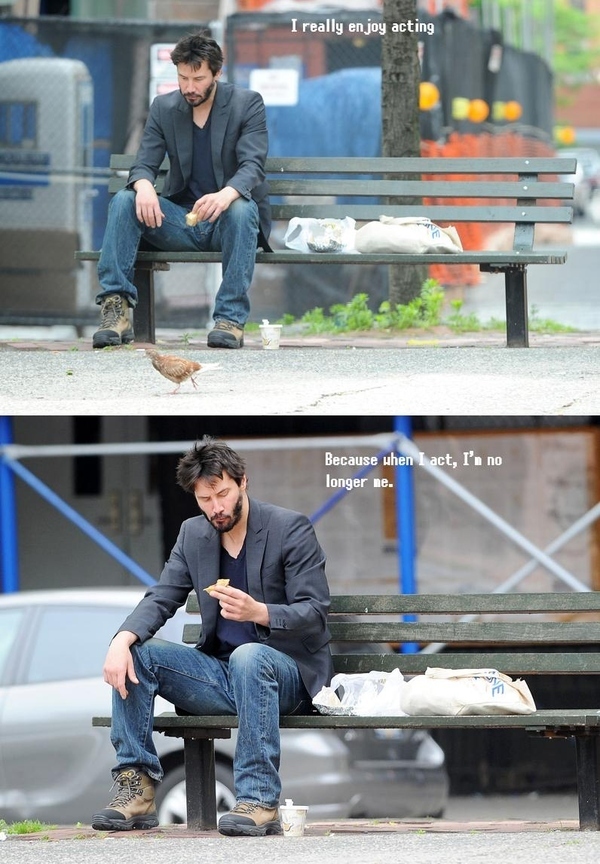 (Image via
Buzzfeed
)
One fateful day, long, long ago in 2010, Keanu Reeves decided to eat a sandwich on a bench. That singular, depressing act was caught on camera and, in turn, has overshadowed (become?) his entire career -- at least as far as the
Internet is concerned
. Unfortunately for Keanu Reeves, Internet memes die hard, far too long after they're tolerable.
But the sad actor -- whose first name, IMDb notes, means "cool breeze over the mountains" -- seemed downright gleeful while promoting his new film
John Wick
on Reddit. Perhaps Reeves was overcompensating, but during the AMA his use of exclamation points -- and, strangely, italics -- was unparallelled and very endearing.
Sakura_7

:

"Who's your favorite superhero?"

Keanu Reeves, with a new lease on life: Growing up as a kid, my favorite superhero was... WOLVERINE!"

And if that's not definitive proof that Reeves is loving life, his other responses included, "
Hehehehe!"
During his Reddit AMA, the newly happy
actor also discussed smiling, the secret to happiness ("
I don't know that secret!
But I'm working on it."), his favorite thing to eat for breakfast, and his love of caramel pecan chocolate. The Reddit thread's cuteness factor could seriously not be any higher -- unless it's later revealed that Keanu Reeves was holding an armful of puppies the entire time.
In case you missed it, catch up with Keanu Reeves
here
.