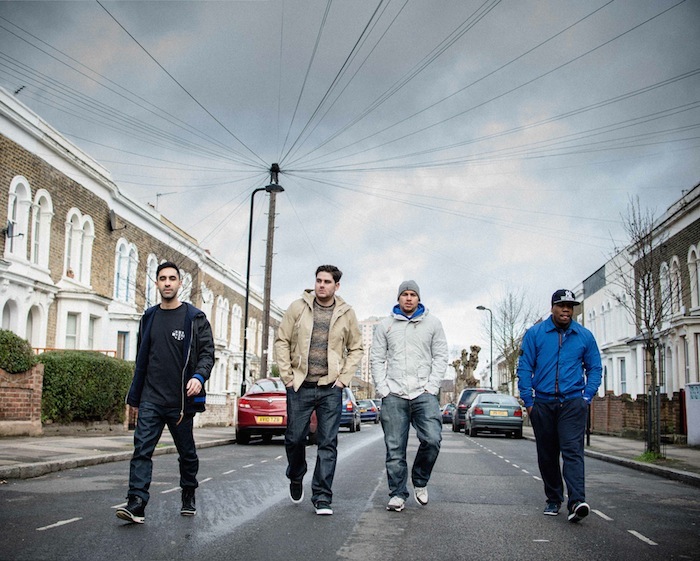 (Photo by Danny North)
"This show is great -- it's like everything and the kitchen sink," my friend told me last night during
Rudimental
's show at the Music Hall of Williamsburg. He was right. With the help of three singers and additional musicians, their set veered from disco to hip-hop to electronic to R&B to drum 'n' bass to soul and, at the very end, even some metal. This genre fluidity comes, in part, from the fact that the London-based four piece, typically described as an "electronic group," do something during their live shows that most electro producers don't: play instruments.
They're leading the pack of post-EDM electronic acts whose dance-oriented music is enhanced by complex electronic production but not necessarily dominated by it. Their musicianship adds another element to their shows that you can't find at a lot of Electric Daisy Carnival sets -- they're incredibly effin' engaging. Whether calling out to the audience like rock stars or dancing around onstage together, these dudes know how to create some serious party vibes. On the heels of the U.S. release of their debut record,
Home
, and ahead of their second New York show tonight (this time at
Bowery Ballroom
), we chatted with the four East Enders, Piers Aggett, Kesi Dryden, Amir Amor and Leon Rolle, about how they all met, '90s UK rave culture and what's next in store for them.
So first things first, how do you guys all know each other?Amir:
A bus stop.
Kesi:
Yeah, we met at a bus stop.
Piers:
Nah, we grew up together, went to school together, lived around the corner from each other in and around East London -- Hackney and Camden. What's great about Hackney is there's lots of different cultures.
Amir:
But like we said, we all look like we met at a bus stop. That kind of explains it -- that's what the area is like.
Kesi:
Our album cover is a perfect example of Hackney. It's a mural that is actually in the neighborhood. It's a real piece of art work that we wanted to show -- all the different cultures together. It's a peace carnival.
Piers:
Yeah, we started making music from an early age and we played in the same football [soccer] team together and so we've been working together as friends and doing music --
Amir:
Playing in different bands and DJing, producing for other people so that was a big thing that we all did separately before.
Were you guys always making music or did you have other jobs before the album came out?Leon:
I was a behavioral manager along with Kesi in a secondary school, working with students that were badly behaved because I was badly behaved when I was younger and I could relate to them.
Now the students probably think you're the coolest.
Leon:
Yeah. Two years ago, I quit my job and I think two weeks later we got signed so it was kind of amazing.
Amir:
I had a studio and I was producing for other people so I was just working behind the scenes.
Piers:
We were all constantly networking, making new songs, finding new singers, which is how we got onto John Newman. We met him in a pub. We heard him sing and were like, "Wow, let's get this guy on the track that we have," which was "Feel the Love" at the time. And we spent years doing that in London so we had a family of singers and writers and it's how the album came about. Once "Feel the Love" did really well, we kept on and worked with all the featured artists on the album.
Video for "Free" ft. Emeli Sandé

How have you found the reception to your music in the States?
Kesi:
The reception has been great [even though] it's quite a new sound to people out here. The response we're getting out here is probably better than the response we got when we first started in the U.K.

Why is that?
Amir:
There's a really rich culture of soul music out here and people really relate to that when they see us. There hasn't been anything in dance music that's fully live in the way we are. We perform live and that's really what sets us apart so when people see that, they realize we're not a DJ act necessarily although we do DJ separately.
Leon:
I think it helps that we did pretty well in the UK, Europe and Australia as well. Built something up and had something to stand on instead of coming here standing on quicksand.
You mentioned that we're not always used to hearing the sounds on your album in the States. What do you make of the respective electronic movements happening in the UK versus over here?
Piers:
I think in the UK, [electronic music] has been vibrant in the underground for years. For twenty years, there have been sub-genres from jungle, to drum 'n' bass, to house, garage, dubstep. There's all these different genres that relate to each other and I think over here, the whole electronic music scene has exploded from the David Guettas and all that and it's becoming mainstream. There's loads of great, undiscovered electronic music that I think the bulk of America might not know about. I think people look at us and Disclosure and we're part of that wave of using those influences to make music.
Leon:
But in the UK right now, all those sub-genres that Piers was describing have now sort of gone over into the mainstream. You've got house tracks like 100% by [?] and Disclosure reaching the Top 5s in the charts, which was unheard of before. That's the change and transition thing that's happening in the UK, which is really cool and vibrant at the moment.
Amir:
Also, the rave culture was really big over there [in London] and that's kind of our background. You'd hear about the clubs and raves through pirate radio.
And you guys have backgrounds in pirate radio, correct?
Amir:
Loosely.
Leon:
We always wanted to get on a pirate radio station. We would end up having 25 MCs over to our houses and put our decks and mixes up and we'd have the MCs MCing and us DJing to beats that we actually made in our bedrooms. And we did end up getting on pirate radio stations, one of them being Deja Vu FM. It was a platform for us to play the music that we had created from the FM dial illegally and that was really where Rudimental started.
Piers:
These radio stations used to organize parties in warehouses and it used to be all about hearing about the secret parties...We used to have football teams in the '80s and '90s -- Arsenal fans and Tottenham fans -- hugging each other in raves.
Kesi:
Talk about Arsenal fans and Tottenham fans hugging each other! Ecstasy!
Amir:
Ecstasy and raves -- that's where all this came from. Jungle music was called "jungle music" as initially a derogatory term because it was, like, black music. These kinds of things broke down a lot of barriers and I guess ecstasy had a lot do with it back in the day in the early '90s.
So it's safe to assume you guys were ravers back in the day?
Piers:
Yeah, big time.
Amir:
The term "raver" here [has a much different meaning] -- rave in the U.S. has a lot of florescent vibe and all that stuff going on. For us, it was growing up with jungle music, garage music and house music.
Piers:
Dirty warehouses.
Amir:
A lot less neon. And very mixed cultures as well.
Leon:
For me, when I started raving, I was probably about 14 and you had to be 18 to get into the clubs or whatnot. I remember wearing my school shoes because you needed [nice] shoes so I could only wear my school shoes. And there was a club right next to where we lived call Palace Pavilion and you'd sneak in there with a big jacket on, try to make yourself look older or whatnot and you got in there and it was just like, "Wow."
Kesi:
People like Dizzee Rascal were at those places -- small little clubs -- that's where they come from. And we were in the crowd, raving to that and not even knowing who they were.
Amir:
People in the mainstream didn't know about these places because it was all through the pirate radio and through word of mouth that you'd find out about certain DJs and people playing at certain places.
Video for "Feel The Love" ft. John Newman

Where did you guys come up with the concept for the "Feel the Love" video?Kesi:
[For "Feel the Love"], we heard about the horseback riding community in Philadelphia and we just thought it'd be amazing to document that in a video. We were lucky enough to go out there, meet all the people and watch it being filmed.
Amir:
And it relates to our concept of 'home' -- like, for them, that's home. We relate to that and I think everyone can relate to that because it's the emotional value that you relate to. We wanted to show that it doesn't matter where you're from -- essentially, we're all the same.
What would you like to see happen to your careers over the next few years?
Amir:
We're an album act. We're here to make albums for the next 38 years.
Kesi:
Whoa, whoa, whoa.
Amir:
You know when you listen to OK Computer by Radiohead or Dark Side of the Moon or something like that -- or What's Going On? by Marvin Gaye -- we would love to be that kind of band in 10-15 years time and do a big reunion concert and sing in a massive field.
Leon:
That's definitely the long-term game. That's what you get in it for and that's what you dream of doing -- selling out arenas and getting people to come see you, thousands [of people] because they bought your album. At the minute, the short term goal is America. It's such a big audience and if you can conquer that, then you know you've got something incredibly special.