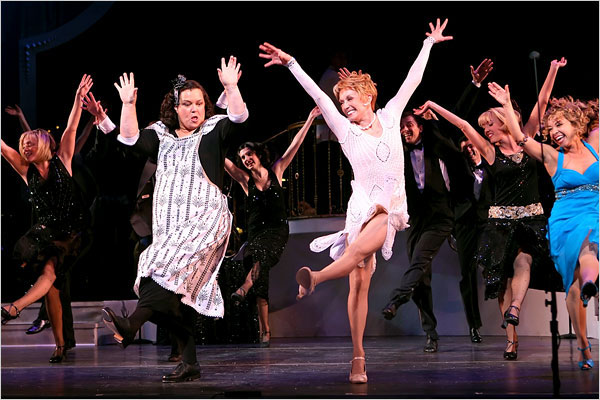 Two nights ago I saw the Encores! presentation of the 1925 relic No, No, Nanette at the New York City Center. The Roaring Twenties-era musical about two rich families in New York and a big misunderstanding that lands everyone in Atlantic City wasn't the deepest thing I've seen this year (think a chorus of boys in bright colored spandex swimsuits and a snarky maid who has her tap-dancing day played by O'Donnell) but sometimes it's nice to just chill in the shallow end. I loved the old school tap numbers and a talented cast starring Rosie O'Donnell, Sandy Duncan, Beth Leavel, Mara Davi and Michael Berresse.
I've been going to many of the Encores! productions (there are about three or four a year) ever since I went to see Follies last year starring Donna Murphy, Victoria Clark, Victor Garber and -- well there were too many fabulous people involved to list --and had one of the best theatrical experiences of my life.
The half concert/half full-scale shows (the actors carry around scripts with them and the sets are often less elaborate than a Broadway production) are usually star-studded and some even transfer to Broadway like last summer's production of Gypsy which opened last month at the St. James Theatre. Nanette closed last night but I can't wait for the next production Damn Yankees! opening in July and starring Jane Krakowski, Sean Hayes and former PAPER Beautiful Person Cheyenne Jackson!
Pictured is a scene from the finale of No, No, Nanette.