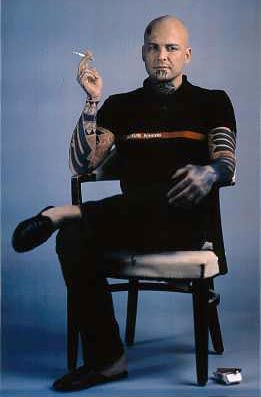 In Sunday's L.A. Times' WEST magazine there was a big article on one of our favorite L.A. men, Ron Athey. We've been fans of Ron's mystical blood-letting brand of performance art since forever and are thrilled to see he's getting as much ink in the media as is on his body! I actually participated in a performance symposium, "Talks About Acts', with Mr. Athey a couple of weeks ago at the L.A. gallery LA><ART. The slides of his performance work were both harrowing and beautiful. And I'm afraid I'm the only one who let out a big loud laugh when the slide suddenly came on of him with a giant baseball bat inserted waaaaay up his butt. It's supposed to be funny, right?

Ron is the sweetest, most gentle person I think I've ever met. And yes, he said it was okay to laugh. It was also okay to cry - like the moment when we remembered so many of our 80's era East Village pals who are no longer here to engage in the madness. Ron's work eulogizes those spirits and also takes us to ecstatic heights that simultaneously disturb. But that's the art of living, right?

From WEST's  "The Art Issue":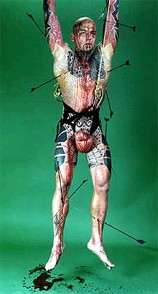 To describe a performance by Ron Athey is, at least in part, to sensationalize it. Double-headed dildos, "castration" by tuck with surgical staples, a crown of steel thorns, suspension by hooks through the back, a baseball bat. Blood flows. But a sacredness infuses. Ritual. Exorcism. Taboo. Transcendence. The body invaded. The body politic. AIDS, homophobia, addiction. Religious fanaticism, identity, oppression. Scenes from a harsh life. Pain as transformation, as a way to an altered state.

He's not necessarily trying to shock anyone, but of course he does. What you see, how you react, depends on your own experiences. I've seen people faint and vomit at his shows, I've seen people weep with recognition, I've seen people walk out. The artist's body chemistry changes, the audience's chemistry changes. Watching the unwatchable. You can't be jaded. It's real pain. Yet there's beauty shining out of the horror. And hope. There's love.

Continue reading about Ron Athey here.