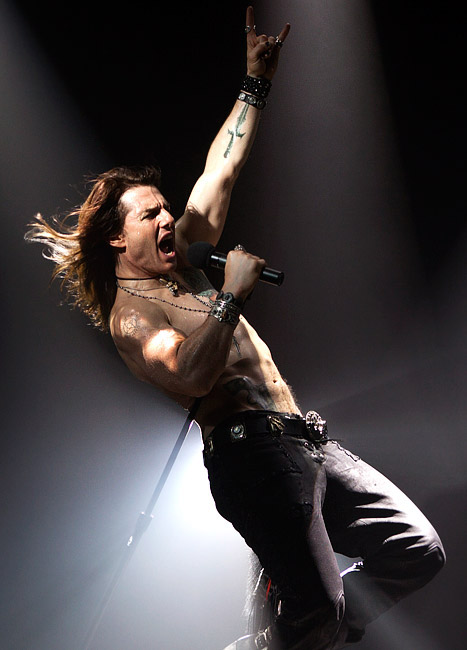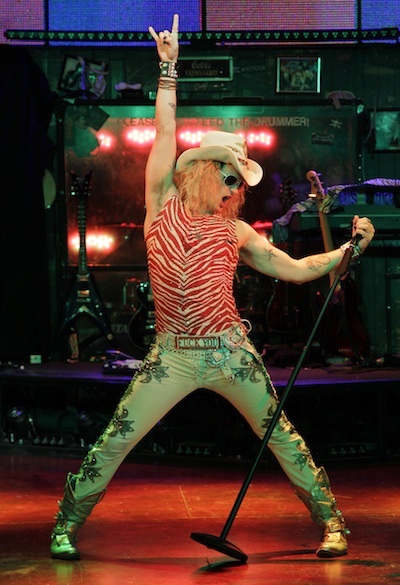 The '80s nostalgia trip that is
Rock of Ages
is opening Friday. The major motion picture event of the summer stars
Tom Cruise
,
Julianne Hough
,
Catherine Zeta-Jones
,
Alec Baldwin
,
Russell Brand
,
Malin Akerman
and pretty much everyone else who regularly graces the pages of
Us Weekly.
The movie-musical, which includes glam-rock hits from the likes of
White Snake
,
Twisted Sister
,
Journey
and
Bon Jovi
that you love screaming out after a few too many PBRs, is based on the 2009 Broadway show of the same name. Billed as the "biggest party on Broadway," the musical is still going strong at the
Helen Hayes Theatre
. The story line is pretty much the same: small-town girl (Hough) arrives in the big city to become a singer. She starts working at a nightclub (the Bourbon Room) attracting the attention of another talented drifter (
Diego Bonito
) and the club owner (Baldwin) while some nightlife-hating meddlers are trying to shut down the club. As a Broadway Baby, I was sad that none of the original or current castmembers from the stage show were cast as their roles in the film (though
Constantine Maroulis
does make a cameo), but I guess that's showbiz. Some of the parts are bigger on the screen to accommodate the big-name talent, like the added "Pour Some Sugar on Me" solo for
Tom Cruise
in the role of the over-the-top rocker
Stacee Jaxx
.
Last night, the stage and film versions collided when Cruise received the Friar's Club's Entertainment Icon award at the Waldorf Astoria. During the event, the Broadway cast -- including the current Stacee Jaxx,
Jeremy Woodard
-- surprised Cruise with performances of "Wanted Dead or Alive," and "Don't Stop Believin." I spoke to Woodard this morning, and he told me that the experience of singing  "Wanted Dead or Alive" for Cruise "definitely made [his] top-10 list of most exciting
and
most nerve-racking moments ever." Afterwards the two came face to face backstage but there were no rock-star-ego fueled showdowns. Woodard says he had nothing but love for Cruise's take on the role, "lots of which," he says, he wishes he could do on stage, "but it just wouldn't translate the same as it does on screen." Pictured above are the two Stacee Jaxx's side by side. And we've included the
Rock of Ages
trailer below to get you pumped up for the film! 


Photo of Jeremy Woodward in Rock of Ages on Broadway by Paul Kolnik