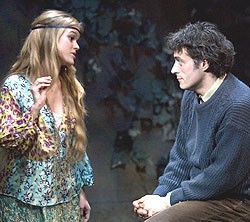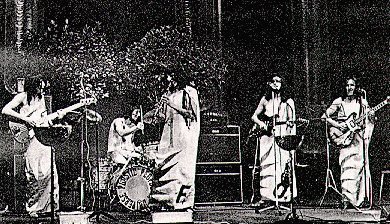 Fall is here and despite the fact that the heating in my apartment was on the fritz this weekend and the time change had the sun setting at 4:50 p.m., I couldn't be happier. The 2007/2008 Broadway season is in full swing. Tom Stoppard's new play Rock 'n' Roll -- the play I was most excited for -- opened on Sunday at the Bernard B. Jacobs Theater.
I was looking forward to this play, which enjoyed a sold out run on London's West End last year, after reading the rave reviews and interviewing one of the stars Alice Eve for the October issue of PAPER -- and I was not disappointed. I admit that when I saw Stoppard's Tony-winning trilogy The Coast of Utopia last year I might have dozed off at a few points. As a theater-lover I can appreciate the importance of his work but I don't always find that I connect to it emotionally. Rock 'n' Roll was different. Some of the material still went over my head, but I absorbed enough information and had enough interest in the story. The play -- which spans the years 1968 to 1990 -- is about the restrictions placed on rock music in Communist-era Czechoslovakia and focuses on the avant-garde band The Plastic People of the Universe, who became a symbol of the country's cultural repression.
Rock 'n' Roll ping pongs back and forth between Cambridge, England and Prague and stars Brian Cox, Sinead Cusack, Eve and (the very sexy) Rufus Sewell. In the first act, Cox plays Max a communist professor at Cambridge who is married to fellow professor and cancer victim Eleanor (Cusack). They have several emotionally charged scenes together and Cusack is especially fabulous. Sewell (who's dating Eve in real life, and when I talked to her, she told me that they planned on co-habitating while in New York) is also amazing and brought tears to my eyes in the second act as the older version of Jan, the student and rock journalist, who is the central character. According to Ben Brantley in his glowing review in the Times the other day, the Czech-born Stoppard has said Jan is his alter-ego.
Something else a Stoppard play (or any play for that matter) rarely does is encourage me to go home and download music. But after seeing Rock 'n' Roll, I found myself needing to hear copious amounts of Pink Floyd, The Velvet Underground and The Beach Boys all of which were played during scene changes with the production credits projected on a black screen. It really reminded me how much music meant to me and gave me an overwhelming feeling of sadness for those who weren't free to experience it.
pictured on the left, Alice Eve and Rufus Sewell in Rock 'n' Roll , and on the right, The Plastic People of the Universe.