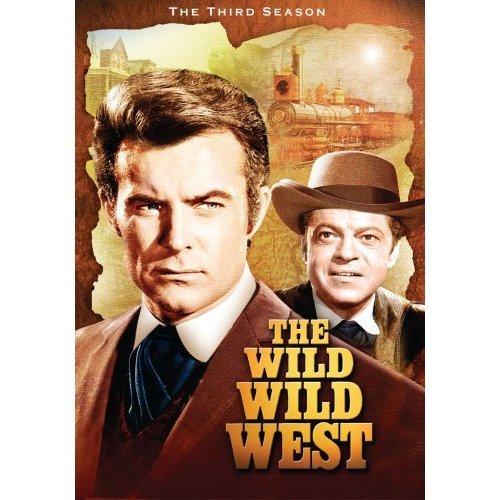 I'm just wild about the third season of The Wild Wild West, recently out from Paramount. This great series from the late 60s was part western, part James Bond-spy-drama starring mega-hunk Robert Conrad as the 1870s American Secret Service agent James T. West, who alongside master-of-disguise sidekick Artemus Gordon (Ross Martin), fights mad scientists, crazed despots and assorted evil geniuses. Lots of gadgetry and full-on fighting action.
In the third season (in color), audience favorite Michael Dunn returns in only one show as the brilliant but insane dwarf villain, Miguelito Loveless. Patty McCormick (The Bad Seed) and Nick Adams pop up in some of the 24 episodes, while Robert Conrad wears skin-tight pants and bolero jackets (occasionally leather chaps are added). Invariably, Conrad's shirt gets ripped off to reveal his sexy buff chest. I caught a great blooper in Disc 5 (The Night of the Underground Terror) -- at the 46 minute mark, a shirtless Conrad is in a wild fight in an abandoned prison yard when his pants split. For a few glorious seconds you see his tighty whities.
My two favorite episodes are The Night Of The Death Masks, in which James West wakes up (after being drugged) in a deserted ghost town and is tormented by strange events orchestrated by an evil escaped prisoner out for vengeance, and The Night Of The Undead, about voodoo and zombies in the Louisiana Bayou and starring Hurd Hatfield (The Picture Of Dorian Gray).