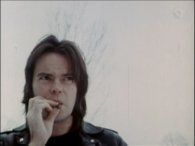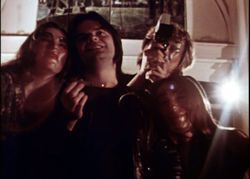 I was greatly distressed to hear of the passing of Roger Watkins, the director of the infamous cult classic Last House On Dead End Street on March 6 in Apalachin, N.Y. I saw that movie on 42nd Street and it really freaked me out at the time. The director's name listed was "Victor Janos" (which was just a pseudonym for Watkins). Watkins was a director, author, editor and starred in the film as Terry Hawkins, just released from prison after a one year drug bust. Pissed off at the world, he rounds up a few friends and they decide to direct some films aimed at a "specialized" audience of degenerates. Actual snuff films, which they can make money from and get back at society with.
The Manson-like girls in his gang wear see-through masks and they film in an abandoned college building. Shot on 16mm, it's grainy cinema verite shooting and the overdubbing give the film a creepy realistic rawness. And the murders are graphic and unpleasant -- they saw off a woman's legs, yank out her intestines and play with them. They plunge an electric drill through a man's eye. A topless girl with a deer hoof sticking out of her jeans forces a man to fellate it before they brutally kill him on camera. Audiences really freaked out when the film was over, because it felt so real and so wrong. Years later on Barrel Entertainment, a two-disc DVD came out which uncovered the history behind this nasty little shocker.
Watkins shot the movie after getting out of SUNY Oneonto college in 1972. In an interview he said there was $3,000 for the shoot but only $800 was used on the movie. The rest "I think it was to buy drugs," he said. "I didn't spend anything on that film." It's original title was The Cuckoo Clocks Of Hell (a reference from Kurt Vonnegut's Mother Night). After it was finished it went through many shady distributors and didn't hit theaters until 1977 as: The Fun House and later: Last House On Dead End Street, tying it into the Last House On The Left popularity. But as a film it still manages to unsettle -- it's a nihilistic dark little horror masterpiece.