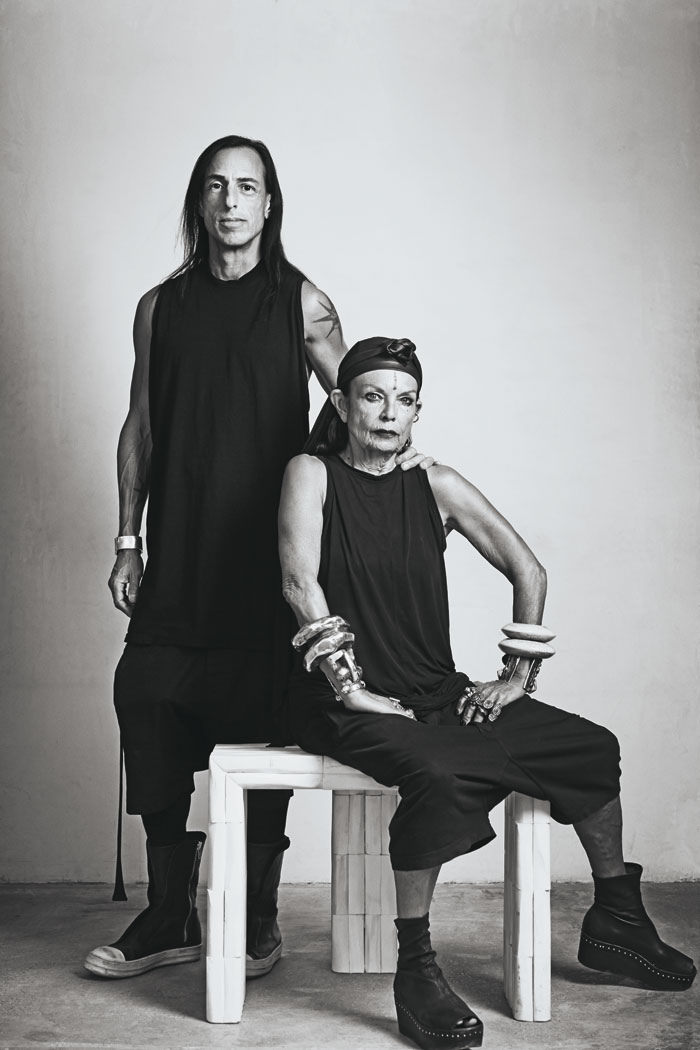 When it comes to packing a high-fashion visual punch it's hard to beat power couple Rick Owens and Michele Lamy. Owens' eponymous line is unmistakably high fashion, but it's his love of rock 'n' roll and all things dark and sinister that have made him a fashion force. Lamy ran her own eponymous line and lorded over a secret L.A. restaurant and celebrity hangout (among many other things) before relocating to Paris in the early aughts to copilot Owens' line. The two were introduced by Owens' then boyfriend in L.A. and ultimately became a couple, marrying in 2006, and are business partners as well. Designer Owens says he trusts her instincts more than his own.
Personal OGs:
R.O.: John Waters, Christeene, Jurgen Teller.
M.L.: Pina Bausch, Rei Kawakubo, Muhammad Ali, Langston Hughes, A$AP Rocky, Chokra, Malala Yousafzai.
Who are the people who have influenced your careers?
R.O.: Bowie, Brancusi and Beuys.
M.L.: Jean-Luc Godard, Langston Hughes and La Falconetti.
What was the biggest obstacle you had to overcome in your career?
R.O.: Fear.
Why do you think you succeeded when many other pioneers did not?
R.O.: Tenacity.
M.L.: Curiosity, optimism and love.
What do you think made you the person you are?
R.O.: Probably ego.
What were you like as a child?
R.O.: Soft.
M.L.: A fierce tomboy.
What do you consider success to be?
R.O.: Freedom.
M.L.: To last so long with the marveled eyes of a little girl.
What has your experience been like with your supporters?
R.O.: Warm.
Do you like to collaborate?
R.O.: No.
BACK TO ORIGINAL GANGSTERS