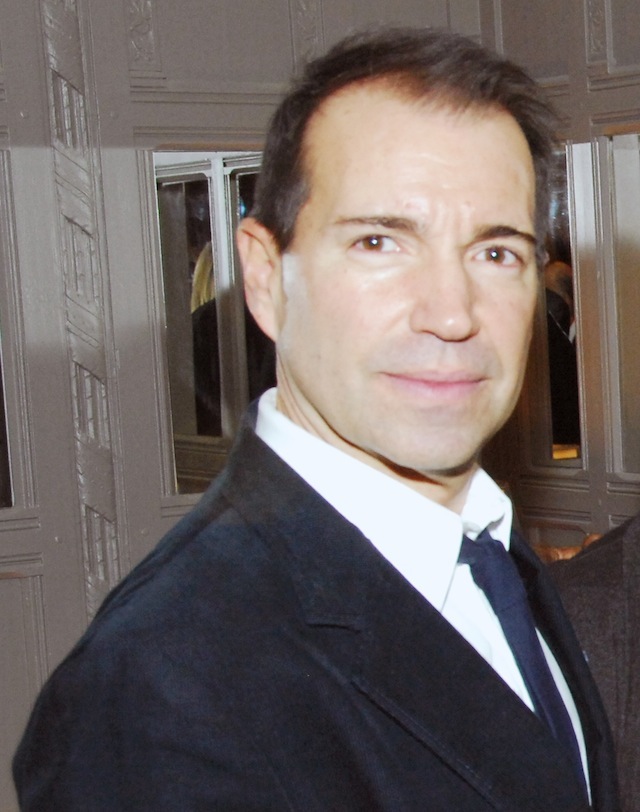 Richie Notar
-- a managing partner of Nobu -- recently opened a swanky seafood restaurant in Midtown called Harlow, occupying what once was
Marion Davies
' space for entertaining. Davies was an actress and longtime mistress of William Randolph Hearst, who owned the building; Notar had considered giving the restaurant a cheekier name like "Randy" before he settling on Harlow as more old-school Hollywood. Now he's at work revamping the legendary Lenox Lounge in Harlem. For a Jamaica, Queens boy who started out as a teenage dishwasher and busboy at Studio 54, he's come pretty far. 
I hear you just got back from Europe. Vacation or business?
I was in London for three days and then Saint-Tropez. My wife and I go with friends to Cinquante-Cinq for long, rosé lunches and people are always coming by to say hello. We were sitting next to Ashton Kutcher and Mila Kunis and Princess Beatrice. No matter where I go I'm working the room. 
Your new restaurant, Harlow, just started serving lunch this week. What's the crowd like? Midtown East types?
Everybody says that. No! I wanted Harlow to start as a dinner place first rather than a Midtown lunch spot. We've had a very eclectic crowd, people in the arts, downtowners, locals, models, tastemakers. If you know me you know I don't have one genre of friends. I worked at Studio 54 and it's still this monster in my head. Steve Rubell used to say "you've got to have a mixed salad," meaning you want all kinds of interesting people in the room. 
You can do that when you have a doorman choosing who gets in, but what about a restaurant when anyone can make a reservation?
There are nights sometimes that I wish I had a member's club. But VIPs aren't always famous or wealthy people. A VIP in my book comes on time, appreciates what we're doing, is polite to the staff and tips well. If someone is antagonistic we try to remember that and not take a reservation the next time. You want to try to teach your customers as much as you train your staff. I don't know why people think they can bully a restaurant staff. We have church-going, respectable people coming in and lying about having a reservation. I've seen people turn evil. You reward the good ones like frequent flyer clubs and discourage the knuckleheads. 
What's a knucklehead story?
I had a Steven Spielberg impersonator at Nobu years ago. This was when it first opened and I couldn't even get my mother in. I get a call: Mr. Spielberg wants a table. He's choppering in from the Hamptons. We've got no wiggle room at all that night. The guy keeps calling back every hour for Mr. Spielberg and finally I tell him I can do eight o'clock. He comes in and has on an LA Lakers cap, the glasses, the scruff, but I think something's off. It wasn't enough to say it wasn't him, so I asked a casting agent who was there that night to take a look. She says no, it's not him. The New Yorker came out in me. He was paying with cash and I'm not going to make a scene. I gathered all my staff around me and told them when the guy gets up to leave that everyone should applaud. So he's walking out the door and ten of us are applauding him on the way out. I tell him, 'That is the greatest imitation of Spielberg I've ever seen.' Two weeks later the real Spielberg comes in and I told him about the guy. He had some security with him and said, 'We're looking for him. We've heard.' I never saw the impersonator again. He was too embarrassed. 
Have you had celebrities at Harlow?
Naomi Campbell was in. Tommy Hilfiger told me it was the most beautiful restaurant he's ever seen. We did a Robert Redford party. I have a lot of respect for him and could tell he wanted to relax. When he was leaving I told him, 'There's a bunch of people outside and we can go the Goodfellas' route if you want to avoid the photographers.' It was fun to take an Academy Award winner out through the kitchen. He turned back and looked at me, which not all celebrities do, and said, 'This is a great place. I'd like to bring my wife here.' 
Is there anyone who intimidates you?
I wouldn't say I'm intimidated, but Bill Clinton is one of the most remarkable, smartest guys I've ever met. If you're going to say something to him you better know what you're talking about. 
I saw you have two Andy Warhols at Harlow. You knew him in your Studio 54 days, right?
A guy that found the lease for Harlow is an old friend and he's letting me use the paintings. I'm in
The Andy Warhol Diaries
-- "Pecker" was my nickname. In Queens I used to hang out with older kids who'd call me 'you little pecker.' I told Steve Rubell that, and Steve told Andy Warhol, so that's what he called me. I remember vividly sitting in 54's basement with Andy, the type of guy who was so soft-spoken. He was incredibly interested in what you had to say. I told him about playing street hockey in Queens, how we'd play with a crushed Coke can. He was fascinated. He knew how to set people up and extract as much information as he could. One night I was trying to get into Régine's, one of my inspirations for Harlow. I was 18 and looked like I was 12. Andy came out with Bianca Jagger and saw me. 'Richie, what are you doing out here?' he said. He whispered in Bianca Jagger's ear and grabbed my hand and I walk right by the bouncer who wouldn't let me in. As soon as he got me in, he left. Andy was cool. 
Can you clear up something? I read that you a named your restaurant Harlow to evoke old Hollywood but your daughter is also named Harlow so it can't be a coincidence.
We went through a thousand names and one week before it opened we still hadn't decided. I didn't want to mix the name with my personal life. I have a thin skin and I didn't want people criticizing Harlow and associating it with my daughter. She's seven. I wanted a chick-friendly name, one word, and finally I had to give in. Harlow was the best we came up with. 
What's happening with the Lenox Lounge?
There was always a lot of spirit in Harlem and I saw people doing really well there -- Bill Clinton opening his office, giving the place a real shot in the arm. I read on Eater that Lenox Lounge was available and I coincidentally lived in a building with Wynton Marsalis and asked him one day about Lenox Lounge. His eyes lit up and he said it was hallowed ground, Billie Holiday had a table, Miles Davis played. So I threw my hat in the ring and met the owner of the building. He said, 'I'd like you to have the lease if you want it.' I fell in love with the Art Deco style of it and am giving it some pizzazz and polish. We'll have kids putting a new spin on jazz and some old-time famous ones, too. My friend Cyndi Lauper said she'd go up there. I want John Legend. I want to make it a clubhouse canteen for people who are music-centric and where you can also get good drinks and food. The place was a dinosaur and it's interesting and exciting for me to resurrect it in a way that still has nostalgia. We're shooting to open by the holidays. 
Are you still a good dishwasher?
Sure. I'll say to my daughter, 'Are you bored? You know what, I'm going to put you to work washing dishes like I did.' About five years ago at Nobu the dishwasher broke and I took off my jacket and started washing dishes by hand. I'm not afraid of a dish rack.