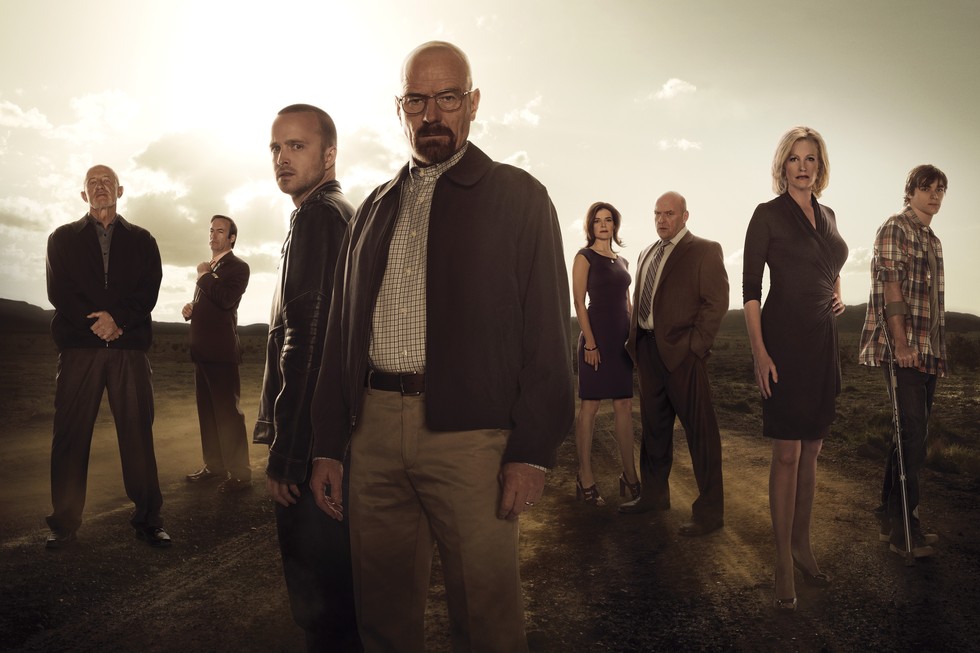 After delivering some of the most explosive, gratifying and emotionally gutting drama on television,
Breaking Bad
will come to an end Sunday night after five seasons. Though it seems certain the finale will see Uncle Jack and his gang of neo-Nazi psychopaths meeting their makers, the fate of Walt, Jesse and the White family is very much still up in the air. Regardless, after a season we've mostly watched while screaming into a throw pillow, whatever goes down in the series finale will undoubtedly leave us curled in the fetal position until Monday morning. With only one episode left, we asked some of our favorite
Paper
people and
Breaking Bad
tweeters how they think the sad saga of Walter White will come to a close.
"I'm so emotionally scarred by the last two episodes that I honestly don't care how #BreakingBad ends at this point. But here's what I'm gonna NEED to happen so as not to be committed:

1) Jesse MUST survive!!! This is a deal breaker.

2) Landry must go. I don't care if it's as unexpected as Omar Little's death, He. Must. Go. (Although it wouldn't hurt if Brock smoked his ass.)

3) Lydia needs to get a beat down at the very least. She was the one mistake that Mike made that I'm still angry about.

4) Uncle Jack and his merry band of neo-nazis suffer a graphic end that I can only watch with one eye partially open.

5) Holly gets a spinoff.

#ThatIsAll."

--
Retta
,
Parks and Recreation star
, comedian, master TV live-tweeter,
our eternal crush
.
"Walt jr will kill his dad. This will be the ultimate rejection from his family and the loss of everything he has tried to protect from the beginning. Jesse will adopt Brock."

--
Steven Kolb
, CEO of the CFDA.
"The Nazis must be punished. The Nazis must be punished. 


Todd should die at Jesse's hand. Walt should mow down the Nazis with his business-time gun, and then torture Uncle Jack before he does him in. I want some Inglourious Basterds-style vengeance wreaked on those cocks. 


I feel like Skyler will die in front of Walt, tragically, leaving the kids in Marie's care. I believe Walt will die in front of Jesse. I wish the ghost of Mike could come back in some form, but I don't want to get silly about this. I just want those Nazis dead. I don't give a fuck about Lydia, but if she eats it, I won't shed any tears. Who the hell puts soy milk in chamomile tea? Nothing is more disgusting. Nothing in the world. 


I will miss this show, but I'm also desperate for it to end. The last few episodes have been completely harrowing and gut wrenching. There is no joy anymore in watching these tragic humans suffer in corners. 


That said, I would like to say once more in a public forum, that I would love to have sex with Vince Gilligan. According to my friend Jenji, I like "a little dirt in my sandwich." 


Thank you."


"Walt teams up with Jesse to kill the Nazis. They do! Then they have a showdown. Jesse kills Walt, then himself. Baby Holly knows nothing. Flynn eats breakfast."

--
Emily Heller
,
psychic
, comedian,
Surviving Jack
writer.  
"Walt is a ticking time bomb. He explodes by hitchhiking back home (killing a few innocents along the way), killing the Nazi gang and, unfortunately, Skyler, Walt Jr (though in death we should give him proper respect by referring to him as "Flynn") and Aunt Marie are caught in the blaze of gunfire and killed. Jesse gets away and fatally wounds Walt. He leaves Walt to die, not being able to pull the final trigger. Walt, like a dying dog, makes it home where he dies in his suburban home by ingesting the ricin.  Jesse dies of an overdose 6 months later."

--
Bevy Smith
, host of Bravo's deeply entertaining Fashion Queens, owner of our favorite Emmys tweet about Jon Hamm's facial hair.