Restaurant of the Week: Sora Lella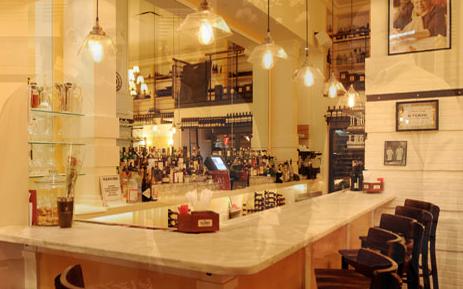 "I recommend the Sora Lella -- it's from a 40-year-old secret family recipe," our waiter Mario says in an Italian accent. He runs off to the bar and returns to show us a diagram of the restaurant's eponymous drink: Vermouth, bitters, prosecco… over ten ingredients, at least. From the first sip it's incredibly light and refreshing, the perfect welcome to this New York outpost of a legendary Roman restaurant, which opened in 1959. Sora Lella was the nickname for Italian actress and restaurateur Elena Fabrizi Trabalzi, sister of the more famous actor Aldo Fabrizi, which meant stars like Marlon Brando and Cary Grant used to stop by when they were in town. Now you can find Lella's grandsons at work reproducing the magic in western SoHo, an area that's been coined Hudson Square. You won't feel like you're in Rome, but that Italian passion for food has definitely crossed the Atlantic. Homemade gnocchi in a refreshing tomato sauce with smoked guanciale ($18), a singular insalata caprese ($12.50), and tonnarelli alla cuccagna, a melding of sausage, pork belly and walnuts ($22), were among the highlights. Sora Lella prides itself on old recipes -- the tonnarelli dates back to 1961, older than the cocktail recipe. Amid the usual Italian desserts (tiramisu, biscotti) the chocolate "salami" ($10) stood out, dressed with almonds, cookies, caramel sauce and chocolate sorbet. But my favorite was the zabaione gelato ($12) drizzled with balsamic vinegar. In Rome, Sora Lella is still a hotspot; here it hasn't totally caught on, but give it time. That city wasn't built in a day after all.
Sora Lella
300 Spring St.
(212) 366-4749
www.soralellanyc.com