Restaurant of the Week: 508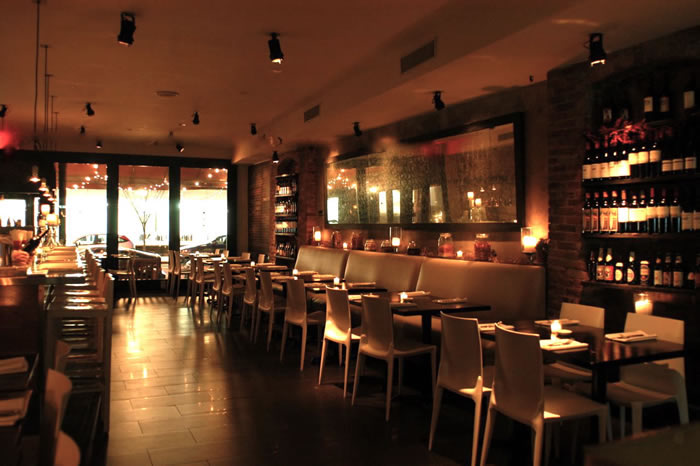 When New York City neighborhoods change, they change quickly. And nothing makes longtime residents start to mourn the "good old days" like restaurants that they couldn't imagine ever being there before. Once in a while, however, a newcomer absorbs the local character so well that, though it may be a Johnny-Come-Lately, it feels like it's been there all along.
508
is one of those spots, easily slipping into an area that houses stalwarts like the Ear Inn, Emerald Pub, Giorgione and Pao. With its aged concrete and brick walls, a long, glass-topped bar, plush lounge chairs and stacks of books scattered along shelves, 508 feels as lived-in as the old timers. The low-key crowd, consisting of pre-partying Don Hillers, tipplers looking for something beyond pub grub, and even the residents of new, glassy skyscrapers, help authenticate the feel. They have one thing in common at least: an appreciation for the long list of well-prepared tapas and very hearty mains, all served with a Mediterranean accent. Zero in on the grilled octopus ($13), as it's some of the best you'll find in town, rightly charred, zinged with lemon and paprika, and sporting an appropriately soft give. Lightly fried kibbeh ($9), oblongs of meat and bulgur, pair wonderfully with a cucumber mint dipper. Homemade pastas, such as tagliatelle ($18) with mushrooms, sage, garlic, cream, white truffle and parmesan nicely combine the earthy, herbal and salty. A long rib ($28) is quite literally that: a giant bone surrounded by softly stewed beef, kissed with an aromatic red wine and cranberry braise. A long list of cocktails, a careful selection of wine and beer, and unintimidating prices show that change can be a good thing.    
508 
508 Greenwich St.
(212) 219-2444 
508nyc.com