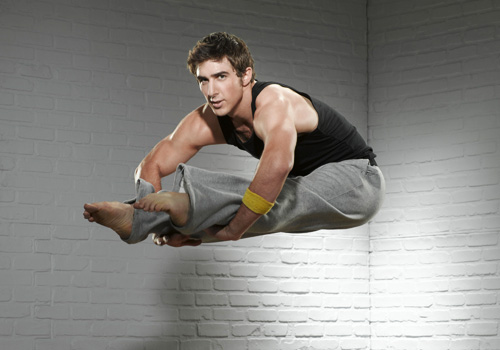 I first saw dancer, actor, singer Cody Green in this year's Broadway revival of Grease starring the You're the One That I Want reality show winners, and wrote about how cute and talented he was. Now he's starring in Bravo's new reality show Step It Up and Dance, although when I asked him last August if he would ever take part in a reality show, he said no! But this one -- a competition between 12 dancers following a Project Runway or Top Chef type format hosted by Saved by the Bell's Elizabeth Berkeley and star choreographer Jerry Mitchell in the sort of Tim Gunn role -- seems like it might have been a good choice. The show premiered two weeks ago and Cody's off to a slow start (one castmember said he had cliché white guy moves) and was put in an elimination group on the first episode -- but soon he won over the judges' hearts and libidos when he gave it his all during a choreographed dance to the Spice Girls' "Spice Up Your Life"! Hope he keeps wowing them tonight! Of course how long he lasts on the show is a big secret, but he's now back in Grease on Broadway, possibly $100,000 richer, and my dream man either way! I recently spoke to him over the phone.
Whitney Spaner: How did the show go for you?
Cody Green: It was pretty crazy; really intense. It was kind of a straight through experience. There weren't a ton of breaks, but it was a lot of fun.
WS: You're back in Grease now, so how did that work?
CG: I was fortunate to get a leave of absence. They were really supportive. It was actually right as the strike ended so I was off of work for two or three weeks and so I was like it's a great time to be taking a break and then right when I left everyone went back to work.
WS: Did you miss performing in Grease?
CG: It was nice to have a break but I love the routine of performing live for people. It's definitely a different experience than having cameras on you.
WS: There are some pretty crazy characters in the show. Did you get along with everyone?
CG: I definitely got along with the people. I think I had a lot in common with Mochi. She the girl in Lion King. We definitely have a similar lifestyle -- being on Broadway -- so we related to each other.
WS: Did anything happen with you that you hope got edited out?
CG: It's kind of a blur because you're doing stuff all the time. You wake up early and then you're kind of involved the whole time. It's hard and you get tired and sort of forget the cameras are there.
WS: How was working with Elizabeth Berkeley? Had you seen Showgirls?
CG: I have friends that I did Movin' Out with that were in Showgirls. They were dancers in the movie. Elizabeth was great. She's beautiful, tall –- really tall -- and she was wonderful. She definitely related to us because she's a dancer as well and it was nice to have someone that understood where we were coming from and how difficult what we were going through was.
WS: In the first episode you guys did a lot of freestyling. It seems so nerve-racking!
CG: It can be. It's all kind of in context, and it all depends on what the music is, the music is really important. With a song you really love and feel the groove with it's fine and if it's not than it can be a little tough.
WS: Did you have any drama with anyone?
CG: It's tough. It's such a working environment. There's so much going on in regards to learning and I was really focused on what was going on -- what I was learning and what I was trying to pick up and kind of trying to stay healthy and stay focused that I didn't really focus on that stuff. I think it's different for everybody. Everybody reacts differently when the camera is in front of them. Some people sort of retreat, some people are themselves and the same, and I think some people it feeds them a little bit and gives them more energy or makes them say things that maybe they normally wouldn't, but everyone kind of has a different experience.
WS: You filmed in LA, so did you miss New York while you were on the West Coast?
CG: Yeah I did miss the city. I think I kind of missed my friends. A day being filmed all day feels like forever. I've been in New York and been in LA and been in different cities a lot, but I love New York. It has a special kind of energy that kind of works for me.
WS: Would you do reality TV again?
CG: It all depends on the context. This was a unique experience because it offers you the chance to sort of show what you can do and gets you exposure and seen by people you would have never had a chance to be seen by before.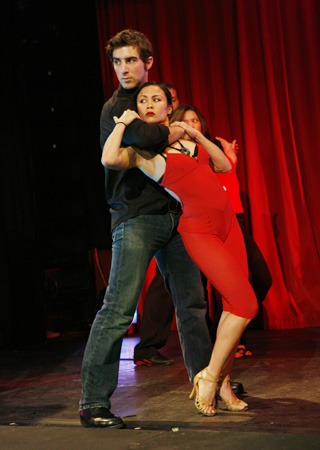 Pictured at top is Cody in full split and at bottom is Cody and contestant Michelle (Mochi) in the premiere episode.