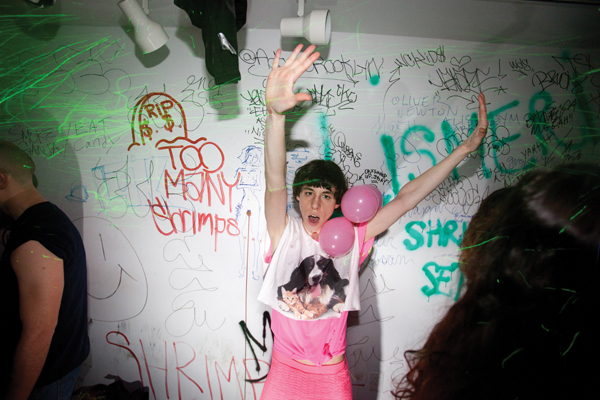 New York City has never been particularly hospitable towards its renowned nightlife scene. The archaic cabaret laws, vigilant community boards and unpredictable NYPD antics associated with the same metropolis that spawned international game-changers Studio 54, Paradise Garage and the Limelight have long made the prospect of opening a legit dance club unappealing to investors. And now, after the unfortunate closings of clubs like Studio B and Love, anyone willing to invest a few million in these harsh times would be assumed delusional. But New York's relentless anti-nightlife efforts have never been able to stop the party and now -- not unlike what spurred the speakeasy renaissance of the prohibition era, or the early-'90s warehouse scene -- they are only pushing nightlife further underground. Add to this the triumphant return of MDMA, the international upsurge in danceable electronic music and a surplus of vacant Brooklyn warehouses and you have what appears to be the return of New York rave culture.  
About a year ago, old-school house heads with vague roots in the '90s rave and club kid scenes formed an electronic union with the Bushwick DIY art-school crowd. Now they meet secretly in SoHo basements and North Brooklyn warehouses; grimy cement boxes filled with speakers, strobe lights and artificial fog where they dance until the sun -- or the cops -- show up.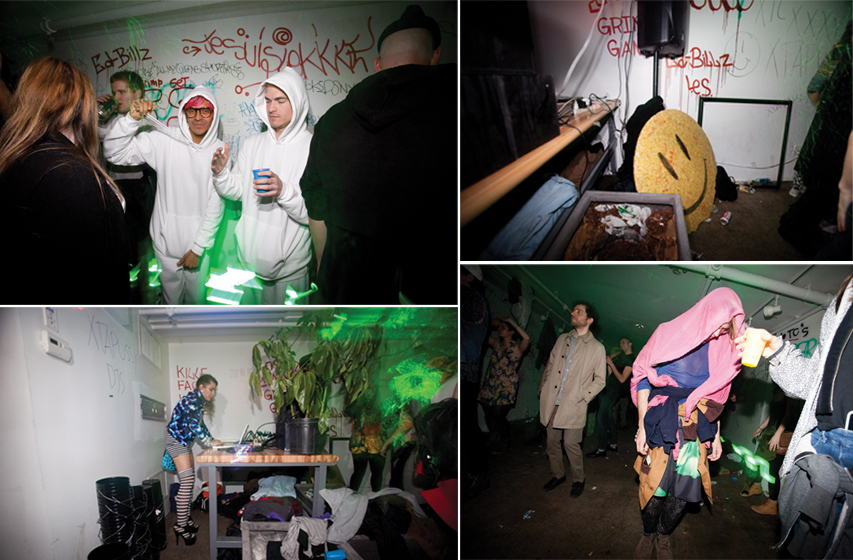 Traveling rave Xtapussy took over a loft in SoHo this past April. 
Bushwick video artist/synth freak Aurora Halal curates Mutual Dreaming, a series of parties that relies heavily on this alliance, which she describes as "a cross-generational party that connects history with the future." She adds, "My favorite thing is to pair underground legends that are still active, still blowing minds, with contemporary artists that are taking that lineage and advancing it."

Halal is known for pairing Chicago house veterans like Traxx with neo lo-fi producers like Ital and Beautiful Swimmers as well as her collaborations with experimental dance labels like 100% Silk, L.I.E.S. and Minimal Wave. She has taken the DIY route not out of necessity but by choice.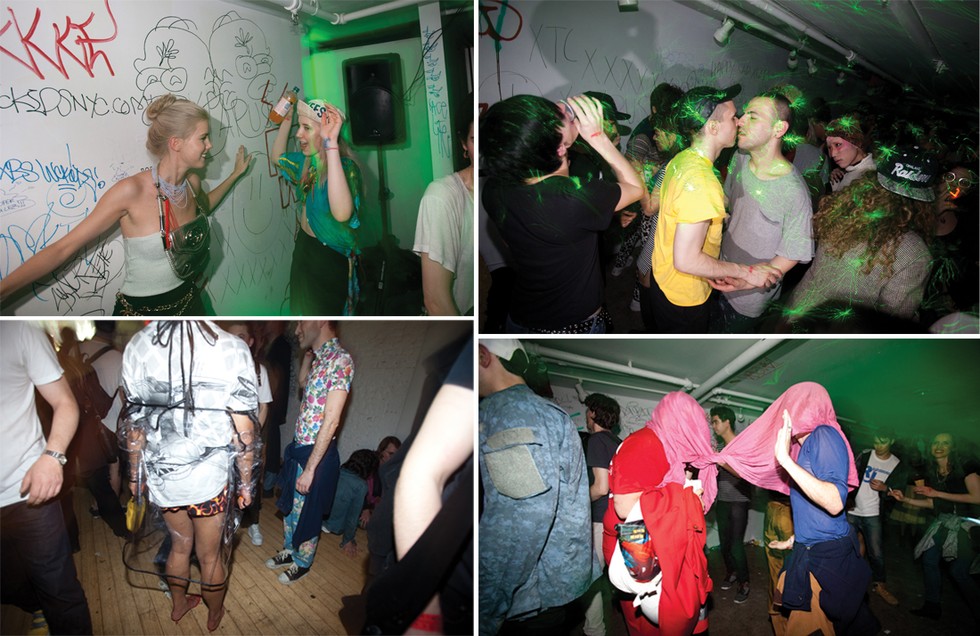 "There's plenty of fancy clubs and commercial spaces where you can see great music here, but that doesn't excite me," Halal explains. "What a lot of us aim to do instead is create freaky, memorable autonomous zones where we can experience music in a deeper way, stay as late as we want, get cheap drinks, bring all our friends. It's important to create spaces where underground artists can have fun and take risks, for an audience who gets it." 
In addition to Mutual Dreaming, parties like Xtapussy, Midnight Express (full disclosure: I am heavily involved in Brooklyn's warehouse scene, and happen to throw this party), Mister Saturday Night and Weird Magic all radiate heavy raver vibes. It's not all centered around house music either. Aside from the Detroit techno, italo and minimal synth jams that Lower East Siders and Brooklynites have been tweaking to regularly, the DIY allegiance to all things weird has welcomed a spectrum of sounds resulting in one-offs such as Goth, seapunk and cosmic yoga raves.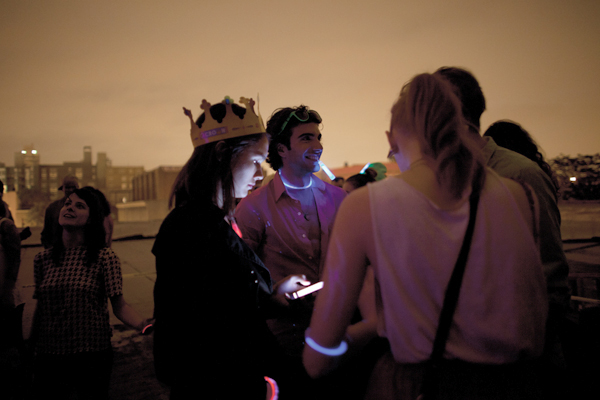 Ravelite, a rave thrown by THUNDERHORSE and Adidas Originals, took place at a Clinton Hill lost in early May.
At the Body Actualized Center, a Bushwick "safe space for questioning and expanding on one's creative source" that often hosts yoga and dance parties back-to-back, it is not uncommon to see New-Age hepcats in sparkles and tights striking Vedic poses on the black light-lit dance floor. This is indicative of the Brooklyn DIY spirit, which can't help but explore and innovate whatever format it's practicing. 
In May, House of Yes, an art and event warehouse that daylights as a training facility for aerial performers, hosted an event that was equal parts rave and performance theater spectacle. Smack in the middle of the standard DJ fare, Geneva Jacuzzi, a Los Angeles-based high-concept diva, performed an act titled "Idiot Menagerie of the Automatic Dream Crud." Masked glow-in-the-dark performers dropped from the 30-foot ceiling like ninjas pulling off an assassination, as Jacuzzi danced and sang her way across a catwalk that pierced through the heart of the room.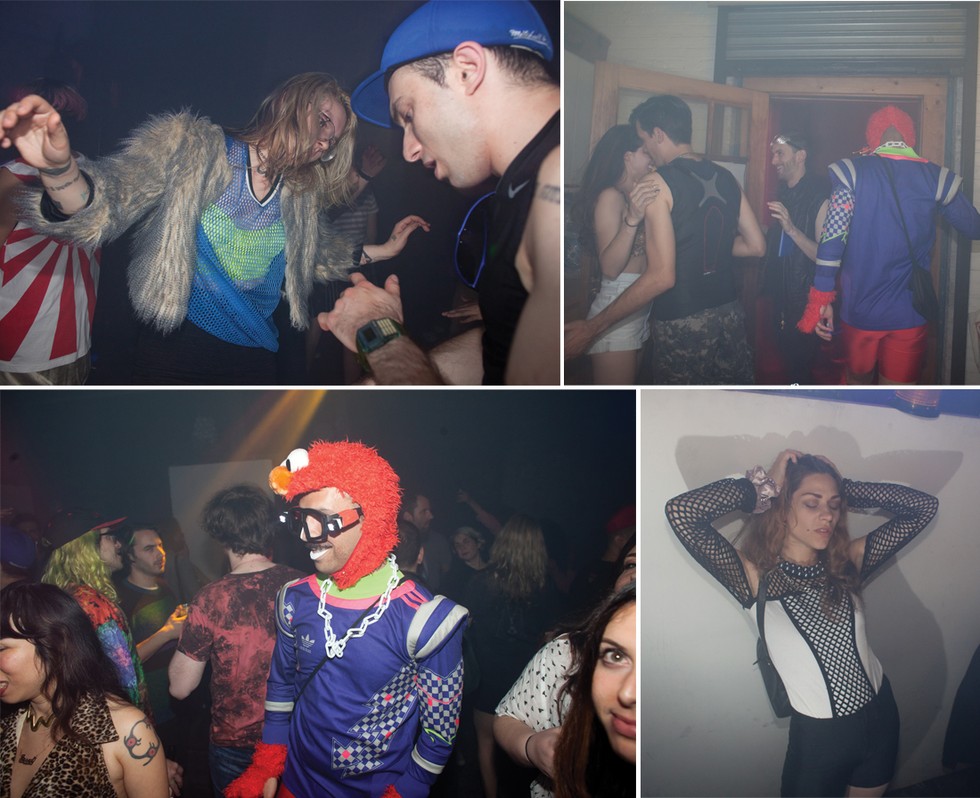 Of course, what's happening in New York mirrors what's happening internationally. Ryan Schreiber, the founder of monolithic tastemaker Pitchfork.com, a site made famous for its coverage of underground indie rock, came out of hiding to pen his first review in over a year, giving "Best New Track" status to none other than Swedish Electronic Dance Music producer Avicii. Do a survey of Pitchfork's -- or any other relevant music publication's -- archive, and it's clear that EDM is dramatically more in vogue than it was a couple years ago.  
The craze has blown up to the point that even major brands, the supposed antithesis of both authentic '90s and neo-Brooklyn rave culture, are jumping on the trend. Ravelite, a "tongue-firmly-in-cheek rave-like installation with a party around it," according to the party's promoter Seva Granik, took place in a Clinton Hill loft, and was sponsored by Adidas. The event revolved around the genius work of visual artists THUNDERHORSE, but Granik insists it was not a real rave. "Having been to some actual raves back in the '90s, we all felt that putting on a rave was just impossible, and pretending that what we had going on was a real rave was silly. Real raves were a product of the time, the place and the people who attended them, and all of that seems to be gone now."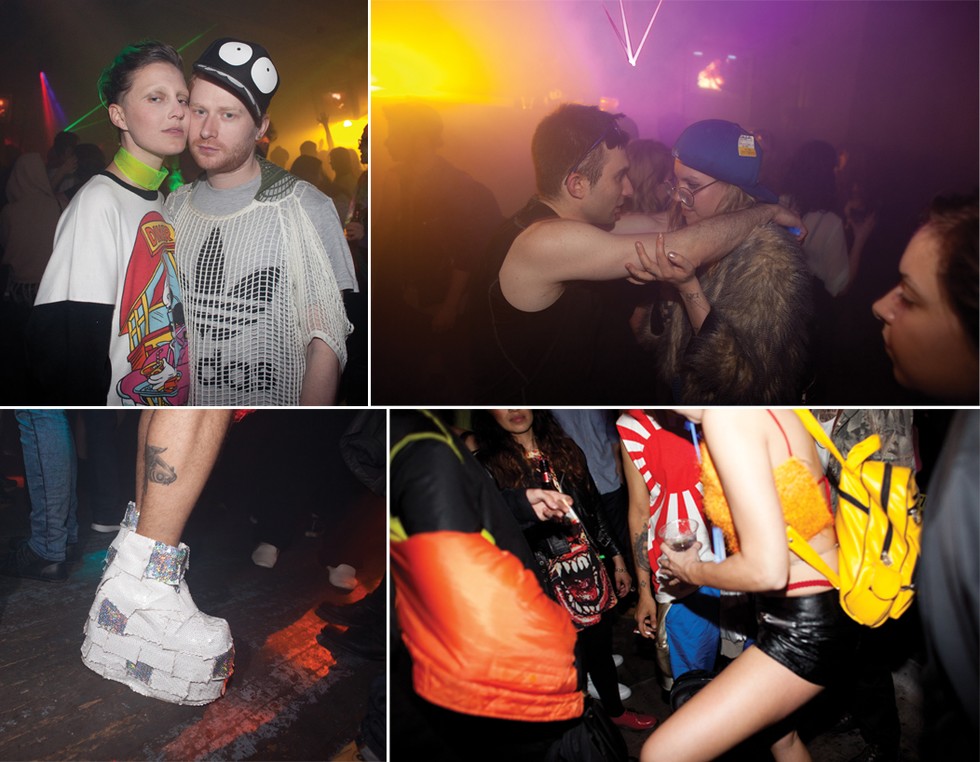 Although it's clear that the majority of patrons filling out these parties weren't around for the genesis of acid house, discounting the recent movement as a whole might be a little preemptive. As of now, both dance music and DIY culture are showing no signs of slowing down. Perhaps this summer will be the ultimate test. If a movement can dance through a blazing New York summer in unventilated warehouses it is surely deserving of some sort of title.