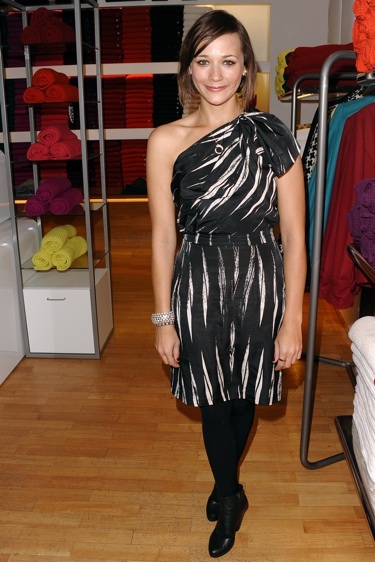 Shoppers at the
Limited
pop-up shop on Spring Street got to do a bit of early holiday shopping for a good cause last night when
Parks and Recreation
star
Rashida Jones
hosted a benefit for
Peace Games
, a non-profit that teaches kids to resolve classroom conflicts without violence. Jones, who described Peace Games as "the missing piece in education," told us she got involved with the program after a friend introduced her to founder
Eric Dawson
, with whom she attended Harvard but didn't know because, "he was busy being awesome and creating Peace Games and I don't know what I was doing."
After Jones gracefully shut down another reporter who inquired about her rumored relationship with
John Mayer
, she chatted with PAPERMAG about her plans to take on Black Friday sales, wondered aloud about why her
Parks and Recreation
character Ann Perkins, a nurse, is always hanging around City Hall, and her favorite New York City park.  

How's your holiday going? Is Parks and Recreation on a break?
Yes. I'm sort of the wayward child who came to New York to do press. It's fun. I feel a little bit like I'm playing hooky.


Are you having Thanksgiving in New York?
Yeah, I'm having it with some friends and their families. I'm tagging along. 

Have you started your holiday shopping yet?
No, but I intend to take advantage of that on Friday.

Wow, you're going to brave Black Friday?
I'm going to brave the storm. At least I'm going to try. Nobody's guaranteeing that I'm not going to end up in tears.

Do you have any favorite stores here?
I love UNIQLO, Eryn brinié, Opening Ceremony, Topshop -- all stores that we don't have in L.A. It'll be good.

What's going on on Parks and Recreation? Ann was dating the hapless, homeless Andy Dwyer (Chris Pratt), but is now dating charming city planner Mark Brendanawicz (Paul Schneider ). Last week, however, your character noticed hickies on Andy's neck and was apparently bothered...
Such drama. Ann saw the hickies and she's not a fan. Even though Andy's integrated himself into my world -- which is not even my world because why the hell am I there all the time anyway -- he's made a truce with me and Mark that he's going to be respectful of us. But I think she still has a lot of love for Andy. 

Pehaps they'll be getting back together?
I wouldn't ever say no. 

Your favorite New York park?
Central Park. There's no better park in the world.

Photo by: Bill Davila/Startraks