Raise the Roof and Money for "Guitar Battle: Shred for Your Life"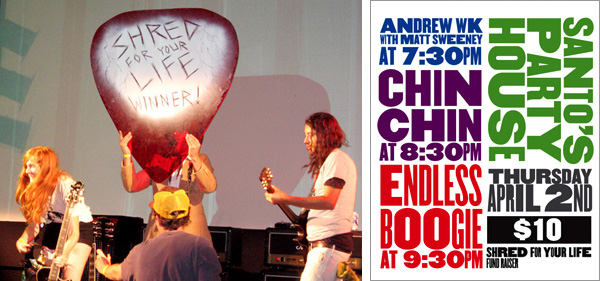 Guitar Battle: Shred for Your Life is one of the most awesome things that ever happened in New York City. [If you've never heard of it, click here and you'll know why.] Downtown Don Juan, Max Fish fixture and former PAPER beautiful person Marc Razo turned an event that took place on an exceptionally drunken night at Max Fish five years ago into an annual talent show featuring the hairiest, sweatiest and sexiest shredders in the US and Canada. And what a gift this has been to all the rock-starved girls and boys of New York. But tonight, Shred for Your Life needs you to rock out with your wallet out at Santos Party House so it can raise money for its web site so it can spread the gospel of shredding beyond the North American region. For $10, you get Andrew WK + Matt Sweeney, Chin Chin and Endless Boogie (a slight change in the lineup: Children won't be playing). Now this is the kind of stimulus package that I can fully get behind!
Santos Party House, 96 Lafayette St., $10 advanced, $12 at door, starts at 7:30 p.m.