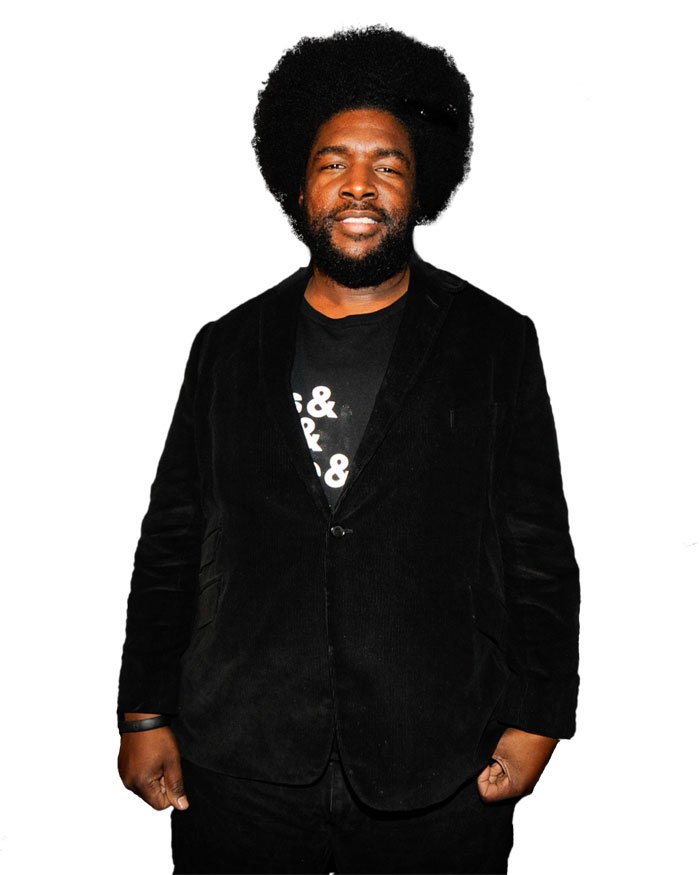 Ahmir "Questlove" Thompson, in addition to DJ gigs and drumming for The Roots on
Late night with Jimmy Fallon
, just opened a fried chicken and dumpling stand in Chelsea Market called
Hybird
and published a memoir,
Mo' Meta Blues: The World According to Questlove
, rapidly climbing Amazon's charts. He phoned this afternoon, sounding relaxed while lying on a couch in a dressing room.
So you're at 30 Rock right now?
I live at 30 Rock. Guests on the show come into the dressing room and wonder why it smells like vanilla. I wear vanilla scent and it must soak in. People think it's fresh-baked cookies. Olivia Munn is coming on tonight. She won't mind.
Do you know what you're playing for her walk-on music?
Wonder Woman
, the theme from the 1970s TV show.
I have a feeling you wish there were more hours in the day. You're everywhere.
People keep wanting to know if I'm cloning myself, if I'm getting enough sleep. Last night I went to bed at 1:30 and got up this morning at 9:15, just enough time to get to Terry Gross at NPR. I love Terry Gross to death. One of my favorite journalism moments is her versus Gene Simmons. He's trying to do his usual shock shtick and she hung in there like a champ. It was Muhammad Ali against George Foreman, Rumble in the Jungle. He was arrogant and tried to bully her and she would stick him and lunge and move away. I don't mess with Terry Gross.
I went to Hybird last week and loved the crème de la crab dumplings and the chicken. Those drumsticks are monsters. Where do you get them?
There is a free range chicken farm in Lancaster, Pennsylvania where all our chickens come from. They are somewhat nuclear-sized. I saw them and thought, holy Jesus, they're like mini turkey legs. Back in 2001, 2002, I wanted to invest in the food truck business with some friends of mine, but it kind of fell apart. Once the
Fallon
show came on board and we had a bit of normalcy, a regular routine, my manager told me now's the time to execute what we normally wouldn't get to do. We decided to use 2009 to set the blogosphere on fire, enter food competitions, find the right chef. We did different events and once the blogosphere was in our corner Stephen Starr [Philadelphia-based restaurateur behind Morimoto and Buddakan in Chelsea] approached me and said, 'Instead of you doing a food truck why don't we do this at the Chelsea Market?' It's the crème de la crème in all of New York City for food people. They come to you to open, you don't go to them. Once they offered us an opening I could not resist.
Are you going to open more Hybirds?
We are definitely in talks. Our second location will be five or six thousand miles away, not in the U.S. My dream is to eventually have seven spread out across the world. I don't want to overdo it.
You didn't practice making fried chicken in your own kitchen, did you?
I'm not a chef. I knew what I wanted so I was there for the process. We were meticulous. We went through sixty different chefs, the most weight I've ever gained in my life. We narrowed it down and rented a restaurant and told fifteen chefs to make five dishes, to see how creative they could get. The hardest thing about tasting five different plates from fifteen different chefs is that the fifteenth chef doesn't have a chance in the world. I felt so bad. It was like a wine tasting but we didn't spit anything out.
And who did you end up with?
Elita Bradley. She was number four. She did her fried chicken and got the highest marks.
Why do you sell only drumsticks? Is it a har-har drummer kind of thing?
I thought drumsticks were the easiest. I used to want to sell soul-on-a-roll in a Mister Softee truck and always knew we'd lean toward Southern fare. When it came time for me to be identified with just one thing -- like McDonald's with burgers and Morton's with steak -- it was ah, drumsticks, it makes sense. In my head we were always going to do gourmet fast food.
People are going crazy for your LoveSlush.
Our two most popular items after the drumsticks are the watermelon loveslush with jalapeño and the biscuits, definitely a nightmare for anyone on a diet. My favorite thing is the biscuit. I only eat starch on Saturdays and Sundays so throughout the week I have to stay away from my own food. Monday through Friday I'm on a low-carb, low-sugar diet, eating mostly salads and vegetables, but on weekends I eat what I want. Those biscuits are a problem. We're having meetings now to expand the menu, experimenting with a kale slushy. We want to figure out something with seitan for the vegetarian and vegan configuration.
It's good to take care of them.
They're people too, they're hungry. Half the people on this staff are vegetarians. Having been in a group with a bunch of vegetarians and vegans I know how hard it is for them to get their needs met.
Are you going to get a summer vacation?
I don't believe in vacations. I'm dead serious. I took my very first vacation the first year of doing the
Fallon
show, on a whim. I have a hobo fantasy. I got on a train in New York City and hoboed across America to San Francisco. You should put an asterisk next to hobo since it was an Amtrak sleeper car. It's probably the most relaxing three days I ever had. I looked out the window, had my laptop and watched every Criterion Collection film I could, didn't answer the phone. I took the Northern route and next time I want to go the Southern route to Los Angeles. I'm going to try that next year.
I see your book is doing really well.
Yesterday we started at 174 on Amazon. The last time I checked we were at 60. It's all word of mouth. Nerds are united everywhere.
Since Jimmy Fallon is heading to The Tonight Show next year, have you got the theme song written yet?
That is question of the month. It's one of the hardest challenges of my life. I'm going to give myself till August. If I force it it's never going to come out.
It must be a lot of pressure.
It is and it isn't. I have not remembered any
Tonight Show
theme since Johnny Carson retired in 1992. Can the show survive without an iconic theme? Yes. But I definitely want to rise to the occasion.
Photo: Carly Otness/BFAnyc.com