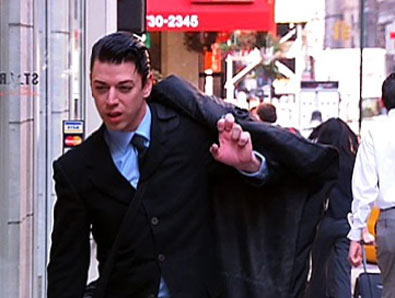 Malan Breton, the second designer to be given the boot on this past season's Project Runway, is opening a store! The dandy-man with the British lilt first sprang back from his "auf Wiedersehen" by showing an impressive collection during September's Fashion Week. Now, Breton has gone and set up shop in the East Village and hosted an intimate opening two nights ago. We asked him a few questions and he was kind enough to respond.

How has life been treating you post-Project Runway?
Life has been very busy -- I have my collection and many other projects that I am working on as well as my new atelier.

How was Fashion Week?
Fashion week was the perfect end to a year of great opportunity.

What's the concept behind your new store?
The store's concept is one of surprise, finding what is inside of you and making the most of it. There are "glamour" consultations that are image consultations to give your look a fresh appearance. The store itself was modeled after Joan Crawford's dressing room at the Hollywood studio.

Describe the "Malan Breton woman."
The Malan Breton woman is confident, secure with her size and shape and truly glamorous and chic. A woman who is evolving into her greater self.

Where do you look for inspiration?
Much of my inspiration comes from old Hollywood, the theatre, the ballet, the streets of NYC and Asia.

Who on the show do you keep in touch with?
I have stayed in touch with most of the cast except Vincent. They are all a part of my life in ways I never dreamed. Their creative energy is important to me.

Do you ever chill with Tim Gunn? And if so, what is chilling with Tim Gunn like?
I unfortunately have not had much time to "chill" with Tim. I adore him but our schedules are so hectic that it is often hard to get together.

Stop by the store! It's 621 E. 11th St.