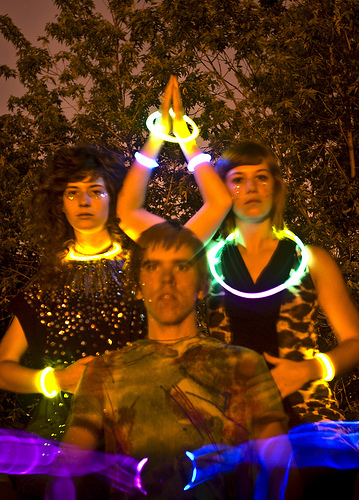 At various junctures on Sunday night, the back room of Pianos seemed to smell distinctly of incense.    
And even though it was probably just an olfactory hallucination (can you even light that stuff indoors?), the
Chocolate Bobka
-curated bill certainly had something to do with it.    
The influential music blog, which normally organizes shows in Brooklyn, had assembled a lineup of bands that trade in distinct brands of mystery and mystique:
Sleepover
, a narcotic, sensual all-girl trio from Austin,
Prince Rama
(pictured at left), a thundering storm of Eastern melodies, African drumming and synthetic force, and
Pocahaunted
, a dolled up, involved mishmash of styles from Los Angeles.    
The three played in the order listed above, and each had things to recommend themselves. Sleepover, backed by kaleidoscopic, color-saturated images of dolled-up, dew-eyed women, sounded sexual and desolate at the same time; Pocahaunted, with both band and stage dressed for some kind of bizarre L.A. gypsy ritual, showed off one of the most underrated rhythm sections you're likely to hear in music as weird as theirs.    
But Prince Rama, who recently signed to
Animal Collective
's influential
Paw Tracks
label, stole the show. Practically hidden by the mess of synthesizers, keyboards, amps and drums before them on stage, synth player
Michael Collins
and sisters
Nimai and Taraka Larson
summoned an impressive swell of noise that was somehow mystical too. Led by Nimai's galloping drums, Collins and Taraka built rackets out of drones, feedback, and mysterious Indian melodies, which the group would then take  in any number of directions. On one song,  a rich variety of chimes and cowbells helped things bloom into something almost dance-y before slowly collapsing into thuds. Suddenly, a juddering synth and watery guitar melody picked the song back up and surged to a roaring, epic finish.    
The Larson sisters, who were raised as Hare Krishnas, met Collins (raised Episcopalian) at a punk rock show in the middle of nowhere in Florida. The Larsons had relocated from Texas to Lacrosse, Florida, to live with the large Hare Krishna community that lives there. "Our parents would get together with harmoniums and mrdangas and we'd chant and stuff."    
To outsiders (especially people who hang out near the East Village Radio booth), the words Hare Krishna evoke an image of utter gentility, totally at odds with Prince Rama's furious, rapturous playing. But according to Collins, who started attending Hare Krishna temple services after befriending the Larsons, "To me, going to a Hare Krishna temple service was like going to a gospel church," he said. "There's jumping, dancing, there's like six mrdangas, big drums, everybody has cymbals--"   
"It gets super loud," Nimai interrupts.    
But more to the point, the band doesn't see the ideas of mysticism and brute force or noise as mutually exclusive at all. "There's a lot of really harsh stuff out there that's very mystical to me," Taraka offers. "I think to some people, the stereotypical image of mysticism is like, 'she gazed upward, a vacant, dopey expression on her face, peaceful! And easy listening! And soothing waterfalls!'"   
The band's on-stage power also comes from the fact that they are battle-tested performers (especially by indie blog darling standards), thanks to a pair of months-long tours they embarked on last year.    
Between the tours, they camped out at home in Lacrosse, or, as Collins described it, "Podunk -- they live in the middle of nowhere! They don't even have a stop light!" That nowheresville, along with the inevitable loneliness that accompanies any long tour, made them embrace their music even more fully.   
 "We were talking about this earlier today," Taraka explains. "About how Thomas More's definition of utopia is no place. And like, both on the road and at home we were in no place. Our home was no place. And there was this strange utopia that was created from that. And I think that playing music, and giving yourself totally to it becomes so much easier because, like, this is it. This is your home tonight. And these are all your best friends.."   
 t's a mystical thought, but also one that's very concrete, and very serious, befitting a mystical band that deserves to be taken very seriously.