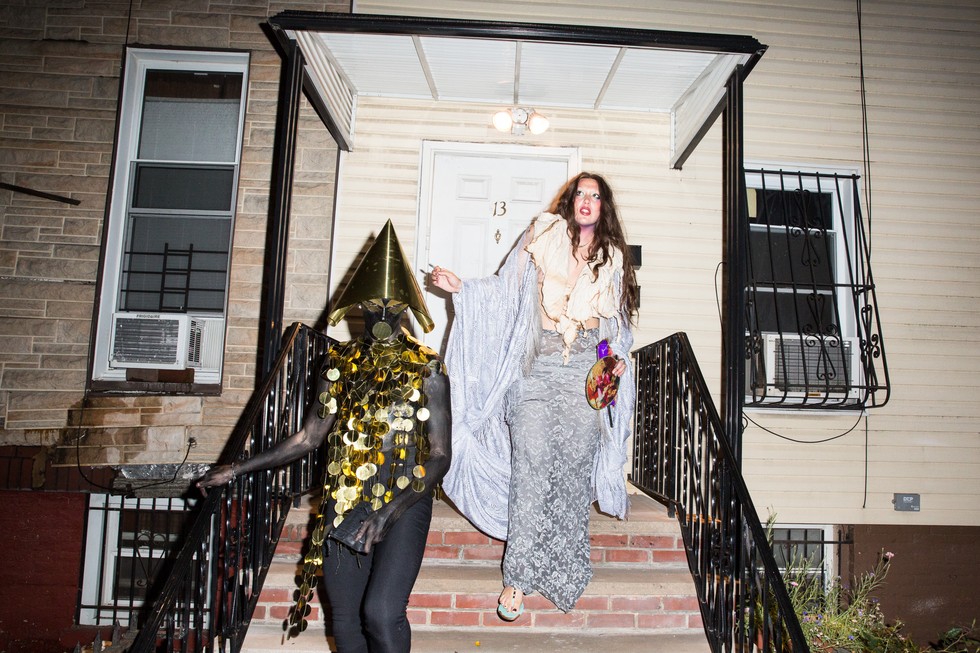 "You're amazing," coos fashion designer Domonique Echeverria into her cellphone. The six-foot-tall siren has just returned from a visit to her native state California, where she says she met the love of her life while dropping acid at a 3-day party called Sunset Campout. "No,
you
are," he whispers back through the phone. "Fine, we'll
both
be amazing," roars Echeverria, throwing her head back in laughter while sprinkling glitter onto her made-up face.
As Echeverria finishes her call, a man barges into her bedroom with black-painted skin and a gold-mirrored curtain draped over his shoulders. He looks like the alien lovechild of Liza Minnelli and Gareth Pugh. It's her roommate/soulmate, photographer Ryan Burke. The two are putting the finishing touches on their looks before heading out to Susanne Bartsch's weekly summer party, "On Top," at the Standard Hotel where Echeverria is one of the night's hosts.
We had the chance to hang out with the dreamy duo and capture all their pre-party antics, which tonight included a DIY self-portrait session by Burke. Take a look at pics by Paper's Rebecca Smeyne, below.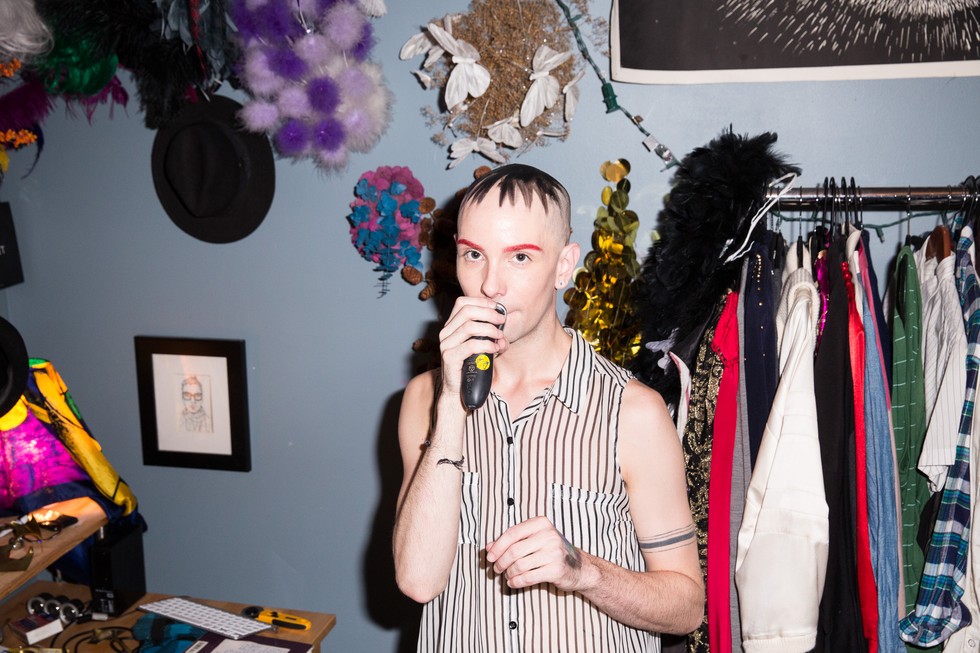 "I'm actually pretty shy. I don't love it when people come up to me at parties and gush. I really don't dress up for anyone but myself...[And] to be honest, I don't want to be a part of nightlife forever." -- Ryan Burke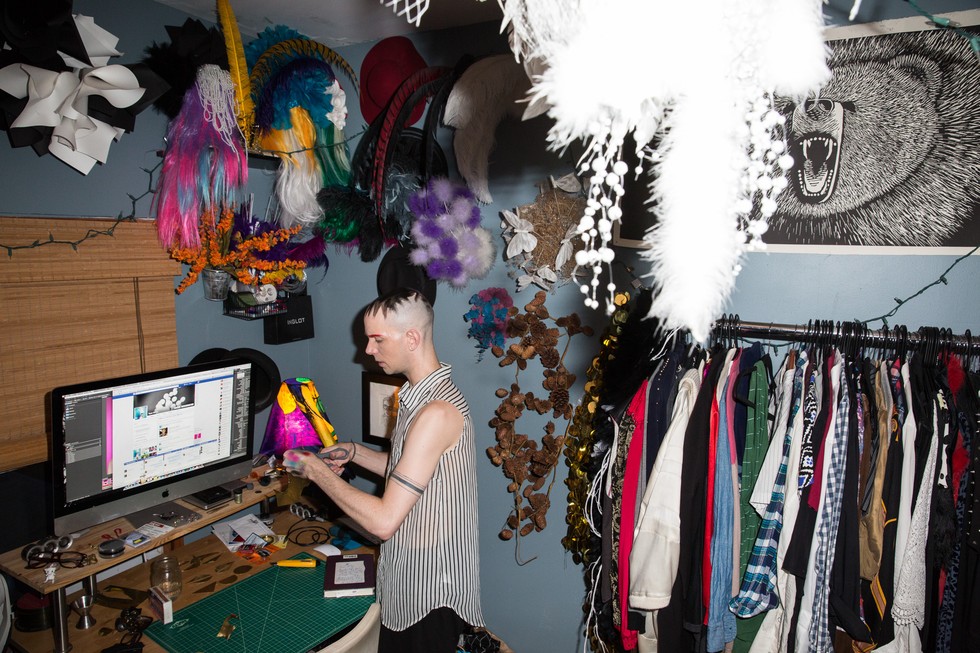 "When I first moved to New York, I'd get ready by myself, walk to the train by myself, ride by myself and then meet up with friends downtown. I don't do that anymore." -- RB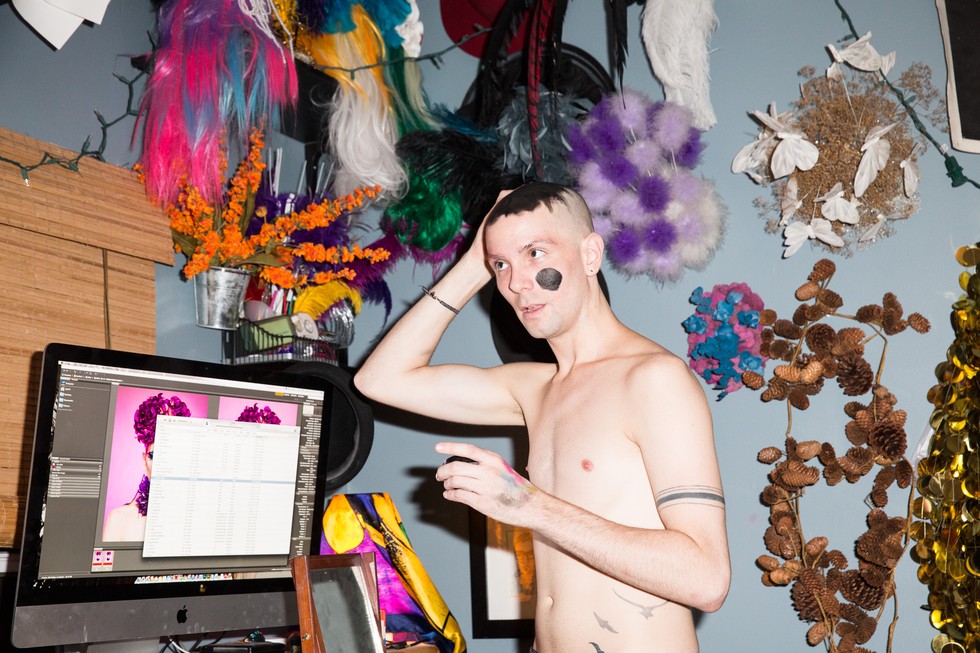 "My style is usually more minimal, but I ran out of room for all my headdresses, so I had to put them on my walls. I used to have more, believe it or not, but I threw some away." -- RB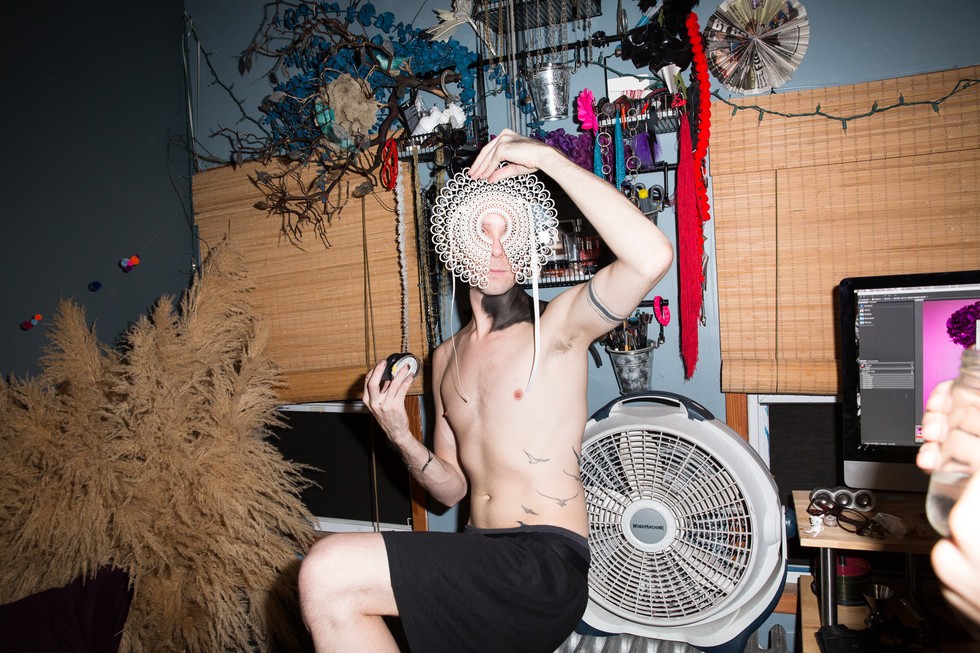 "My friend 3D-printed this mask. You're supposed to wear it on your face, but I think it's very versatile. I haven't decided what to do with it yet." -- RB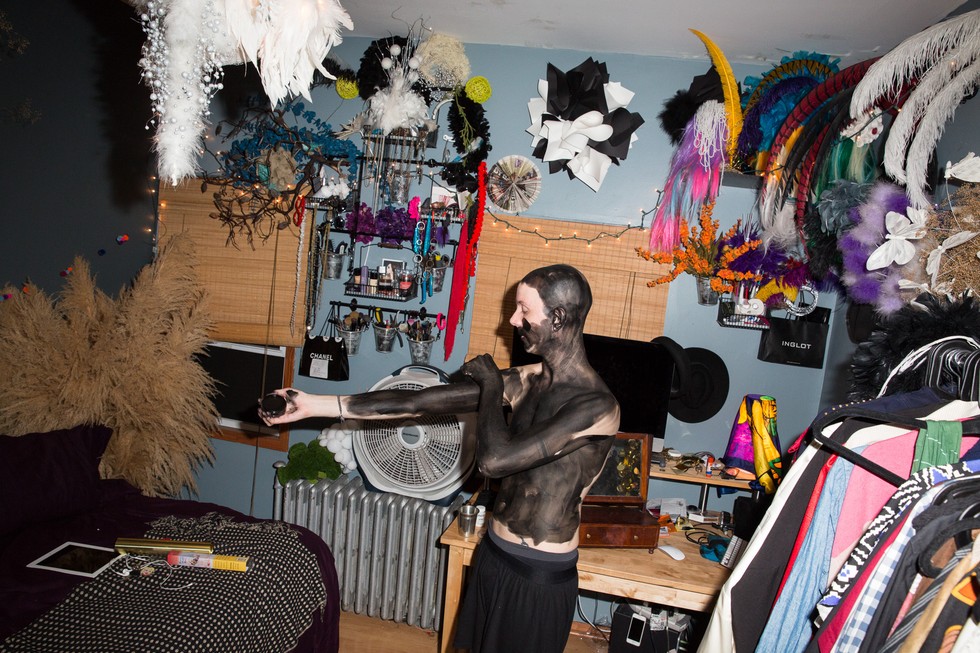 "Most of the time my looks are all face, so normally I'd be sitting in front of my mirror for hours carefully painting. I always plan my color scheme and materials ahead of time, but not much else. Like tonight I'm going to be all black, but I've cut out four different possible mouth shapes to wear." -- RB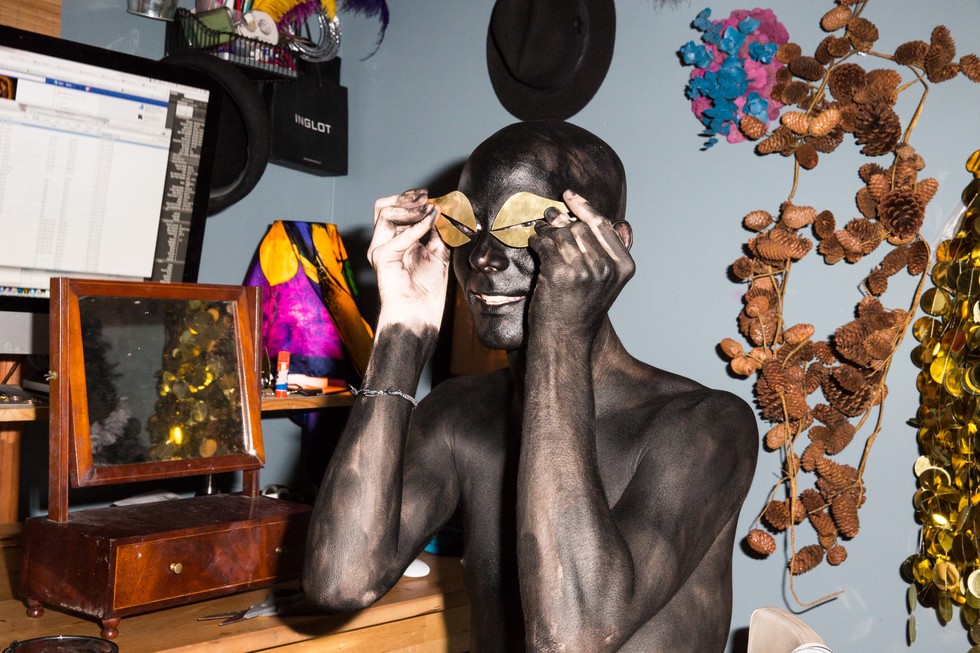 "I've been using this glue that's used to attach prosthetic legs to your body, so these metal shapes shouldn't fall off tonight." -- RB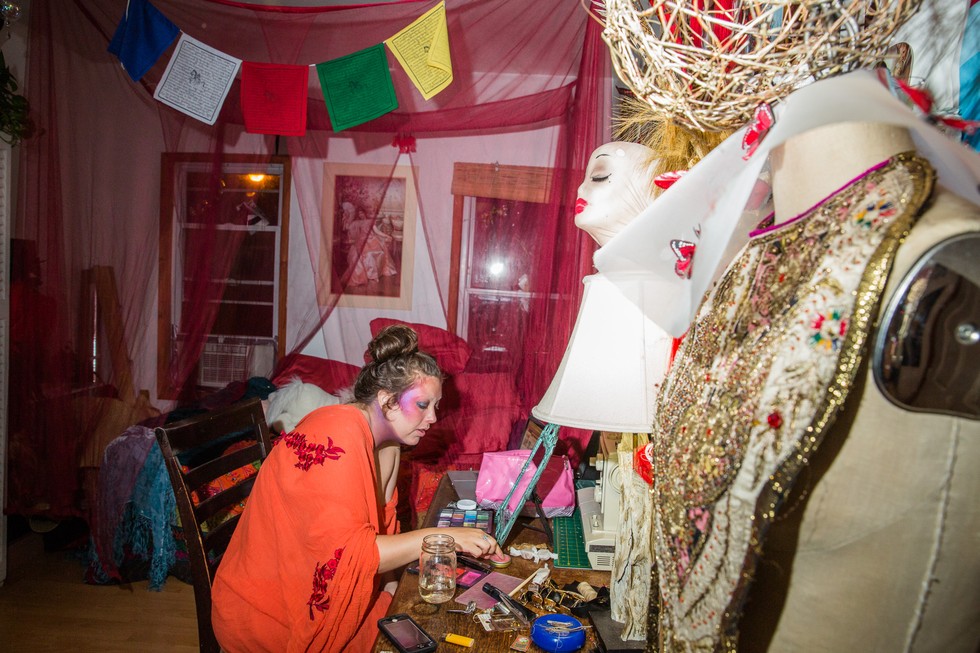 "I'm obsessed with Sally Bowles in
Cabaret
. When I first saw that movie, I was ten years old and decided I wanted to be a cabaret singer, but I don't have a good voice. Little did I know what that movie was really about." -- Domonique Echeverria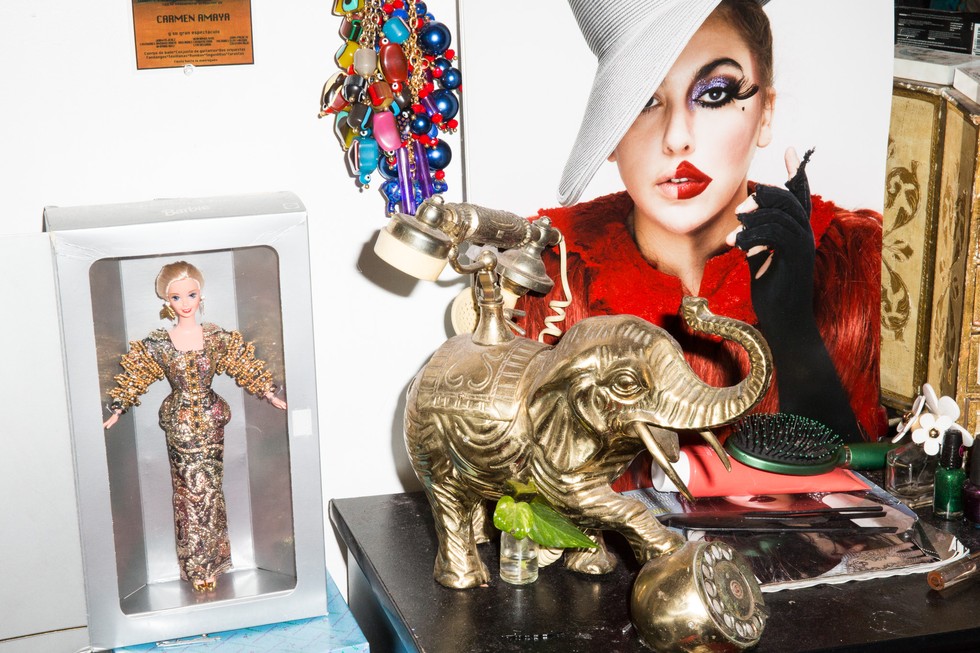 "Imagine being a 26-year-old drag queen -- I've never really related to girls, and I definitely don't relate to straight people in general." -- DE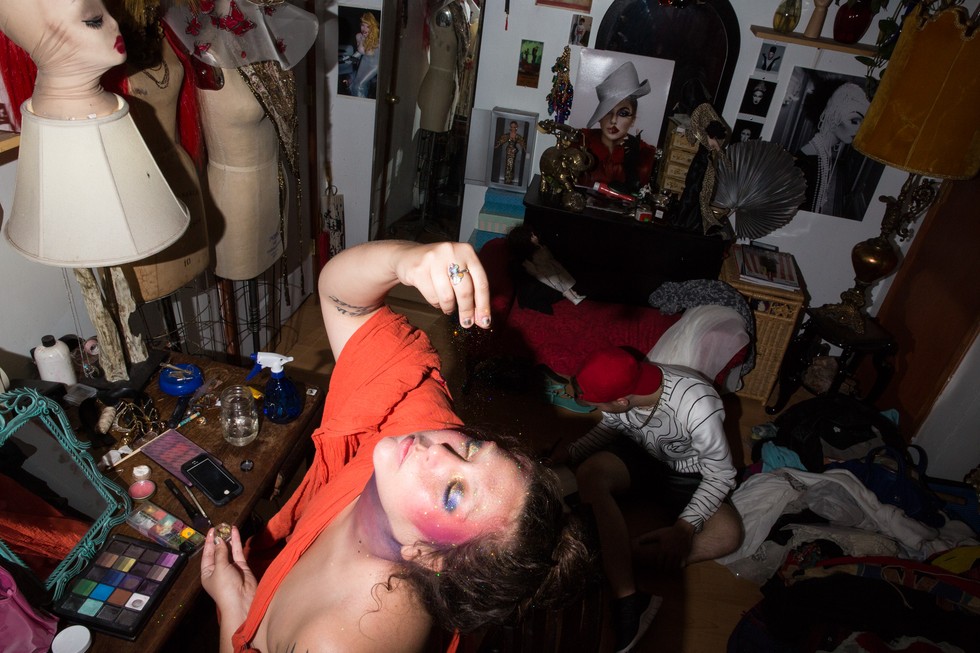 "When I was younger, I'd always play dress up with my mom's clothes. I'd walk around in a Vivienne Tam gown with a fur collar and my mom would put fake eyelashes on me. I'd go to school in an asymmetrical 1920's slip, fur coat and patent leather shoes, and play pretend by myself because no one would be friends with me." -- DE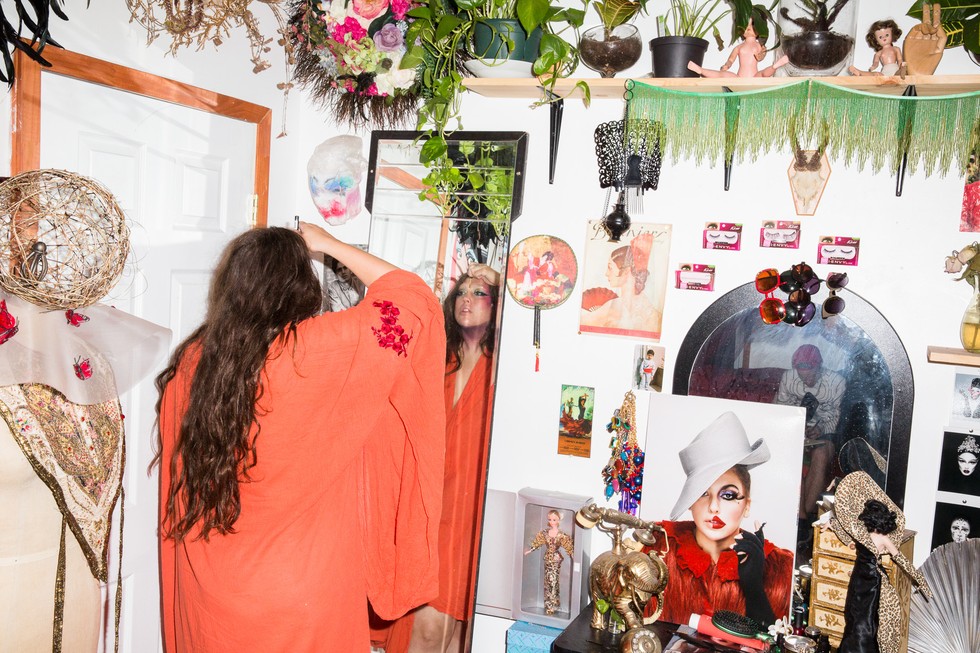 "I love Amanda Lepore -- she's a total hippie. We drink tea together, do yoga and I make her green juice. When I first moved to this apartment, I was at her place and told her I had nothing to put on my walls. She started rummaging through her stuff and pulled out this folder filled with pictures of herself to give me. I'm obsessed." -- DE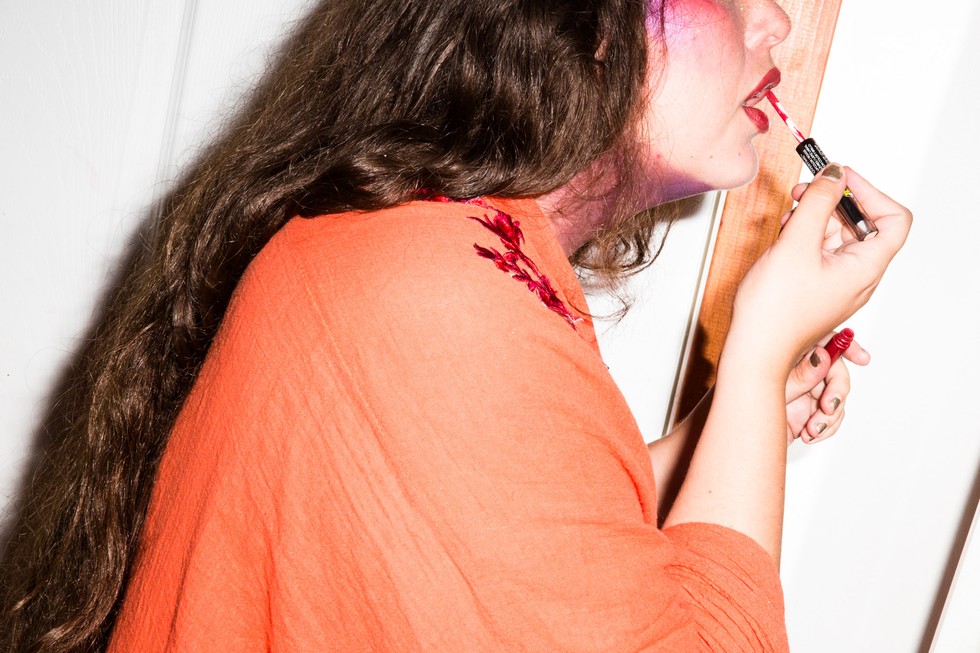 "Whenever I put on my lips, I'm like, '
There
she is.'" -- DE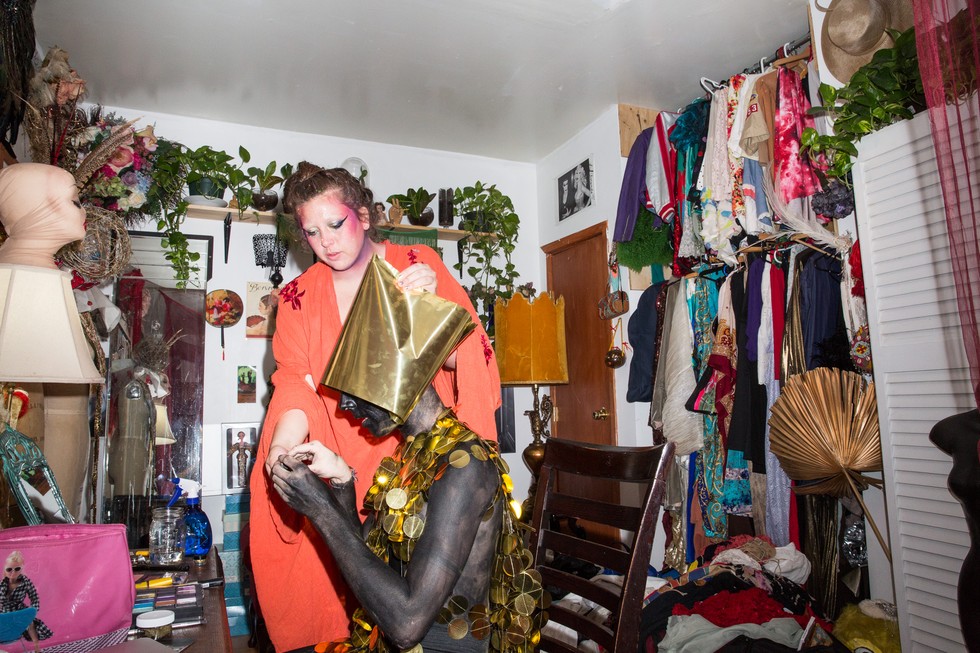 "I'm a very passionate person -- it's either all or nothing with me. When I first met Ryan, I immediately introduced him to everyone as my 'best friend.' I respond to people's energy -- if you're amazing, I'll give you my world." -- DE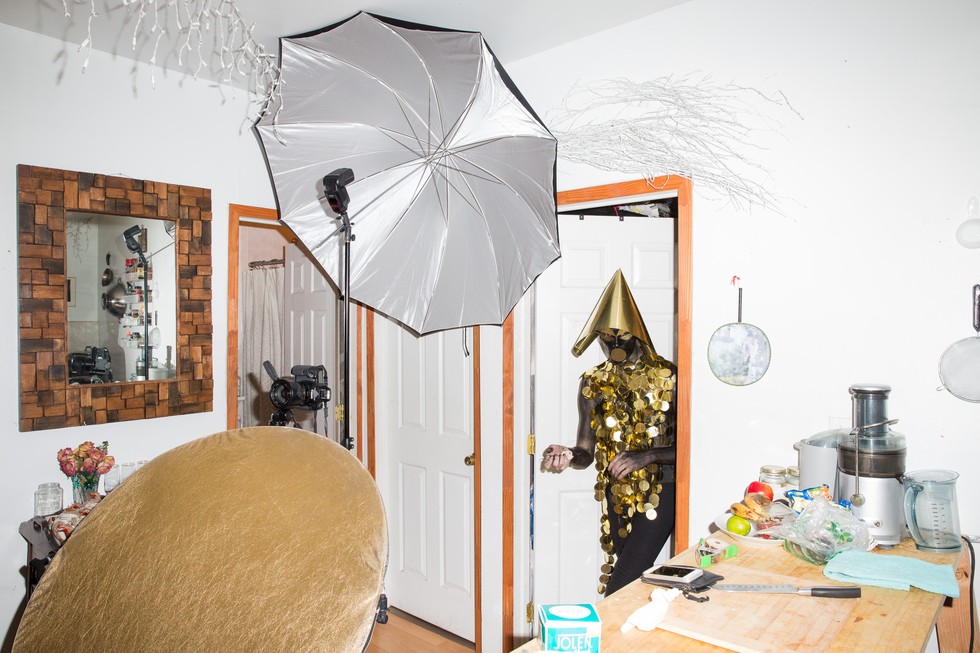 "This is a very tedious process. I usually shoot multiple different versions of the same look to make sure I have one perfect shot. I wasn't always good -- if you go far enough back in my photos, they get really shitty. I've progressed." -- RB