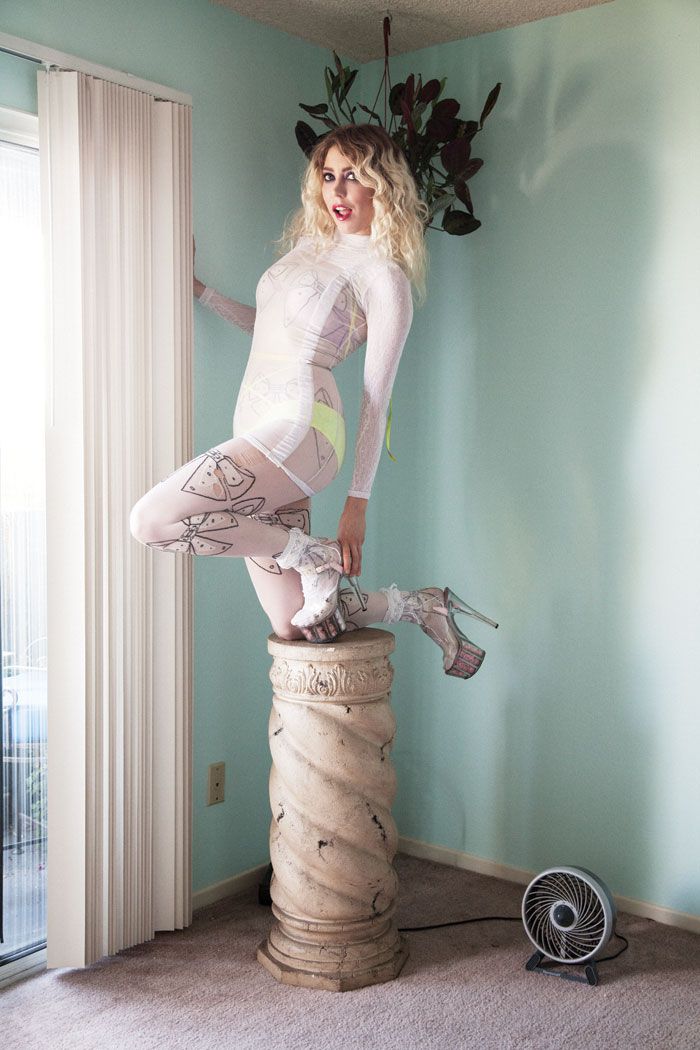 Makeup by Rob Rumsey using M.A.C Cosmetics
"I like to give everything I have, which sometimes is hard because I can't talk the next day and I have bruises all over my legs." Actually Huizenga is describing her parties at Cheetahs, the Hollywood strip club that hosts her monthly night of DJ sets, performances and, of course, strip teases. This pop star performance artist meets Hollywood high priestess was born in Los Angeles and raised on avant fare like Kenneth Anger's Hollywood Babylon. With a line out the door on her nights at Cheetahs and a successfully funded Kickstarter campaign for a short film set to music from her synth pop-porn album Viking Angel, it's clear that Huizenga plays an important role is keeping L.A.'s nightlife scene wild and unpredictable.
When she's not performing, Huizenga's preferred nighttime activities consist of secret downtown dance parties -- the kind you find out about in a text from a friend or stranger -- where she hangs out in hot tubs and drinks from office watercoolers overflowing with vodka. Huizenga explains that performing and partying in Los Angeles is "like a one-night stand. Sometimes it's really amazing and sometimes it's really shitty, but I always make the best of it, no matter what."
More of Our Favorite Female DIY Musicians