"I'm lying in bed naked," whispers Kesha over the phone. Though it's an intriguing image, she manages to come off less like a Mariah Carey-style sex kitten and more in the vein of a Jack Black-type, rubbing his nipples and licking his lips. When someone chooses to change the "s" in her name to a dollar sign, it's really hard to take much that she does thereafter seriously. Imagine if Joanna New$om or Regina $pektor had made that little alteration. Fortunately, the oft glittered and feathered 23-year-old Kesha Sebert, whose irreverent party anthem "Tik Tok" has been inescapable over the course of 2010, is in on the joke. "I'm writing songs about brushing my teeth with Jack Daniels. It doesn't have to be so serious all the time -- especially with pop music. I don't take myself very seriously. I don't think I should or could," she explains from her hotel room in New York City, which incidentally has "very nice sheets."

The music business, however, is taking Ke$ha seriously. This summer, she's headed on the road with Rihanna, making a stop on the Lilith Fair revival tour in Salt Lake City. Her debut album, Animal, released in January, has sold almost 800,000 records. At this point, it feels like we emerged from the womb knowing the lyrics to "Tik Tok," but it's only been a mere six months since the song debuted on iTunes. And recently she went where no other body suit-wearing poplet -- or anyone else for that matter -- has gone before: "Tik Tok" was the first song to replace The Simpsons theme on an episode that aired this past May. The television institution had the residents of Springfield lip-syncing her ubiquitous single during the show's opening credits (Ralph gets a pedicure on his toes toes, and guess what Groundskeeper Willy's brushing his teeth with...), sending many Simpsons purists into a tizzy.

What's incredible about Ke$ha is that she makes it all seem so damn easy: run around in cutoffs; half-sing, half-rap about your previous evening's drunken exploits; film a video while driving your gold TransAm with your best friend, Simon Rex; and ride the Top-40 train right out of your hometown of Nashville to Hollywood. Maybe it seems easy because for her, it is. The girl got a 1500 on her SATs and was well on her way to the Ivy League before she got a call at age 17 from hit-making producers Dr. Luke and Max Martin (they made superstars out of Britney Spears, the Backstreet Boys and Katy Perry). As she recalls, the conversation went something like this: "They were like 'Hey, wanna be a pop star?' And I was like, 'Hell, yeah!'"

It's the ultimate rags-to-pop star story. She and her family lived on welfare in L.A. before moving back to Nashville where Ke$ha recorded a "very poor quality" demo with her mom, a country singer. (She doesn't know who her father is and is in "no rush" to find out.)
Her mom gave the demo to some friends who worked at BMI, who subsequently passed it on to Luke and Martin. They liked what they heard. "There was some acoustic stuff that really showed off my voice, and I wrote everything back then, as well," Ke$ha explains. So Luke encouraged her to come out to L.A. where in place of college, she learned the ups and downs of making pop music. As the story goes,  in late 2008 Ke$ha found herself in the studio with Dr. Luke, next door to Flo Rida, who was recording his single "Right Round." She ended up guesting on the track, which became a mega-hit, although she didn't receive a dime. But no good deed goes unnoticed, even in the music world. The hook put her on the map and ultimately landed her a multi-album deal with RCA.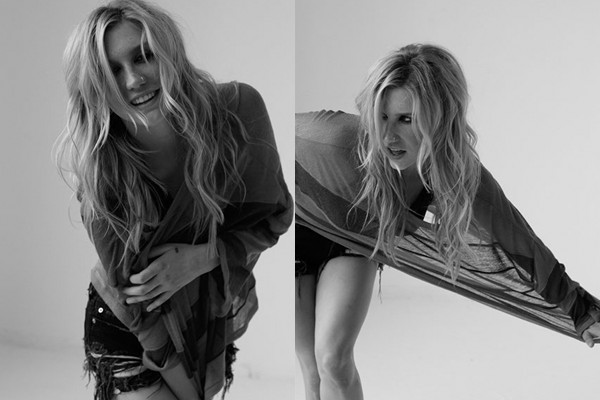 Unlike many of her contemporaries (and no, we're not naming names), Ke$ha at her core is a smarty-pants. The former band-geek, who as a high-schooler audited history classes at her town's local college, compares writing songs to solving math problems. "When you write a really good pop song, you get this feeling of euphoria. When you're solving a math equation, it's the same feeling. Swear to God." That's not to say you need a degree in rocket science to relate to her record. Listening to the 14 songs on Animal is like scrolling through a 20-something's Gchat chain. And that's because everything Ke$ha writes about is either inspired by her own experiences or those of her friends. "No names have been changed and no details have been spared," she says. follows most closely the relationship she had with her ex-boyfriend of four years, who "stomped on" her heart, resulting in lyrics that are sometimes heartbreaking, sometimes silly and always personal. They're about backstabbing bitches, creepy guys at bars and cute guys with beards. ("When I have my own country, it will be a requirement for all men to have beards," she says.)

So is she dating anyone now? "Are you kidding?" she exclaims. Since Animal's release, she's been way too busy filming videos for her last two singles ("Blah, Blah, Blah" and "Your Love Is My Drug") and performing on Saturday Night Live and American Idol to even think about dating. The guy "would have to be pretty fuckin' magical" to be able to fit into her hectic schedule, she says. Especially this summer. She's understandably a bit nervous about her upcoming tour (especially after her much lambasted SNL performance). "I'm a little brand new at this game," she says. "There are a lot of critics out there, and I just hope that they are gentle and realize that I've only been in this game for a few months. Like, it's really crazy how fast it happened."

When the newfound fame gets to be a little much (as when a joke she made about pushing the pre-pubescent pop star Justin Bieber in a baby carriage turns into headline news -- not to mention her subsequent apology via Twitter), she avoids turning into "a self-consumed douchebag" by calling her mother. "I talk to my mom every day," she says. She also turns to her older brother Lagan, a documentary filmmaker and Huffington Post reporter, for regular reality checks. "Anytime I'm stressed about anything, across the board, he's like, 'Well, let me tell you what's happening overseas.' There's so much more happening than what's going on in my life."

And when things really get overwhelming, she sits down with an issue of National Geographic or The Origins of the Universe.  "Anytime you think about yourself for too long, you start going crazy, so I try to read about animals and the planets." That's one of the reasons she named her album Animal. Keeping in touch with the natural world helps her to stay grounded. Or not... If the whole music thing doesn't work out, she has her sights set on outer space. "I just want to make badass music and I can't worry about it more than that," she says. "If people like it, they like it, and if they don't, I can go be an astronaut. So there." Excuse us while we warn NASA of the imminent invasion of aliens with Jack Daniels on their breath.

Photographed at Daylight Studios, styled by Christopher Campbell.
Top by Gryphon New York
Hair by Creighton Bowman/Exclusive Aritsts/Rene Furterer. Assisted by Laura Polko
Makeup by Bianca Alexander for M-A-C Cosmetics. Assisted by Moises Ramirez.
Stylist assisted by JJ Maxwell