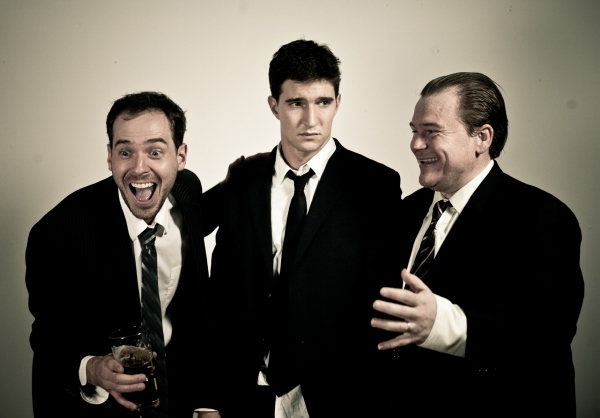 Playwright and Rutgers grad
Samuel Brett Williams
, who has had his works produced at places like Naked Angels, New York Theater Workshop and Ars Nova, has joined forces with actors
Malcolm Madera
and
Jake Silbermann
to form the
Camisade Theatre Company
, and
Derby Day
is their first show. 
Michole Biancosino
directs, and
Jared Culverhouse
joins the other two actors in a three-character play, as the three Ballard brothers: Frank, the oldest; Ned, an angry newlywed; and Johnny, an ex-con.  Set at Oaklawn Racetrack in Hot Springs, Arkansas, in a luxury box, the action will involve -- among other things -- drinking, cursing, gambling and violence.  I spoke with the playwright, who goes by his middle name. 
Hi Brett.  I'm a big fan of horse racing and I love the track atmosphere, so I'm interested in what's going to happen in your play.
It's about three brothers who essentially grew up on a race track, where they would get to hang out with their father, a track rat, who was fairly distant; and this was a chance to engage with him.  He's just passed away, and they've all just come back to town to bury him.  And it just happens to be the Arkansas Derby day.  So they all go to Oaklawn after the funeral.  The oldest brother has gotten a luxury box for the three of them, and through the course of the day they become drunker and meaner and begin to reveal secrets about the family, and themselves, which they'd probably have rather kept hidden.
 
So there's just the three characters?
Yes, and a waitress who serves their box, who they deal with throughout the day.  We also hear from Terry Wallace, who actually calls the races at Oaklawn.  I grew up across the street from Oaklawn, and the only time I'd ever actually see my father was when he came into town and we'd go across the street.  I was raised by my mom's family, and my father lived in Texas; and at times he would visit with his two brothers. 
It sounds like a lot of your personal history inspired the play.
It's certainly the most personal play I've written about family.  For me, instead of, say, Thanksgiving, there was Derby Day.  It was the "family event" with my dad's side of the family. 
How old were you when you started going to the races?
It started when I was eight or ten years old, and it still happens today.  I'm 30 now, and when I go to Arkansas, I still go to the track with my father. 
Tel me a little about what's going to happen in the play.
The brothers have a horse which is going to run in the Derby.  They get a tip -- the oldest brother has connections everywhere with sports gambling and horseracing.  The entire day builds to the final race.  They have wagered enough money so that if their horse comes in, it could change their lives.  And they each have their own dream of what they'll do if their horse wins. 
So I figure we'll get to know these three brothers pretty well during the play.
It was just the idea to get them there, to explore the family.  For them, there's always going to be a race tomorrow.  They're men of grand gesture.  It's incredibly American.  You can go your whole life losing, losing, losing; but tomorrow your horse is going to win.  It was always anti-climactic if you won or lost.  It was always about the possibility more than anything. 
That's a very astute observation about racetrack bettors.  When's the next time you'll be back at the track?
I go back to Arkansas at the beginning of racing season every year.  At the end of January, until April, I'll be in Arkansas at Oaklawn. 
Clurman Theater, Theatre Row Complex, 410 W. 42nd St., (212) 239-6200. Dec. 1-17. Wed.-Sat., 8 p.m.; Sun., 3 p.m.; plus Tues., Dec. 13, 7 p.m. Tickets are $18 and available here.  Running time: 1 hour, 40 minutes.
Photo of actors Malcolm Madera, Jake Silbermann and Jared Culverhouse by Paul Gagnon from Offoffbroadway.com.