Pick of Destiny: A Girl Wins This Year's Guitar Battle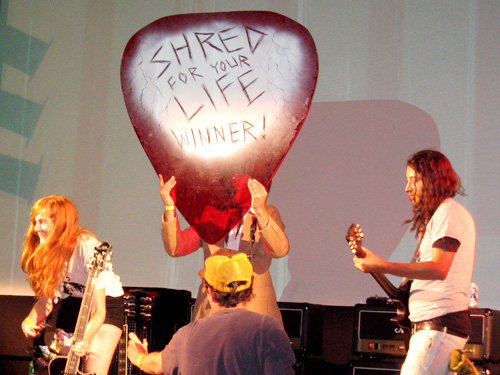 New York City's most anticipated and talked about rock event, Guitar Battle: Shred for Your Life, took place last night at the Anthology Film Archives and it was (uh-oh) magic! The winner of the Third Annual Guitar Battle was none other than a 16-year-old girl Alex Niemetz who is already a veteran rocker and plays guitar in an all-girl band ModRocket. She shredded in a deadpan fashion looking cool as a cucumber while blowing all the boys out of the water one by one, including last year's winner Johnny Rad and eventually making rock 'n' roll history. She was apparently really nervous, according to Cheryl Dunn, who shot the whole event with four-camera crew for a TV show pilot, and had asked her family not to come to the battle. But you wouldn't have known it from watching her rip on that guitar like she was Toni Iommi from Black Sabbath. Whoa! I think the moment she appeared on stage in a bad-ass white T-shirt and cut-up black denim shorts armed with The Stooges' Ron-Asheton-esque strawberry blonde mane, everyone in the audience knew she was a force to be reckoned with. Some of us even predicted that she would take home the coveted "Shred for Your Life Pick" decorated by Neckface (along with a brand new guitar and a jeweled guitar crown) -- which she did.
At the after-party at Max Fish, upon her entrance, Alex (who was allowed in but didn't drink), was received with a whole lotta whooping and hollering and a semi-standing ovation. All in all, it was a night of girl power, no sore losers, a random straggler with homemade Heelys and feel-goodness all around. Kudos to Mark Razo, who painstakingly organized the whole damn thing, the radical Max Fish Crew, the sensational Sensei Crew, the magnanimous MC Wilder and the juicy and judicious judges Jesper Eklow of Endless Boogie, Brian DeRan of Leg Up and Nick Zinner of the Yeah Yeah Yeahs.