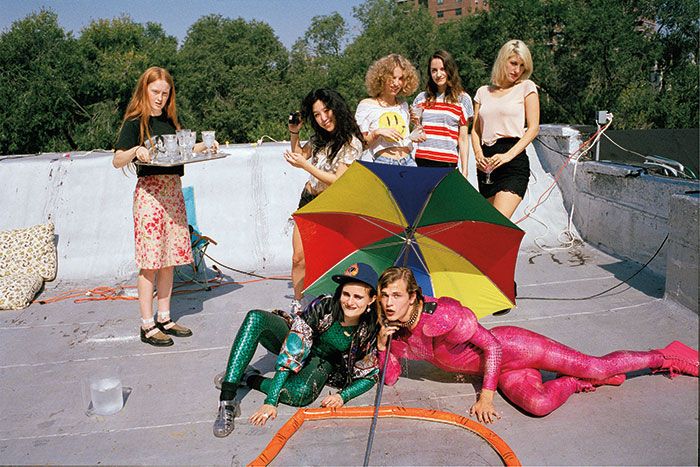 "Should I wear this?" Petra Collins asks her friends, actress/artist India Salvor Menuez and illustrator Alice Lancaster, who are patiently perched on the edge of a rooftop in Chinatown. She's deciding between two looks for Paper's photo shoot -- a white athletic crop top and overalls with a single strap buckled, or a cheeky yellow smiley face T-shirt with mom-jean cutoffs. The digital art duo Mike and Claire (a.k.a. Mike Bailey-Gates and Claire Christerson) peek from behind their suitcase of costumes to weigh in. Everyone agrees on the smiley tee. Paired with Collins' frizzy blonde curls, gold chain and "bitch" charm necklace, orthopedic-looking Reeboks and white athletic socks, she looks like Parker Posey's long-lost best friend from
Dazed and Confused
.
Cinematic nostalgia is familiar territory for the 20-year-old, analog-only photographer and curator. Exploring coming-of-age themes like friendship and sexuality, Collins' body of work is a profoundly personal gaze, and although sad and cloaked in darkness at times, there is always a dreamy lightness to her images. "I look at photography in a film point of view because filmmaking was what I wanted to do first," she admits. "I always see each photo as a still from a film that is happening in front of me, but I am also creating it, so it's pseudo truth."
Soon the writer Karley Sciortino a.k.a. Slutever and photographer/filmmaker Sandy Kim join the group, and the fun begins. As our photographer shoots, Collins steals her own candid snaps. "The way I take photos now is basically the same as me playing as a kid," she says after the shoot. "It's funny actually because I
just
thought about it, and I was like 'Oh wow, this is what I've always been doing.' Hanging out with friends and taking photos is how I played as a kid. I'm still doing that."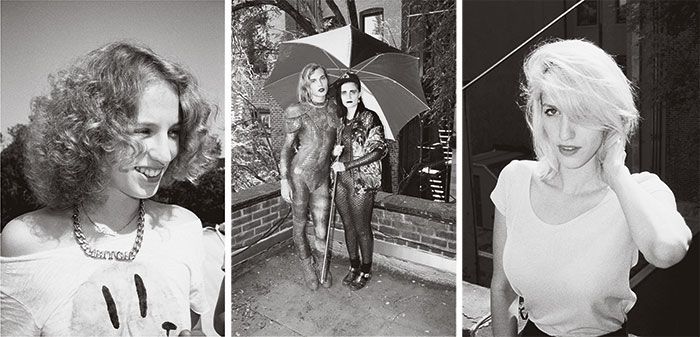 (l to r): Petra Collins; Mike and Claire; Karley Sciortino
Collins is quick to add that playing doesn't necessarily mean doing something for no reason. "For me, there's always a reason behind it, and it's creating," she says. Despite her young age, Collins has gotten a lot of work done and made some major connections. Her mentors include photographers Ryan McGinley and Richard Kern, for whom she also casts models in Toronto. She's on staff at
Rookie
and is published in
Vice
,
Garage
and
Purple
. She's also making a name for herself as a curator. Recently she selected 24 female artists for a show entitled
Gyno Landscape
at Four81 in SoHo, and she's always scouring the web for new talent to join her online art collective, The Ardorous, which is how she met her current crew of creative compadres, all of whom are members.
Currently The Ardorous is home to over 30 emerging female artists from around the world, and continues to grow. It's the headquarters of 21st century Girl Power, and Collins is the group's fearless leader and link. Her vision isn't decorated in pop melodies and catchy slogans; it's full frontal, literally. In October, Collins collaborated with American Apparel on a T-shirt featuring an illustration of a finger masturbating a menstruating vagina, drawn by Lancaster. The image caused an Internet uproar, but that was the point. "I just want girls to know they can do whatever they want," Collins says.
"Petra's artwork is emblematic of a new school of feminism," says Sciortino, "which uses the female body as a tool to both seduce and provoke, and never fails to find the humor in both."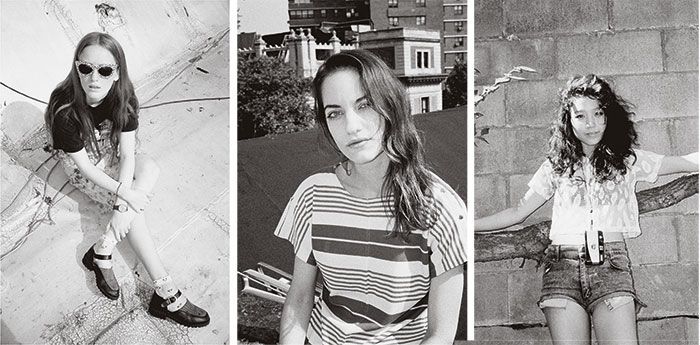 (l to r): India Salvor Menuez; Alice Lancaster; Sandy Kim
As a hyperactive, slightly dyslexic and highly visual teen growing up in Toronto, Ontario, Collins threw herself into art as a mode of survival. "I had a really, really hard time in school," she admits. "I was lucky though. My parents were supportive in me exploring, so I was always doing a million different things -- ballet, painting, filmmaking, photography, whatever. I did everything. It was the only thing that kept me sane." But sanity is relative, and more often then not for an artist, unnecessary or even disenchanting.
"I am not the kind of person that takes anything 100 percent seriously, and I never want to be that person." To prove her point she shows me a series of text messages between herself, her sister Anna and
Rookie
editor/all-around wunderkind, Tavi Gevinson. "My sister and I have this weird obsession with Tavi's hands because they're so small," she laughs. "This one time we were having a sleep over, and Tavi's hand was on Anna's butt, and it was so funny because it was this tiny hand on this big butt, and since then we've sent my sister all these weird, random photos of Tavi's hand -- see?" Her finger flips through a series of casual, but artfully composed photos on her iPhone, her nails chipped with rainbow polish. "It's a weird thing, but my sister and I love it. That's what we do for fun."
Although fun is Collins and co.'s M.O., The Ardorous is ultimately a community of artists -- each offering their own brand of quirky, crazy-cool -- for whom making art is high-stakes. "It's hard to find people who do work just to do work," says Collins. "There are so many people doing work superficially and when you find people who are doing work because that is their life, that's the thing I look for in people, because that's how I feel too. If I couldn't work -- like, this is so dramatic," she says smiling, "but if I couldn't do it, I would die."