Peter Davis' Status Update: Pretty in Punk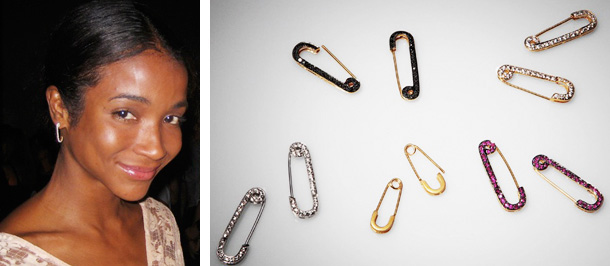 Winter chills makes me want to have more punk rock moments, so when I heard my friend, the forever chic Genevieve Jones, was selling her amazing safety pin earrings (in gold, silver and diamonds), I immediately visited her studio and grabbed two pairs. Stephen Sprouse meets Don Draper is my look for '09. "They're chic and easy," Jones tells me. "They transfer from day to night and you can wear them with anything, from jeans to a cocktail dress." Or a three-piece Timothy Everest bespoke suit. Viva la punk! Viva la prep!
Genevieve Jones Safety Pin Earrings are $300-$1400 and available at Bess NYC (212 260 6740), Confederacy LA (323 913 3040) and Colette Paris (+33 1 55 35 33 90).