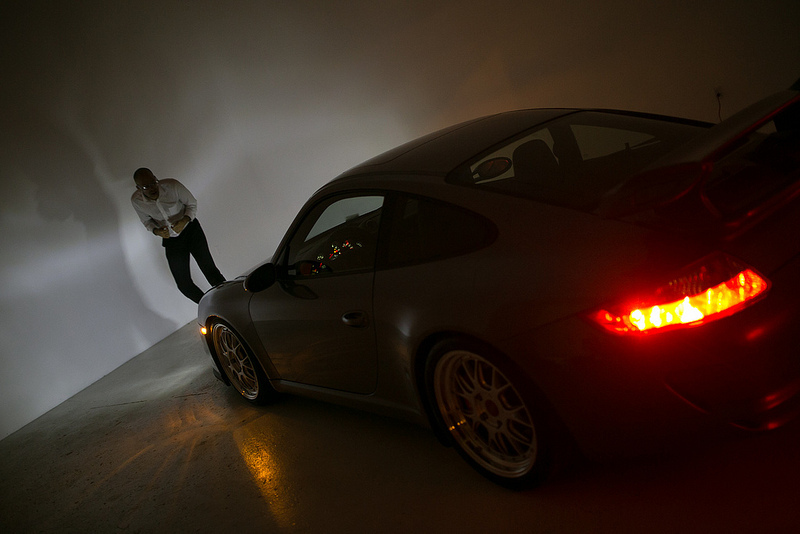 Nate Hill gets ready to confront a Porsche
Located in an old warehouse, in the slush of factory buildings-turned-gallery spaces off the Morgan L, Interstate Projects was recently home to
Lights
, a three-hour durational show by performance artists-slash-net artists
Ann Hirsch
and
Nate Hill
(and a $100,000 Porsche 911). For those unfamiliar, Hill is known for his character-based -- and oddly bear-centric -- public performance projects like
Punch Me Panda
and
Death Bear
, as well as his web-based pieces that are obsessively centered around white women. In his latest faux-entrepreneurial endeavor,
Trophy Scarves
, you -- if
you
are a white woman -- can arrange for Hill to come to your house and take photographs of himself wearing you around his neck as a status symbol. Like Hill, Hirsch's work as a feminist video and performance artist often relies on the context of the Internet. Through character-work, like
cam-girl Caroline
, Hill explores issues of femininity (especially as they're displayed online) and relationships between the performer and viewer.
Recently, she's taken these web-based projects IRL. Last month, she performed her piece
Playground
, which outlines a brief affair she had with a 27-year-old when she was 12 over AOL Instant Messenger, at the New Museum. 
When we arrived to their show at 7 p.m., we found an empty space filled only with a brand new Porsche 911 and Hill, dressed in an ill-fitting tuxedo and over-sized, questionably prescription glasses. As the audience filled in around the setup, Hill started a warm-up of boxer-style paces around the Porsche, in time to a Bruce Springsteen song. As per an earlier press release, Hill's piece took "inspiration from his strained relationship with his father who owned a Porsche when he was young" and included "movements from aboriginal dancing, Muhammad Ali, and Southern Baptist churches to 'confront' the Porsche as if it was his father."
Hill 'warmed-up' for over an hour, as the music switched from Springsteen to light jazz, while the audience waited for the climax of conflict between Hill and the car. Suddenly, the music switched from jazz to a blaring hip-hop beat. Kanye's voice could be heard rapping, "This what y'all have been waitin' for ain't it" in a continuous loop as Hill stopped dancing around the Porsche to shake everyone in the audience's hand. "Thank you for coming... Thank you for coming," he told us.
As we waited for Hill to strike, the space was filled with our collective, nervous anticipation. But the potential aggression of the act was never realized: Hill yelled at the Porsche, "This is my time! Let me tell you something! Where the fuck else do you have to go?" but never completed the aggression as the Springsteen, jazz, and Kanye looped for the rest of the performance.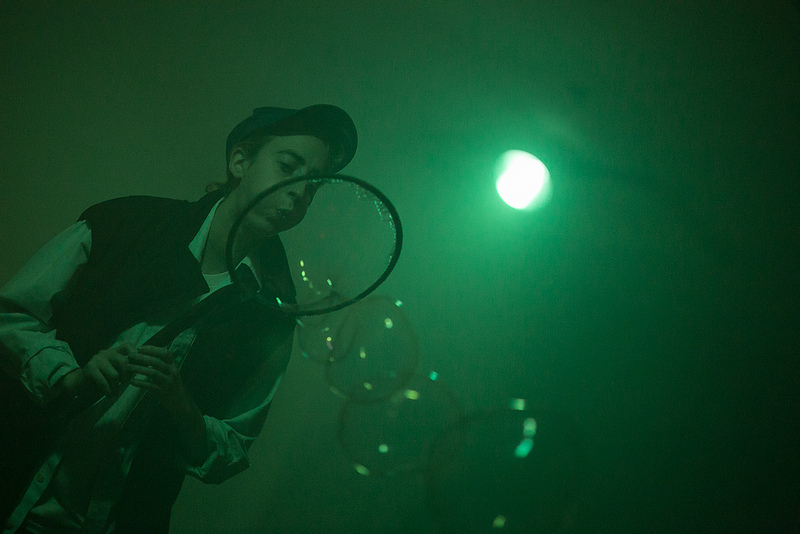 Ann Hirsch in character as Jason Biddies
Down in the basement, the vibe was completely different. Walking down the candle-lined steps from the main room to the subterranean gallery, you could hear the music change to sparse, ambient sounds, the only source of lighting an eerie green fog. Ann Hirsch, in character as her fraternity bro alter-ego Jason Biddies, sat in the basement of the gallery taking hits from a water-bong and playing with bubbles. Whereas Hill acted out the masculine tropes of the macho-aggressor, Hirsch had transformed herself into a chill man-child. She took turns alternating between staring idly at her phone, staring idly at her lighter, and trying to make bubbles with a giant bubble wand. As the room filled up with fog and pot smoke, watching Hirsch attempt to form a perfect soap bubble became just as high-stakes as waiting for Hill to go H.A.M on a $100,000 Porsche.

The performance reinforced Hill and Hirsch's position as leaders among a growing group of artists who are nimbly going back-and-forth between making performance art pieces like Lights and net art projects. They've found a way to display their work IRL when most artists are still navigating the tricky terrain of bringing their work from Macbooks to galleries. But, with the first digital-art auction at Phillip's less than a month ago, and Bushwick emerging as a haven for net artists with spaces like Interstate Projects, Transfer Gallery, and Ferro Strouse Gallery, support for net artists is obviously growing. As Hill and Hirsch have already shown, the lines separating the digital world and the real world is getting increasingly blurred.