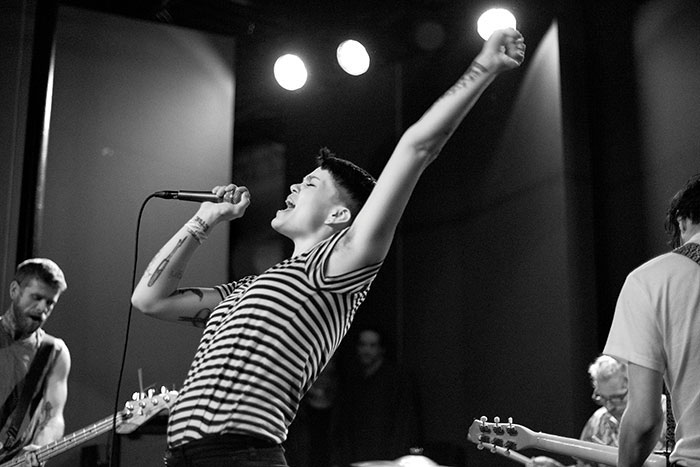 As frontwoman for the Syracuse, NY noisenik punk outfit Perfect Pussy, Meredith Graves is about as friendly and down-to-earth as they come. And as the voice of the hottest ticket in town, she makes Perfect Pussy's frank and feral music all the more refreshing. We caught up with Graves during the band's grueling tour schedule to talk about their hotly anticipated debut album, Say Yes to Love.
What's the biggest misconception people have about your band when they hear the name?

They have some pretty dramatic misconceptions of who we are as people. I'm all for portraying every point on the spectrum of gender and sexuality, so I think a lot of people will just hear the name without having heard us and think that we're trying to portray a certain image of gender or sexuality. Hopefully when they see us, they get that we're trying to invert that.
Is there any significance in calling your album Say Yes to Love, after your breakthrough demo was titled I Have Lost All Desire For Feeling?  

It's about a very negative view of my own relationships, but also my general, all encompassing disappointment with the sort of societal tropes of marriage and family that I see so many people of my generation falling into. And I was having all these complicated feelings at the same time as I was going through a really serious breakup and writing this record, and honestly, I think I have come to terms with it, but I think it's a breakup record.
There are some very personal lyrics on this record, but they're hard to decipher. Why do you distort your vocals so much?

The sound of my voice annoys even me! But really, we're a very close-knit group of friends, and we're very into the idea of being on an even playing field. So having my voice appear as another instrument is very important.
 
Say Yes to Love is out March 18