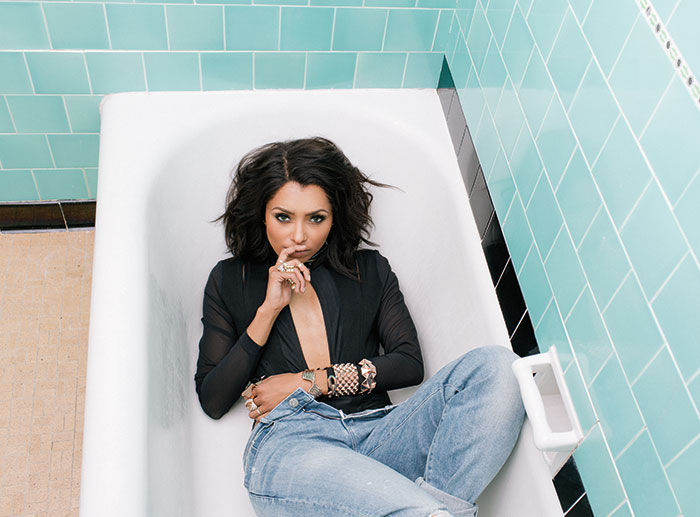 Kat wears a bodysuit by Olima, jeans by 3x1, necklace and bracelets by Jennifer Fisher, earrings by Vince Camuto, rings by Effy, Jennifer Fisher, Carla Amorim and Kami Lerner.
Before Kat Graham was a star on the CW hit
The Vampire Diaries
, she sent a copy of her single "Sassy" to the Hollywood gossip queen and music promoter Perez Hilton (class of 2006) who fell in love at first listen. Now that they're good friends and collaborators, it wasn't hard to get these two together to spill the tea.    
Perez Hilton: I've known you a very long time, so I thought it would be good to start off with a question I don't know the answer to. In the last 24 hours, what's the most beautiful thing you've seen or heard?Kat Graham:
In the past 24 hours I've flown to L.A. from Atlanta. I never buy a first-class ticket, so I was sitting literally in the back, back seat of the plane. I was so hungry and the flight attendant was so accommodating. He had no idea who I was or what I did for a living. I looked crazy, like no makeup on, and he treated me so well. I think that's one of the most beautiful things, when people treat other people well, and they don't know who they are or what they do. Which is something that you do. You don't treat celebrities any different than you treat people that aren't in the industry.
PH: Aw! Well, I still can't get over the fact that you won't buy at least a business-class ticket! What is that about? KG:
I usually get upgraded but no, I just won't... I'm tiny and I can curl up.
PH: One of the things that I also love about you is how resourceful you are. When I got to know you it shocked me that you are not only an actress, a singer, a songwriter and a dancer, but you can do your own makeup as if you were a world-class makeup artist. How did you learn to do that?KG:
My first makeup artist was actually Sutan [Amrull] aka Raja from
RuPaul's Drag Race
. She is amazing, so I learned. The only shows I did in the beginning were at gay clubs, so for the first part of my career I was surrounded by these amazing performers who did it themselves and taught themselves.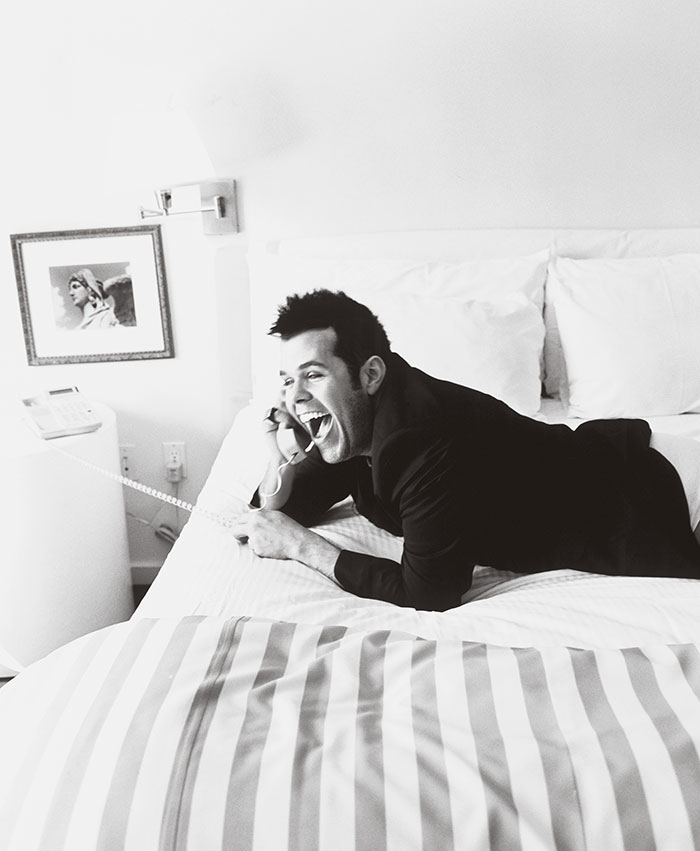 PH: You've been in entertainment almost your whole life. As we've seen with other people, it's pretty hard making the transition from young entertainer to adult entertainer. Another thing that is surprising about you, in addition to the fact that you'll only buy coach tickets, is you don't drink. Why is that? And how are you able to avoid the temptation of Hollywood when you're surrounded by all these bad influences at such a young age?KG:
Well when you work as much as I do, you just don't want anything to slow you down. I recently discovered champagne as a celebratory thing, which is great. When I get married I get to cheers with champagne. But other than that, it just doesn't interest me. It's so boring and I have so much fun without it. You especially know how much I struggled with doing the show and music simultaneously and how much work it took. It's still hard. I just don't want to do anything that's going to slow me down or take me down a spiral.
PH: You mentioned that you are getting married. That's a great thing. You've been with your fiancé [model/actor Cottrell Guidry] now for over five years. What is your secret to making your relationship last this long?
KG:
No relationship is going to be perfect. There's going to be problems no matter what, but you fight for it, because you love the person. You look down the road and think, "Wow, it's been five years." It's very similar to you and me! I'm going to love you forever and that's just never going to change.  
PH: I love that. Do you have a life motto?
KG:
Yeah, I don't know who said it, but it's, "What would you attempt to do if you knew you could not fail?" So that's what I believe in. Because I can't fail, you know? I don't want to go back to where I started, even though it's a great story. So I'm just going to keep working hard.
PH: Let's look into the future. You're going back to The Vampire Diaries. How many more seasons do you have?
KG:
I have one more season, I believe; season six. Then after that I'm finally planning on going on tour. I'm now at Interscope and I'm just excited to actually record and get this album together and hit the road -- to finish what was started six years ago. Certain things take a while but I'm glad that I never stopped making music and I never stopped doing shows. I'll probably headline Pride in L.A. It's always important to me to stay in the gay community. That's where my heart is and that's what makes the most sense to me.
Perez Hilton photographed by Cass Bird (April 2006)

Kat Graham photographed by Annie Tritt / styled by Maeve Reilly / hair by Bryson Conley